Visit Washington, DC in the spring and let the romantic sight of blossoming cherry trees sweep you away. Stroll through Meridian Hill Park and be transported to a simpler, more elegant time. There are many other ways to fall in love in Washington, DC, come check it out.
Points Of Interest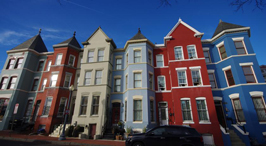 For a touch of home while away, stay at the Birdhouse Bed and Breakfast. It is centrally located and perfect for a romantic getaway while visiting the nation's capital. They offer "hospitality at its finest. We live in a four-story home, built in 1884 and located in the charming and historic neighborhood of Ledroit Park. We offer seven beautiful guest rooms. Each room is uniquely decorated and offers a host of upscale amenities. We also have a very lovable and friendly dog, named Clay."
The Top 5 Washington, DC Restaurants
1. The Old Spaghetti Factory
2. Ooka Japanese Restaurant
3. Luna Modern Mexican Kitchen
4. 1789 Restaurant
5. Iron Gate Restaurant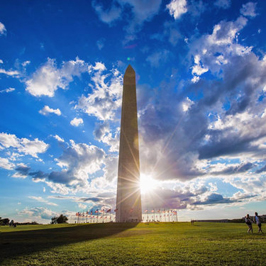 Washington, DC is a history buff couple's dream. You can't think of visiting without seeing its many monuments. From monuments to our presidents to monuments honoring our veterans, the National Mall has it all. Visit during the spring to see the trees blooming for the perfect romantic stroll about the National Mall. Some places of note are the Constitution Gardens, The Lincoln Memorial and the Vietnam Veteran's Memorial.
Washington, DC Tours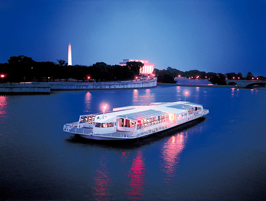 There are many ways to get about and see our nation's capital. Some of the most romantic tours to take are the many night tours that are offered. I would highly recommend a night tour of the city. Cruise along and see the monuments lit up for the most dramatic and romantic experience. Some other tours of note are the Old Town Trolley tour and the Nonpartisan pedicab tours.
The Arts in Washington, DC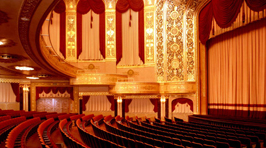 With so many monuments and parks to visit, the capital is rife with cultural icons to see. Beyond the many monuments, Washington, DC is home to the Smithsonian museums, a very fine zoo, The John F. Kennedy Center, where you can hear opera, the symphony, and see ballet performances, a beautiful botanical garden and many fine theaters to see plays and the like. Beyond museums and monuments to visit, there are a few other places of note for the history-loving pair to be sure to see. We recommend visiting Old Stone House, Tudor Place, Octagon Museum, and Frederick Douglass National Historic Site. For any couple looking to have a fine experience with the arts, Washington, DC is the city for you. Treat yourself and your love to a romantic day of sight seeing, dinner and a show.
Once you have had your fill of museums and the like, get dolled up and take your love out for a night on the town. Washington, DC has a lot to do afterhours. We suggest finding a nice place for a pint of beer or a glass of wine and then going out for dancing, comedy, or kareoke with your love. A lot of great places are in the city and we recommend visiting Cuba Libre Restaurant & Rum Bar, Club Timehri, The Park at 14th, and DC9 Nightclub.
Washington, DC Sports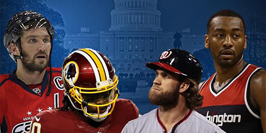 Not only does Washington, DC have a ton of things to see and do during your visit for the couple that loves to sight see and is into history, but the capital is a city for sports lovers as well. It is home to four professional teams, The Washington Redskins (football), The Washington Capitals (hockey), The Washington Wizards (basketball) and The Washington Nationals (baseball). Washington, DC is also home to many minor-league teams, as well as many college sports teams that include soccer, tennis, lacrosse and more.
Washington, DC Unique Dates
Being that Washington, DC is a city of vast historical importance and is still the hub of country today, the whole experience of visiting the city is sure to be a unique date, however we have a few suggestions to make the trip even more special. When in the city, be sure to visit one of the many antique shops and specialty stores in the area. You can sift through history and bring home a unique momento that is sure to bring back fond memories for years to come. Some of these great stores include; Mom N' Pop Antiques, Miss Pixie's, Capital Antiques, Chocolate Moose, and Urban Dwell.