Tucson is a great desert trip for the nature loving couple, however it has much to offer for any couple wanting to spend some time at a museum or theatre setting. It also boasts an observatory for star-gazing.
Points Of Interest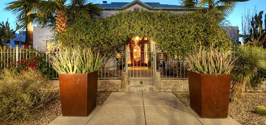 For a stay at a quiet B&B that is located in downtown Tucson, look no further than the Royal Elizabeth Bed and Breakfast. A stay here will set the mood for a romantic visit to Tucon, AZ. It is an 1878 Victorian Adobe mansion and it offers the comfort of modern amenities mixed with old world charm.
The Top 5 Tucson Restaurants
1. Maynard's Market & Kitchen
2. The Coronet
3. Cafe Poca Cosa
4. 47 Scott
5. Tavolino
Senoran Desert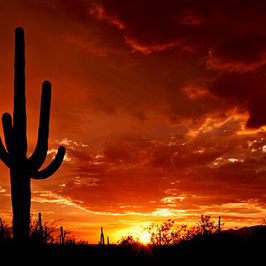 There are many parks in the Tucson area, but one of note is the Saguaro National Park. The national park is home to the nation's largest cacti. Here there are many trails through the Senoran desert and you can even take a horseback tour. The majestic beauty of the desert is sure to kindle romance if you can stand the heat.
Tucson Tours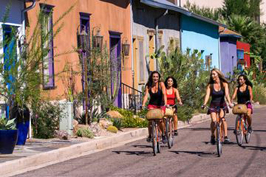 There is a lot to see in Tucson, AZ. For the history buffs there are many old architectural sights to see, for the nature loving couple there are gardens and national parks to hike through, but the best way to see Tucson and get the most out of the experience is by taking a tour. Tucson Bike Tours offers tours through Tucson's historic ares. Grab a picnic basket and start peddling. A great historic place to be sure to tour is Mission San Xavier del Bac.
For the couple that prefers the bird's eye view, Tucson offers hot air balloon rides. A unique experience to be had that will be sure to be romantic at sunrise especially followed by brunch.
To experience the flavor of Tucson, be sure to take your love on a food tour of the city. Sure to titillate the taste-buds.
The Arts in Tucson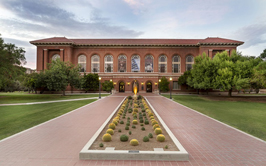 With many museums, theaters and even a casino, the arts are alive and well in Tucson. Tucson is also home to a ballet company and an opera company as well.
Theaters of note in Tuscon, AZ that you should be sure to visit for a romantic experience of the arts are the Rialto Theater, the historic Fox Theater located in downtown Tucson, and the historic Temple of Music and Art where Tucson's professional theater company can be seen. For a pretty comprehensive peek at Tuscon's art and nightlife scene so you can plan your next date, Southern Arizona Guide is a great resource.
Some museums to visit that are great for a romantic stroll are the PIMA Air and Space museum (for a sneek peak…), the Kitt Peak National Observatory, the Arizona State Museum, Tucson Museum Of Art, Southern Arizona Transportation Museum, and The Mini Time Machine Museum of Miniatures.
If you are looking for a walking experience that is more on the wild side, be sure to visit the Reid Park Zoo.
Once you have explored all there is to do during the day, don't discount Tucon's nightlife scene. There are many great places to grab a refreshing pint with your sweetheart, like Button Brew House, 1912 Brewing Company, and Borderlands Brewing Company. Once you are satisfied with refreshments, go out for some dancing and live music. We recommend you stop by Zen Rock Night Club, Playground Bar and Lounge, or Sky Bar Tucson.
Tucson Sports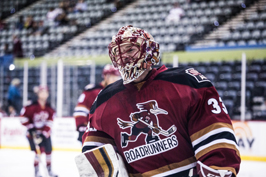 Tucson hosts the Desert Diamond Cup, the largest pre-season Major League Soccer tournament in the country. Due to hosting such a prestigious tournament, there are many soccer teams that practice in Tucson. If soccer isn't to your liking, but you want to beat the heat, catch a Tuscon Road Runners hockey game for date night. Beyond being host to soccer tournaments and a hockey team, Tuscon also has two raceways where you can either catch NASCAR sanctioned events or watch quarter-horse racing.
Unique Dates
A great way to spend a unique date is to enjoy sifting through history at an antique store with your love. Bring home something unique that will remind you of your trip for years to come and will have a special tie to the area. Some great shops in the area are Colonial Frontiers and Adobe House Antiques. If you enjoy your trip through time at the antique shops, be sure to visit the present and stop by a couple of the unique shops in the area like Old Town Artisans, Quality Pottery, and Silver Sea Jewelry.