Savannah, GA is a beautiful city to see, filled with history and a romantic air. Take a stroll through the botanic gardens with the scent of the flowers drifting on the warm southern air and let yourself fall in love.
Points Of Interest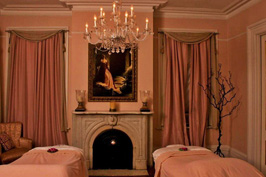 Visit Savannah with your loved ones and be sure to have a day at the spa to let your troubles melt away. Here you can experience "a unique, cozy, respite that appeals to all the senses and welcomes you from the pressures of the day". After a relaxing day with your loved one, try one of Savannah's top five romantic restaurants.
The Top 5 Savannah Restaurants
1. Alligator Soul Restaurant
2. Garabaldi Cafe
3. Elizabeth on 37th
4. 700 Drayton Restruant
5. A.Lure
Historic Savannah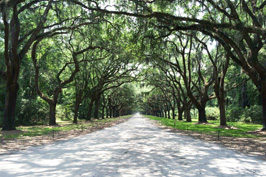 Savannah has a deep and storied history. There is no better way to visit that history than to take a trip to see its many historic homes. Perhaps even visit a plantation house, Wormsloe, the oldest standing structure in Savannah. Have a picnic, be transported back in time and hike the nature trails of the area.
Some other historical places of significance in the area to be sure to visit on your trip are the The Historical Savannah Theatre, The Cathedral of St. John the Baptist, Wesley Monumental United Methodist Church and First African Baptist Church. Take a stroll through some of these places and experience the beauty of history and some stained glass.
Savannah Tours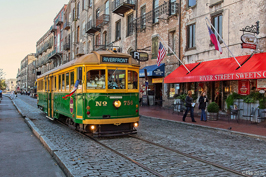 Tour Savannah with a self-guided walking tour of the city squares or take a carriage ride with your loved one for a historic view of the city by day, or a spooky ghost tour by night. If this doesn't seem appealing, try the trolley where you can view the old town section of the city among other tours such as the ghost tour, or Paula Dean tour. There are a few historic neighborhood tours where you can see the varying architecture of the area and get a feel for the history of the city. We recommend the Architectural Tours of Savannah where you can be led "on a leisurely stroll sharing Savannah's history through the periods, styles and forms of the homes and buildings". There is a tour to thrill almost any couple.
The Arts in Savannah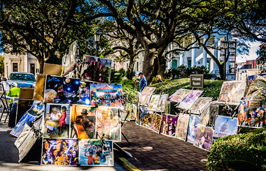 Savannah has a few museums of note to visit for a romantic day trip appreciating art one of them is the SCAD Museum of Art. Savannah also has many architectural beauties to behold as well in their Historic District.
Savannah is home to two separate botanical gardens, the Savannah Botanical Gardens and The Coastal Georgia Botanical Gardens. The gardens are certainly worth a stroll hand in hand with your loved one to build romantic memories. If you truely want to stroll hand in hand in a beautiful environment with sun and sand, try Tybee Island where you can also go on a sunset cruise and see dolphins. Savannah is also home to a 30 acre park, Forsyth Park, with a fountain that is perfect to stop at for a picture with your love while walking about the park. The fountain is one of Savannah's most recognizable landmarks and it lends a romantic atmosphere to any visit to the park.
After a day of beauty, take in a show at the Savannah Civic Center, where you can see a wide spectrum of entertainment, sports, and cultural events sure to please any couple. You can also see some shows at the Historical Savannah Theatre while on your romantic getaway. The theatre has been open since 1818 and is the perfect historic sight to see that also offers a great opportunity for an evening of entertainment with your love.
Unique Dates
Some great unique date spots in Savannah, GA include Forsyth Park, for a picnic and a picture at the fountain, a visit to Wormsloe to soak in some history and enjoy the past together, and a trip to an antique store in the area to take a peice of history home with you. Some great stores include Victory Antiques and Collectibles, Wright Square Vintage & Retro Mall, Books on the Bay, and Nathan's Antique Corner.