"Distinguished by its culture of caring, spirit of innovation, and fascinating history, Rochester, MN is also renowned for its scenic beauty, relaxing pace, and abundant dining, shopping, and entertainment options." Rochester, MN is a great place for a peaceful romantic retreat with your loved one. Get out and experience the beauty and interests that the city has to offer and make some great memories for years to come.
Points Of Interest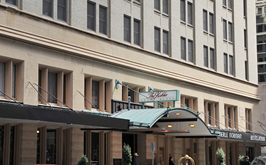 "Set in the heart of downtown, stay within minutes of local area attractions and the iconic Mayo Clinic, walk to premier shopping and dining, and take in the urban neighborhood and nightlife." The Kahler Grand Hotel is one of the area's best luxury hotels and is perfectly situated as a place to stay for your romantic getaway in Rochester, MN.
The Top 5 Rochester Restaurants
1. Redwood Room
2. Pescara
3. Prescotts
4. Mango Thai
5. Chester's Kitchen & Bar
Mayo Clinic Campus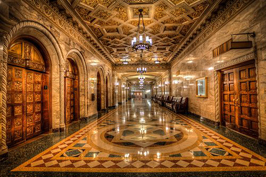 Rochester, MN is home of the Mayo Clinic which has some very interesting architecture for the area. The clinic is home to The Plummer Building. The building is one of Rochester's historic buildings and well worth visiting with your loved one if you share an interest in history and architecture. "the Plummer Building is an iconic symbol of Mayo Clinic, designated as a National Historic Landmark." For a special treat when viewing the campus and buildings, "Atop the Plummer Building on our campus in Rochester, Minnesota, is a 56-bell carillon. It is one of the largest instruments of its kind". The campus has many other historical buildings and offers tours of the facilities as well.
Rochester Tours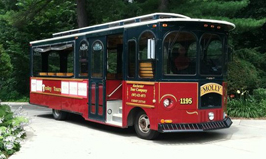 When in Rochester, MN there are a few tours that are perfect to take with your love. If you and your sweetheart are interested in historic houses, try the tour of the Mayowood Mansion. The manor has lovely gardens to stroll through while enjoying the beauty of the historic architecture. If you want to see more of the city and not just one of the historic homes, I suggest taking the Trolley Tour and being swept away by the nostalgia that a trolley brings with it. For a special treat, if you visit during the winter holdiay season, the trolley has tours of the festive lights.
The Arts in Rochester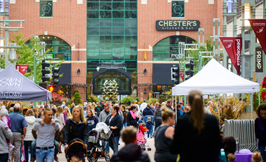 The city is supportive of the arts. Every Thursday in the summer it holds "Thursdays on First" where local restaurants and artists can set up booths all along First Avenue downtown Rochester. There are some performances that can be seen then as well as street musicians that play. The summer art shows certainly make for a nice romantic atomosphere while you spend your getaway in Rochester. The city also has a symphony orchestra, nice theatres and a few museums of note such as the Rochester Art Center. It is also a great city to get out and see some historic places. We recommend taking a stroll and visiting Plummer House, Mayowood Mansion, or Heritage House. If getting out and visiting nature is more your thing, the city is also a great place for that. Visit
Quarry Hill Nature Center, Foster-Arend Park, or Cascade Meadow Wetlands & Environmental Science Center, and have a picnic in nature with your love.
Rochester Sports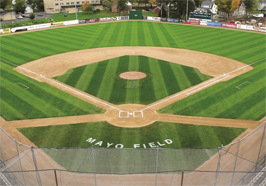 While Rochester, MN doesn't have any professional teams, it does have a few ameture and semi-professional teams that are great to see for a night out. They have the Rochester Honkers ameture baseball team, the Rochester Grizzlies junior ice hockey team, the Med City Freeze semi-professional football team, and the Rochester Med City FC soccer club. All these teams are sure to put on a great show for a sportys date-night.
Unique Date Spots
Some unique date spots in Rochester, MN include: the Salem Glen Vineyard and Winery and the Forager Brewery. When in Rochester, another great way to spend a date is to sift through time together and bring back a memory to share by visiting one of the antique stores, like Ontario Mall Antiques, All Things Antiques And Collectibles, Benedums Antiques and Gifts.