Pittsburgh may be known as Steel City, but it certainly has a lot of appeal for a romantic couple. It is also known as the City of Bridges. Come to Pittsburgh for a romantic getaway and see for yourself. Pittsburgh has it all, steel, bridges, a rich history and a lot of places to get lost with your love.
Points Of Interest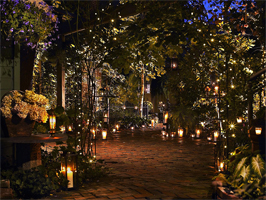 Start your romantic stay in Pittsburgh, PA with a stroll through "the candlelit garden courtyard, nestled between two buildings, once three 1872 row houses." This bed and breakfast is perfect for the couple that is looking to enhance their romantic stay in the city with a dash of charm and elegance. The bed and breakfast features rooms each with their own unique theme and has modern amenities mixed with historic charm. Find a comfortable nook of your own at this bed and breakfast and truely enjoy your romantic stay in Pittsburgh.
The Top 5 Pittsburgh Restaurants
1. Altus
2. Monterey Bay Fish Grotto
3. Eleven
4. The Capital Grille
5. Grand Concourse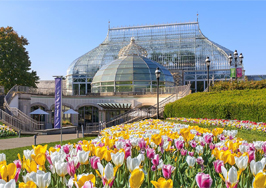 Take your love for a stroll through this beautiful garden that is set in the middle of the bustling city of Pittsburg. "A green oasis in the middle of Pittsburgh's vibrant Oakland neighborhood, Phipps Conservatory and Botanical Gardens has provided a world-class garden experience to its visitors since 1893. Explore the beauty and wonders of nature at Phipps, encompassing 15 acres including a 14-room glasshouse and 23 distinct gardens. Experience industry-leading sustainable architecture and green practices, stunning seasonal flower shows, exclusive commissioned exhibits, renowned orchid and bonsai collections and more. This historic landmark is just a few miles from downtown Pittsburgh in Schenley Park."
This garden is not just a garden, but is also home to many peices of art including glass peices by Dale Chihuly and Hans Godo Fräbel. "Since the Conservatory was built by philanthropist Henry W. Phipps as a gift for the people of Pittsburgh in 1892, Phipps has inherited a numerous artworks" Come to the conservatory and view many works of fine art. Then stroll through the gardens and take in the ever ghanging exhibits of beautiful plants.
Pittsburgh Tours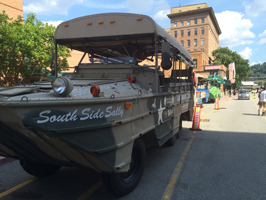 With so many historical sites, bridges, waterways and the multitude of things to see, what better way to do that than to take a tour. There are many tours that you can take and so many sites to see in this large and industrious city that it is hard to choose which one to take. We recommend taking a self-guided tour of The Neighborhood of Shadyside. If you walk about this neighborhood, you and your love can view many of the city's restored Victorian mansions. We also recommend walking about The Strip District where you can experience a quirky, fun, and vibrant place to be featuring local and international products, meat and fish markets and sidewalk vendors.
Beyond self-guided tours, Pittsburgh has a few other tour of note that you might not want to miss. We suggest taking a hop-on-hop-off guided bus tour of the area to cover the most ground and explore at your own pace. If you prefer to see the city by water, take a Just Ducky Tour and see it in a converted WWII military vehicle to get your history fix while you are at it. If you still haven't gotten your historic nostalgia fix, then take a tour by trolley and enjoy the ride on a 1920s vintage trolley. No matter which type of tour you choose to take, the time spent with your sweetheart making memories is sure to be worth it.
The Arts in Pittsburgh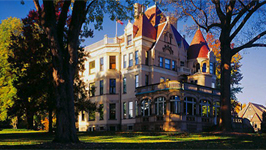 Pittsburgh is a large and old city and has a long history of supporting the arts. There are many museums that house both old and new works of art, many theatres, and a lot to do to have an enjoyable night out on the town. On your getaway when visiting Pittsburgh, you and your love are sure to always have something to see and do. We recommend that you be sure to check out these museums while in the city: the Frick Art Museum, University of Pittsburg: Stephen Foster Memorial and Museum, Cathedral of Learning, Carnegie Museum of Art, and the Carnegie Natural History museum.
Once you and your love have spent some time appreciating the fine arts, check out some of the theatrical experiences available in Pittsburgh. It is home to Kelly Strayhorn Theater, CITY Theatre Company, Pittsburg Playhouse, and the Heinz Hall for the Performing Arts.
Pittsburgh Sports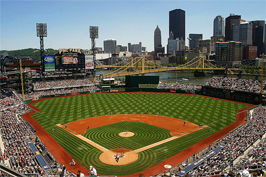 Pittsburgh, PA has a rich and long history of sports and is home to many current sports teams including the Pittsburgh Pirates (MLB), the Pittsburgh Steelers (NFL), the Pittsburgh Penguins (NHL) and more. Throughout the years these teams have won over 18 championships between them. Clearly Pittsburgh major leauge teams will not dissapoint the sports-loving couple. Take your sweetheart out to see a game and enjoy the thrill of watching the competitions together. Beyond major leauge teams, Pittsburg also has a few college teams and so no matter when you visit there is sure to be a game to take in.
Unique Dates
There are a lot of things to do in Pittsburgh, but we suggest taking your love for a trip to an antique store. You can find a great momento wiht some historical weight to remind you of a wonderful weekend getaway. Some of the great stores in the area to be sure to take a peak into are Zerrer's Antiques, Artifacts, and Mahal &CO Antiques.