While Philadelphia may be known as the home to the Liberty Bell and Pennsylvania's largest city, it has a softer side that is well worth exploring on a weekend getaway with your sweetheart. It has many museums for strolling, its buildings have colorful murals to view on a walk though the city, and a longstanding Italian Market for you to explore. Visit Philadelphia with your love and experience the romance it has to offer.
Points Of Interest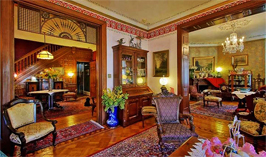 "The Gables is nestled in the middle of Philadelphia in a section known as University City. This is a residential community developed around the turn of the last century. It boasts an eclectic grouping of Victorian homes and Edwardian townhouses.""The Gables was designed and built in 1889 by prominent Philadelphia architect Willis Hale." "Guests are often found sitting on the magnificent wrap-around porch or in the garden reading the morning paper or perhaps a good book selected from the many available throughout the house. The yard with its ever-blooming perennial garden is a favorite spot shaded by a stately old Norway maple and blossoming dogwood, Japanese cherry, crab apple and magnolia." A stay at this romantic bed and breakfast is sure to enhance your weekend getaway and be the perfect home base as you discover the romantic side of Philadelphia.
The Top 5 Philadelphia Restaurants
1. Bistro Romano
2. Fiorino Italian
3. Ocean Prime
4. The Victor Cafe
5. Talula's Garden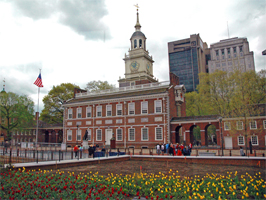 Philadelphia is a history-lover's paradise. The city was founded in 1682 and has played an intrigal part of our nation's history since then. The Independence National Historical Park is the perfect place to stroll with your love and soak in all the history around you. The park includes sites such as Independence Hall, the Liberty Bell center, and the Benjamin Franklin Museum. "The Declaration of Independence and U.S. Constitution were both debated and signed inside Independence Hall. Nearby sits the Liberty Bell, an international symbol of liberty." Take your love to the park and be sure to get tickets for the tour of Independence Hall. The charm and history of these sites is sure to spark your interest and make shared rememberances for you and your love for years to come.
Philadelphia Tours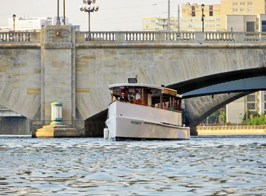 Philadelphia is a large old city and as such there is a lot to see. While it is a great place to see historic sites and architecture, it is also a thriving city that is still changing and moving today. The best way to see such a large and historic city is to take a tour and focus on the things you love. Share the experience with your sweetheart and have fond memories of your special trip together for years to come.
Some great tours to see the historic sites include The Constitutional Walking Tour and Philly Tour Hub. Once you and your sweetheart have seen the town and have worked up an appetite, take some of the great food tours that the city has to offer. Some of the food and drink tours that we recommend are Chew Philly Food Tours, Philly Brew Tours, and Philly Cheesesteak Tour. The food tours are sure to satisfy your appetite and give you a true taste of Philly. After the food and drink, take the Grimphilly Twilight Tours. The tours ghost tours that they offer can show you a spookier side of the city and give you a great reason to curl up colse to your loved one.
Those are just a few great ways to see the city, but if you are more of an adventurous and active couple, consider seeing the city with a bike tour or even take a boat about the city waterways.
The Arts in Philadelphia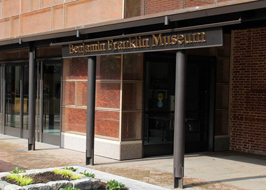 Being that Philadelphia is such an old and important city, there are many museums and historic sites about the city to see. Some of these that are sure to be a great place to discover more about the city with your love at include Philadelphia City Hall Visitor Center, Independence National Historical Park, Liberty Bell Center, Benjamin Franklin Museum, Independence Square Buildings, Congress Hall, and Old City Hall. There are many ways to see these buildings like enjoying a walking tour of the outside architecture or by scheduling time to tour the insides, strolling hand in hand with your love. Whatever way you chose, if you are a history-loving couple, you are sure to enjoy visiting all the museums and historic places.
Some interesting historic places in Philadelphia that feel less like walking through a museum include the first zoo in the United States and the first hospital in the United States. Take your love out to the zoo and experience something that is both historic and wild.
Philadelphia Sports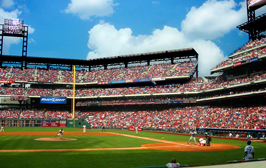 "Philadelphia hosts numerous local and collegiate rowing clubs and competitions, including the annual Dad Vail Regatta, which is the largest intercollegiate rowing event in North America." Beyond being a great place to catch a college rowing event, Philadelphia is home to many professional sports teams including the Philadelphia Phillies (MLB), the Philadelphia Eagles (NFL), the Philadelphia 76ers (NBA), and the Philadelphia Flyers (NHL). Each of these teams put on a good show and are great to see if you want to catch a home game while you are in Philadelphia for your getaway. Whatever type of sport you and your love are into is here to entertain. Take your sweetheart to the field and enjoy a bit of competetive fun by rooting for the home team together.
Unique Dates
Philadelphia is a unique spot for a getaway by itself, but there are some pretty great ways to make your romantic getaway in the city even more special. We suggest a trip to one of the great antique shops in the area like Anastacia's Antiques, M Finkel & Daughter, and Good's Vintage. Sift through time and history with your sweetheart and find something to take home with you to remember your getaway. Once you have found your momento, and if you are visiting in the winter, we also suggest taking your love for a skate on an ice rink.