Take your love to Pasadena, CA to experience the excitement of New Years in the city, complete with the famous Tournement of Roses Parade and the Rose Bowl football game. If you are looking for a more relaxing and romantic experience in the city, visit during the off-season and stay in a historic B&B to then set off into the city and visit many of its attractions, such as museums, historical sites, shopping areas, and performance arts venues.
Points Of Interest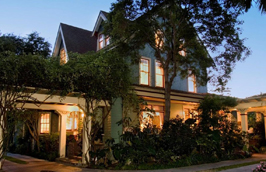 "Step back in time and experience what it was like to live in a home that was built in 1887 in beautiful, romantic and historic South Pasadena, California. The Bissell House Bed and Breakfast is a Cultural Landmark and is a one of a kind three-story shingle Victorian, with craftsman style influence, located in a mostly residential neighborhood." Make this romantic historic house your home away from home during your getaway and you won't be sorry. It is sure to foster the perfect romantic atmosphere for you and your love.
The Top 5 Pasadena Restaurants
1. Cafe Santorini
2. Bistro 45
3. Malbec Argentinean Cuisine
4. Parkway Grill
5. La Grande Orange Cafe
Tournament of Roses Parade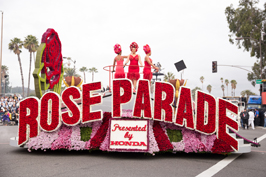 Visit Pasadena, CA during New Years and you can experience the excitement of the Tournament of Roses Parade that is held every year. Afterwards, take your love to see the Rose Bowl game and enjoy a little competiton while in town. The parade features floats covered in flowers, marching bands, and equestrian units. It is a great thing to share with your sweetheart during your romantic getaway.
Pasadena Tours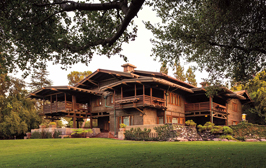 Pasadena has many historical estates that are perfect for touring. The Gamble house is one such estate and it offers tours of the grounds and the inside of the house, you can even have a picnic there. Beyond seeing many of the historic sites about the city, there are a few other tours that can be fun to experience with your sweetheart. You can take a food tour of the area and enjoy what delicacies Pasadena has to offer. For the adventurous couple that wants to get out into the great outdoors, you can take your love on a tour of the Eaton Canyon Natural Area. Bring a picnic lunch and make it extra special.
The Arts in Pasadena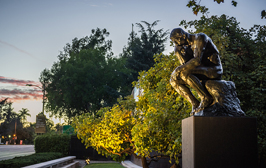 The arts in pasadena are alive and well. The city is home to many museums, a symphony, a few gardens of note to stroll in, like Descanso Gardens, and a noteable playhouse that features some renouned plays. "For more than ten years, twice annually Pasadena's cultural institutions have opened their doors for free during ArtNight Pasadena, offering the public a rich sampling of quality art, artifacts and music within the city." The city is certainly a place that values the arts and so is a perfect setting for a romantic date with plenty of culture to take in. Some of the best places to see are the Norton Simon Museum, The Pasadena Playhouse and the Huntington Library and Botanical Gardens.
Beyond arts, Pasadena has many places to enjoy the night-life, like Club 54, Old Towne Pub, Eden Garden Bar and Grill, The Speakeasy, Club S Karaoke, and the White Horse Lounge. All of these places are great to take your sweetheart to to enjoy a good drink and some music.
For the couple looking for a more relaxed trip and would rather visit the historical sites then dance in the clubs, there are two house museums of note that are highly recommended, Fenyes Mansion and Wrigley Mansion. Fenyes Mansion even offers tours. Take your love out and enjoy what Pasadena has to offer.
Pasadena Sports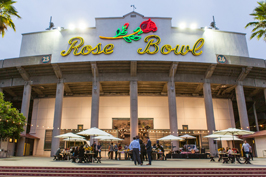 Once a year during the New Year, the biggest sporting event in the city is held at the Rose Bowl Stadium. The Rose Bowl is a football competition between college teams. It is held every year after the Tournement of Roses Parade. When you aren't catching the Rose Bowl, the stadium is home to the UCLA Bruin's football team. Take your love to the game and enjoy being in the stadium that hosts such a famous event every year.
Unique Date Spots
Some unique date spots in Pasadena, CA include: The Ice House Comedy Club to tickle your funny bone and Lindy Groove for some dancing. If you love looking for historic treasures, I highly recommend taking your sweetheart to treasure hunt in one of the many antique stores of the area, like T L Gurley Antiques, Uncharted Antiques, and Voorhees Craftsman.