New York City has long been known as an artistic and cultural center. For that reason along, it screams romance. Don't pass up the opportunity of a lifetime to romance your sweetheart in the Big Apple. Broadway, the Met, the Knicks, The Yankees, unsurpassed cuisine and more await to help you set the mood for the perfect date.
Points Of Interest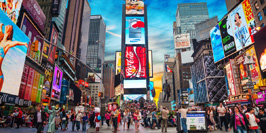 No trip to New York City is complete without a look at Times Square and if you time it right, Times Square in New York City can be one of the most romantic spots around. Be sure to dress warm and snuggle your loved one close if you plan on visiting on New Year's Eve to watch the ball drop and steal a kiss from your sweetheart.
The Top 5 New York City Restaurants
1. The River Cafe
2. One if by land 2 if by sea
3. Zenkichi
4. La Grenouille
5. Gramercy Tavern
Central Park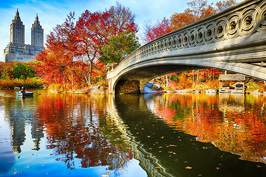 When many think about Romantic New York City, they envision a carriage ride through Central Park, most likely due to its romantic charm and the fact that it is frequently seen in the movies. Central Park isn't just carriage rides, but is the perfect place for a stroll around the park appreciating the beauty of the landscaping in the heart of Manhattan. In the park you can visit the Central Park Zoo, have a picnic, see the many iconic statues and bridges and much more… There is certainly something for every type of couple in the park, but that isn't all there is in New York City. Take a look at the many city tours, some including the park, but many including some of the historic buildings and posh areas of the city.
New York City Tours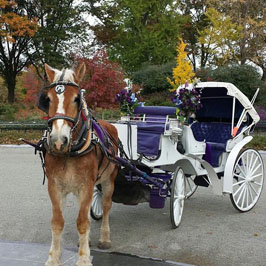 There is no better way to see New York City than by a charming horse and carriage, however if you wanted to see more of the city than just the central park area, then there are many other tours to be had in the city. Take a tour of many of the historical buildings like the empire state building or even go up in the Statue of Liberty. From sight seeing tours to cruises and more, there is a tour for every couple. We suggest taking a rooftop tour, a cruise or seeing the city by night for a unique view of the area.
The Arts in New York City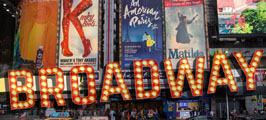 It wouldn't be New York City if I didn't mention the arts. A couple can experience a wide range of art in the city. From fine art museums to listening to the street vendors play, the City is inundated with art and culture.
The city is home to many museums, the Metropolitan Museum of Art being one of note as well as The Corning Glass Museum. For theater the city is home to Broadway in Manhattan and also has the Lincoln Center. If you can get tickets, you are sure to always have a thrilling new show to watch. New York City is also home to the Metropolitan Opera House as well as the New York City Ballet; both are very popular and definitely something romantic that will be hard to forget.
The city that never sleeps is also home to many comedy clubs including Gotham Comedy Club, The Comedy Cellar, New York Comedy Club, and Dangerfield's. All of these clubs are sure to give a couple a show with something to laugh about for years to come.
Beyond the theater, opera, ballet, and museums, New York City is home to many historic buildings that are worth taking a trip to see. Two of the better-known historic skyscrapers are the Empire State Building and the Chrysler Building.
One piece of art that shouldn't be missed when visiting New York City is the statue of Liberty. You and your sweetheart can visit the island it stands on and take a tour into the statue to get the bird's eye view of the city and harbor below.
New York City Sports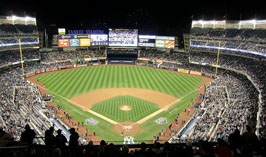 If sports are what you are into as a couple, then New York City is the city for you. You might even have trouble choosing which game to go to. Here you can catch almost any type of game. They are home to two famous baseball teams, two football teams, a basketball team, three hockey teams and a soccer team too. No matter the sport, be sure to grab your favorite jersey and take your sweetheart to root for the home team.
Unique Dates
There are so many unique things to experience in New York City that it is hard to list just one thing to do as a unique date opportunitiy. I would definitely recommend delving into history by visiting some of the local antique shops like Obscura Antiques & Oddities, Syl-Lee Antiques, High Style DECO and More and More Antiques. Also I would suggest finding a local book store or even used book store find and make some stories to share with your love. Otherwise, go crazy and see all the sights that the Big Apple has to offer as just going to the city is definitely a unique date.