Fall in love Little Rock Arkansas. Enjoy the nostalgic romance of a streetcar tour or a long walk along the longest pedestrian bridge in the country. No matter what your preference, Little Rock has something romantic for you.
Points Of Interest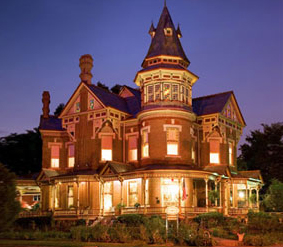 "Named the #4 Most Romantic in the United States, this small luxury boutique specializes in surpassing expectations. From the moment you enter the foyer of the Grand Sitting Parlor, to relaxing in the hammock in the Moonlight Secret Garden listening to the gurgle of the vintage quartz fountain, this is an experience you will remember!" Come and stay at the Empress of Little Rock and you will have a romantic experience to talk about for years to come. This beautiful bed and breakfast knows romance and will not disappoint.
The Top 5 Little Rock Restaurants
1. Brave New Restaurant
2. Sonny Williams' Steak Room
3. Vesuvio Bistro
4. Ciao Baci
5. Loca Luna
Big Dam Bridge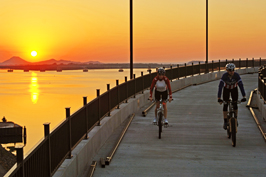 For couples that like a good bike ride or a long stroll under the open Arkansas skies, this is the site to visit. The Big Dam Bridge is the longest specially-built bicycle and pedestrian bridge in the country. It "spans the Arkansas River and Murray Lock and Dam between Little Rock and North Little Rock and is open only to pedestrian and bicycle traffic." Take a stroll or ride a bike and enjoy the sky and water of Little Rock Arkansas.
Little Rock Tours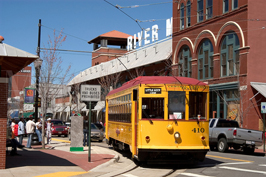 See the city by bike, segway or even better, streetcar. While biking or taking a segway are definitely some tours that are sure to bring you and your love closer, I think the streetcar wins for most romantic due to its nostalgic feel. For an excuse to snuggle a little closer and hold hands while on a tour, try out the city's ghost tour. Get out and see the city in style and afterwards perhaps take a tour of one of the breweries with your love and enjoy a relaxing pint.
The Arts in Little Rock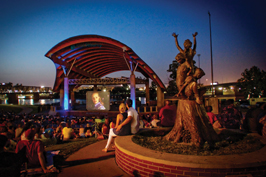 Little Rock, AR is home to many museums, parks and cultural sites. They have a ballet and symphony as well as a great theater to go see any type of performance you could wish. Little Rock also has an arboretum and a zoo, which are sure to be great places for a romantic stroll with your sweetie. Some museums of note to visit while in the city are the Museum of Discovery, the Old State House Museum, the Clinton Presidential Library and Museum, the MacArthur Museum of Arkansas Military History, Arkansas Inland Maritime Museum, and Historic Arkansas Museum. One of the many parks in the area that is also highly recommended is the Pinnacle Mountain State Park. For those that are interested in the Little Rock night life, there is a lot to do with places like White Water Tavern, Electric Cowboy, CLUB 27 and Discovery Night Club. Get out and enjoy all that Little Rock has to offer.
Little Rock Sports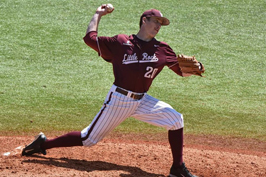 While there are no major professional teams in Little Rock, AR, there is the Arkansas Travelers minor league baseball team and they know how to play a great game. Little Rock is also home to the Little Rock Trojans of the University of Arkansas of Little Rock. So while there may be no major team to root for, you can still enjoy a game with your sweetheart and have a great date night in Little Rock, AR.
Unique Dates
Some great things to do for a unique date in Little Rock, Arkansas include going for a stroll through a historic cemetery, visiting the Arkansas River Trail System, or even going to one of the local Farmer's Markets if you visit from May through October. There is always something great about getting out in the Southern sunshine and making memories with your love.