Columbus, OH is the second most populous city in the mid-west, second only to Chicago. With this many people, the city is sure to have many things to see and do as well as many great spots to enjoy on a romantic getaway.
Points Of Interest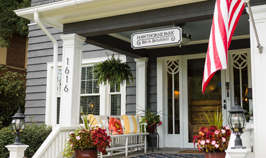 "Hawthorne Park Bed and Breakfast is centrally located for convenient access to every venue, whether you're here to experience the art, culture, dining, nightlife or sports that this vibrant city offers." The Bed and Breakfast strives "to create an unforgettable experience for each guest, whether they choose to rest and relax or explore the city and surrounding attractions." Stay here with your sweetheart on your getaway and romance is sure to come.
The Top 5 Columbus Restaurants
1. Z Cucina di Spirito
2. Lindey's
3. The Refectory Restaurant & Bistro
4. Mitchell's Ocean Club
5. Mozart's
Columbus Historic Landmarks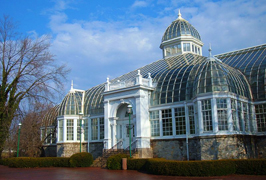 Columbus, OH has a few historic landmarks of note for the history-loving couple, including a romantic Conservatory. The Ohio Statehouse in Capitol Square was built in 1861 in a gothic revival style. The statehouse is a great place to visit and stroll about the grounds while enjoying the historical sights. The LeVeque Tower in downtown Columbus, OH is the second tallest skyscrapper in the city, but retained the title of the tallest skyscrapper until 1974. The tower was used for many purposes through the years including residential use and use as a hotel, but it has also been home to the Palace Theatre and is a great place to see a show with your sweetheart. The third noteable historic building in Columbus, OH is the Franklin Park Conservatory and Botanical Gardens. The conservatory was originally built in 1895 and is the perfect spot to take your love to enjoy the botanical gardens and historical architecture, while enjoying one another's company.
Columbus Tours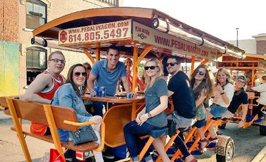 There are many tours of the city to be had in Columbus, Oh, but there are a few that are more interesting than others. I suggest taking your sweetheart on one of these three tours: Columbus Ghost Tours, where you can your sweetheart can snuggle closely as you investigate the paranormal side of Columbus; Peddle Wagon Columbus, where a couple can enjoy a pint while cycling thorough the city; or take an Operation City Quest tour where you and your love can go on a scavenger hunt together and experience Columbus in a whole new way. These tours are sure to make some memorable times for you and your love on your romantic getaway. Get out and see the city.
The Arts in Columbus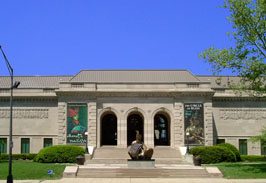 Being the second most populous city in the mid-west, Columbus has a lot to offer in the way of the arts. It has many museums. The Columbus Museum of Art, The Wexner Center For the Arts at Ohio State University, and Ohio History Connection with the Ohio Village are a few of note to be sure to take a leisurely stroll through. Beyond museums, Columbus boasts many of the places where a traditional romantic date is ideal, such as the Columbus Symphony, The Franklin Park Conservatory, the Columbus Park of Roses and the ballet. For those of the more adventurous type, Columbus is also home to a zoo and aquarium. For history buffs, we recommend visiting the Kelton House Museum and Garden where you can experience history for yourself. For the couple that are looking to bring home some artwork of their own, we suggest visiting Short North Arts District where you can find shops selling records, streetwear, and vintage clothes as well as contemporary art galleries.
Columbus Sports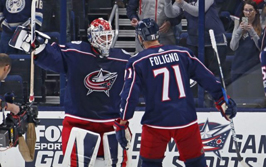 Columbus is home to two major league professional sports teams: the Columbus Blue Jackets of the National Hockey League (NHL) and Columbus Crew SC of Major League Soccer (MLS). If you and your sweetheart are in the mood for more than hockey or soccer, Columbus is home to a minor leauge baseball team as well as the Ohio Buckeyes of the Ohio State University. With all of these choices you are never far from a game, so take your sweetheart out and enjoy the show.
Unique Date Spots
Some unique date spots in Columbus, OH include: Olentangy Indian Caverns for a cave experience, The Topiary Park for a stroll, or Vertical Adventures for a bit of rock climbing. For those looking to share a treasure hunt rather than a rock climb, we recommend taking your love to see some of the many antique shops in the city like Heritage Square Antique Mall, Mary Catherine's Antiques, and Grandview Mercantile Company.