While Cleveland, OH is known as a city of industry, it can also be a city of romance. It is an old city and as such has a lot of history and charm. The city has invested in its cultural institutions such as museums, zoos, public spaces and music programs and it shows. There is always something to see in Cleveland, be it a sports game or strolling through an art museum. It is a great city to get away and share some romantic experiences with your sweetheart.
Points Of Interest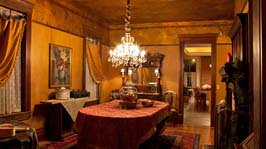 "Wallace Manor, an oasis in the city, surprises our guests with delightful elegance and comfort. The common spaces as well as our guest rooms offer the perfect space to celebrate your special occasion." "Wallace Manor has several outdoor spaces available for our guests. The front porch offers the perfect spot to relax with a cup of coffee and watch the people traffic of Franklin Blvd. Off of the patio is a private hot tub available for use." This B&B is the perfect place for your romantic retreat.
The Top 5 Cleveland Restaurants
1. Edwins Restaurant
2. Blue Point Grille
3. L'Albatros Brasserie
4. Dante
5. Luca Italian Cuisine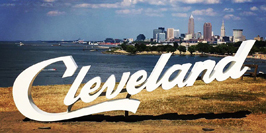 Cleveland is on Lake Erie and as such is home to some great beachfront areas. Edgewater Park is one of the beach areas and is a great spot to have a romantic picnic by the water, or just enjoy the summer sun with your sweetheart. "Edgewater Beach, located in lower Edgewater Park, has something from everyone. Make a day of it and rent a cabana along the shoreline or join a pick-up game of beach volleyball. Stroll along the beach while enjoying a delicious scoop of Honey Hut ice cream from Eats and Treats concession stand. Experience panoramic views of downtown Cleveland from the shore and experience a breath-taking sunset." The park is open until dusk all year round, so don't forget to stay and enjoy the sunset.
Cleveland Tours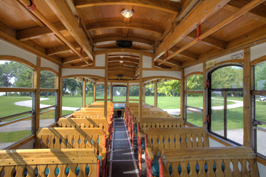 Cleveland is a large city and as such there are many ways to experience the city through tours that are offered from various companies. There are food tours, cycling tours, wine tours, etc. Two of the more interesting and romantic tours that I have found are seeing the city by trolley and on foot with a scavenger hunt. If you choose to go by trolley, you and your love can experience the city and nostalgia while covering 20 miles of the city and listening to some great and fun facts. If you would rather get out there and see the city up close and personal, you and your sweetheart can try the scavenger hunt and experience the fun of solving clues and uncovering some hidden historical gems in the city. Either way is a great way to see the city and share some memories.
The Arts in Cleveland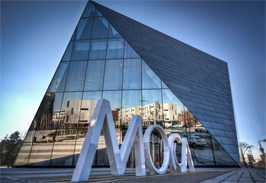 Cleveland, OH is an old city with a continued interest in the arts. It has two major art museums to explore, the Clevland museum of art and the Museum of Contemporary Art. They have a museaum of Natural History and they have a great science center to visist. There are also several art galleries throughout the city as well. The city also has a robust theatre and musical scene. They are home to the polka hall of fame, the Rock and Roll Hall of Fame and also a renouned orchestra. They have many theatres and playhouses to visit with many of them housed in Playhouse Square, a theatre district in downtown Cleveland. If museums and theatres aren't your favorite place for a romantic stroll, Cleveland is also home to a 183-acre zoo, aquarium, and a botanical garden. For the couple with more of a historical bent, there are a few notable sites to check out in the area, including USS Cod Submarine Memorial, the Lake View Cemetery, and the Cathedral of St John. With so much to see and do in Cleveland you might have to plan more than one romantic getaway to the city.
Cleveland Sports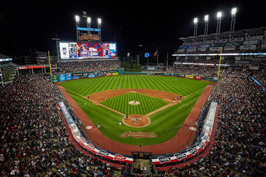 Take your love out for a date and a game. Cleveland, OH is a great city for the sports-loving couple. It is home to three professional teams: The Cleveland Indians (Major League Baseball) who make their home at Progressive Field, The Cleveland Browns (National Football League), and the Cleveland Cavaliers (National Basketball Association). As you can see, with so many professional teams to pick from, the sports fan in your life won't be disappointed. Share some stadium food and root for your team together.
Unique Date Spots
Some unique date spots in Cleveland, OH include: the Rockefeller Park Greenhouse for a stroll through the hothouse, Wade Oval Ice Rink for some charming outdoor ice skating, or Whiskey Island Marina for some time out on the waterfront.