Cincinnati, Ohio is a city on the water that has a lot to offer a couple for a romantic getway destination. It has many historic buildings, interesting tours to take, plenty of places for a cultural experience and much more. Visit the city to see all it has to offer for your romantic getaway and you won't be disappointed.
Points Of Interest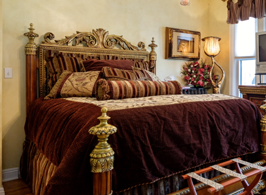 Stay at the Gaslight Bed and Breakfast and enjoy the historic gaslight district of Cincinnati, OH. "Situated on a hilltop site in the historic gaslight district of Clifton, the Gaslight B&B offers plush hospitality with quick access to the University and downtown Cincinnati areas. This elegant four story home draws you up under the branches of its gently waving willow, calms you with the murmers of its bubbling waterfall, and fills you with feelings of leisure and coziness. These exterior delights of Gaslight are just a preview of the luxury and hospitality to come." With a stay at a bed and breakfast that comes highly recommended, you are sure to have an experience you and your love will remember for years to come. Start your getaway right with a stay at this Romantic and historic house.
The Top 5 Cincinnati Restaurants
1. Primavista
2. Soto
3. Red Feather Kitchen
4. Orchids at Palm Court
5. Nicola's
Over-the-Rhine District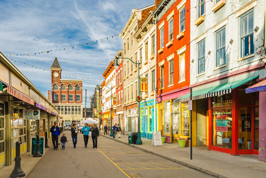 The Over-the-Rhine district is known for its 19th-century architecture, including Findlay Market, and is a great and unique area to visit while you are on your romantic getaway in Cincinnati, OH. The district has many historical buildings and has a thriving market to shop for just the right token to bring home from your trip. "Over-the-Rhine is one of the largest, most intact urban historic district in the United States." Because of its size, the district has a few distinct sections, including a brewery distric. With so much diversity, this section of the city is sure to tickle every couple's fancy. For this history lovers we suggest visiting some of the historic buildings in the area, including: The Germania Building, Hanke Building on Main Street, and the Music Hall. These buildings are great examples of the different architectural styles in the district. After visiting the historic buildings, go for a relaxing stroll in Washinton Park.
Cincinnati Tours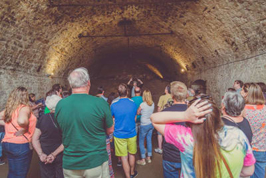 There are a lot of ways to see Cincinnati, Oh, being that it is a large and old city. One of the best tours to take in the city is the Queen City Underground Tour. "Enjoy a stroll through Over-the-Rhine, home to America's largest set of historical landmarks. Visit buildings in the Gateway District that were home to over 130 saloons, bars, beer gardens, and theaters that hosted iconic entertainers like Buffalo Bill Cody. Then, descend below the city streets to a hidden crypt where some of Cincinnati's first residents were buried. Next return underground to explore newly discovered tunnels vital to Cincinnati's brewery heritage. Finally end the tour with a visit to a modern brewery in OTR." With such a glowing description of the tour, it is sure to be a unique experience when seeing the city.
Some other tours in the area that are also recommened include walking tours of the city, food tours, and some brewery tours as well. However you choose to see the city, time spent with your sweetheart, experienceing something new, is sure to bring you closer together.
The Arts in Cincinnati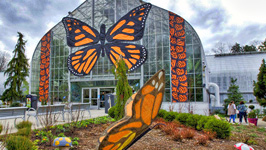 Cincinnati has a lot to offer the couple that has an appreciation for art. It has many theatres including: The Aronoff Center for the Arts, Cincinnati Music Hall, Memorial Hall OTR, Taft Theatre, Playhouse in the Park, and Otto M Building Theatre. It also has a few museums of note that include National Underground Freedom Center, Cincinnati Art Museum, Taft Museum of Art, Contemporary Arts Center, Creation Museum, and Museum of Natural History & Science. With so much fine art surrounding one, a couple is sure to find something that will enrich their romantic getaway in Cincinnati.
Beyond fine arts, the city also hosts many festivals each year and is home to many wonderful parks for strolling, such as; Eden Park, Glenwood Gardens, Mt. Echo Park and Washington Park. Taking your love on a picnic in any of these parks is a fine idea for adding romance to your getaway.
When you are done with the fine arts and the wonderful parks in the city and are ready for something more on the wild side, visit one of the great facilities that showecase Cincinnati's flora and fauna. The Cincinnati zoo is a great place to see wild animals up close and the Aquarium is a great way to get up close and personal with the aquatic life. For a change of pace, visit the Krohn Conservatory and enjoy time with the butterflies while also being surrounded by natural beauty.
Cincinnati Sports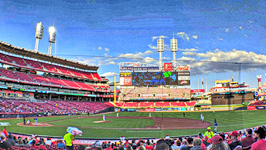 Whether you would like to see some baseball or watch a marathon, this city has you covered. "Cincinnati has three major league teams, seven minor league teams, five college institutions with sports teams, and seven major sports venues." With so many sports teams and venues in the area, there is sure to be a game for any kind of sports-loving couple to see. Cincinnati's three major league teams are the Cincinnati Reds (MLB), who were named for America's first professional baseball team, the Cincinnati Bengal Tigers (NFL) and FC Cincinnati (MLS). The city is known for baseball, so much so that it is the traditional opener city for Major Leauge Baseball Opening Day. Cincinnati is also home to the Flying Pig Marathon that brings in many runners to the city each year. Take your love to Cincinnati and enjoy some competition.
Unique Date Spots
Some unique date spots in Cincinnati include treasure hunting for antiques in some of the city's antique shops like Riverside Center Antique mall, Flamingo Haven Antique Mall, or Covered Bridge Antique Mall. A great way to spend a unique date is also to take in one of the many sporting events in the city. It is sure to give a couple a one of a kind date experience to remember for years.