Chicago, IL is known as the Windy City, but don't let that fool you. It is a great spot to find and kindle romance. It has tall buildings with wonderful vistas, a great lakeside strolling/shopping area, horsedrawn carriage rides and more. Come see what Chicago has to offer, you won't be dissapointed.
Points Of Interest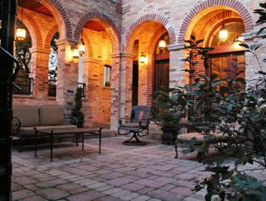 For your romantic getaway in Chicago, IL, you could spend your time at a one of the many luxury hotels in the area, or you can stay at this "historic villa turned B&B with posh Italian-themed quarters, a stocked kitchen & a hot tub". Treat yourself and your love to a unique and personal experience by staying in this bed and breakfast while plotting your next foray into the city. "Villa D' Citta presents a romantic ambiance with luxurious amenities to make your vacation relaxing and unforgettable." Just moments away from your comfortable nest, the city and its attractions beckon, but this bed and breakfast is a bastion of relaxation and romance. Be swept away by its charm and your getaway will not soon be forgotten.
The Top 5 Chicago Restaurants
1. Prosecco
2. Bavette's Bar & Boeuf
3. Catch 35
4. North Pond
5. Geja's Cafe
Garfield Park Conservatory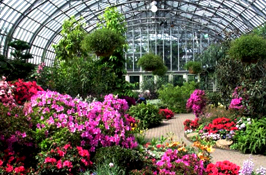 Chicago has many points of interest that you should see while on a weekend getaway, so many in fact that it is hard to pick just one thing to check out. The city is known for its arts and architecture and it also has many seasonal festivals that are sure to pique your interest, as well as a fantastic shopping area complete with a Ferris Wheel the Magnificent Mile, but one of the more romantic places in Chicago that I think you should be sure not to miss is the Garfield Park Conservatory.
"Chicago's Garfield Park Conservatory is one of the largest and most stunning botanical conservatories in the nation. Often referred to as "landscape art under glass," the Conservatory showcases thousands of plant species from around the world throughout eight indoor display gardens. Year-round, visitors can enjoy the lush flora and tropical temperatures indoors" This park is the perfect place to get out of the winter cold and the wind and enjoy a stroll hand in hand with your love.
Chicago Tours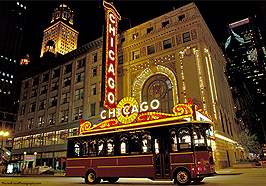 With a city so large, there are many tours you can take and many ways to get around the city to see the sites. The city has tours for any couple reguardless of their interests. There are tours to see the city by water, both kayak and boat tours. There are tours to see the city with a motorized vehicle, both bus and segway tours. There are tours to get the true flavor of Chicago both via food and drink. There are also tours to see the seedier side of the city both dealing with the mob and with the ghostly aspect of the city. There are so many tours that it is really hard to pick just a few to highlight, but we would like to give you starting point for planning your getway and really getting the full Chicago experience. We recommend the following tours: Wendella Boats, ChicaGo By Boat, Urban Kayaks, Wateriders, Big Bus Tours, Absolutely Chicago Segway Tours, The Barrel Run, Chicago Beer Experience, Chicago Pizza Tours, Chicago Food Planet, Untouchable Tour, Chicago Hauntings Ghost Tours, and Afterlife Tours Inc. For a special tour that is romantic and nostalgic try out the Antique Coach & Carriage Co. tour and see the city via horse and buggy.
The Arts in Chicago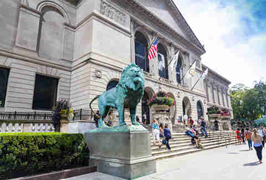 Museums, architectural wonders, historic sites, marvelous theatres and more await you and your love in Chicago, IL. The city is one of the largest cities in the United States and it has a lot to offer as well as a lot of history. It is the perfect city for a couple that is interested in fine arts or historic adventure. "Explore ancient Egyptian tombs, underwater worlds, Impressionist masterpieces, the depths of space, and beyond. From major exhibits to neighborhood cultural attractions, there's a whole world to explore at Chicago's renowned museums, galleries, and historic places." There are a plethora of choices for the couple that would like to stroll hand in hand through a museum. So many that it is hard to choose just a handful to mention, but to be sure, you and your love should visit The Museum of Contemporary Art Chicago, The Art Institute of Chicago, The Chicago Field Museum, and the Chicago History Museum. There are also many house-museums of note, including a few that were designed by Frank Llyod Wright. Two such places to visit include the Frederick C. Robie House and Frank Lloyd Wright Home and Studio.
Beyond musesums, Chicago has a rich history and many buildings of note to visit when you are in the city. To be sure you should visit the Willis Tower (formerly the Sear's Tower) and a building that held the title of tallest building in the world when it was first constructed in 1973 and held that title for many years. It is still in the top 20 of the tallest buildings in the world and currently is the second tallest in the United States.
With all of the museums and architectural marvels that Chicago has to offer, you would think there isn't much room for more, but this large city has many other places to visit on your stay. I suggest checking out the planitarium and the zoo, if you were interested in something less formal than a museum or historical tour.
When you and your love are done seeing the sites about the city and have had your fill of museums, zoos, and historic buildings, there are some great opportunities to have a wonderful night on the town about the city. "Renowned Chicago theater companies include the Goodman Theatre in the Loop; the Steppenwolf Theatre Company and Victory Gardens Theater in Lincoln Park; and the Chicago Shakespeare Theater at Navy Pier." Chicago is home to the Chicago Symphony Orchestra, the Joffrey Ballet, and the Chicago Festival Ballet. For a less formal show, Chicago also has many music festivals throughout the year including a jazz and blues festival.
Chicago Sports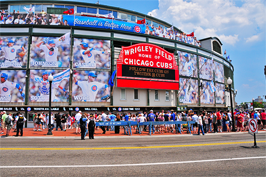 "Cheer from the bleachers on a sunny day, watch two legendary teams dominate the court and ice at the United Center, and celebrate a touchdown at historic Soldier Field. Our city is home to elite teams, plenty of championship titles, and a devoted fan base that brings the energy to every game." With an endorsement like that, it is hard not to want to go cheer on the local teams when in Chicago. Chicago is home to Wrigley Field where the Cubs play baseball, but that is not all that Chicago has to offer for sports fans. Chicago also has the Chicago Bears to root for as they run the football down the field, and they also have major league teams for hockey, soccer, basketball and even another major league baseball team. The only thing that will cause any trouble when planning a romantic sports date in Chicago is the availability of so many choices. No matter which team you choose to see or what sporting even you go to, you are sure to make some great memories with your sweetheart to take home. 
Unique Date Spots
Chicago is a city with a lot of potential for a unique date. The city is large and offers almost anything under the sun for a couple to enjoy. The best sort of date for a city like this is one where you and your love can make memories and enjoy the little touches of local life together. I suggest taking your love on a treasure hunt and picking out a special souvenier of your time together and one of the local antique shops in the city. Some of the shops of note include: The Lazy Dog Antique Store, Broadway Antique Market, Edgewater Antique Mall, Good Old Days, and Brownstone Antiques. For those that would love something new and unique to their speical trip, try some of the specialty shops like Woolly Mammoth, The Fig Tree , Hazel, and Komoda, in the area. Beyond shopping, pick a spot to spend some quality time in, mabye have a picnic if the weather is nice or a stroll down Navy Pier and make sure you enjoy all the special time together.