A person might not think about New Jersey immediately when thinking about romance, but it isn't called the garden state for nothing. Visit Cape May in New Jersey for a dose of romance by the sea. Take a chance to see the sunset over the bay while enjoying an old fashioned walk on the boardwalk or beach with your sweetheart or enjoy the picturesque lighthouses and Victorian homes. There is much to do to set the mood in New Jersey.
Points Of Interest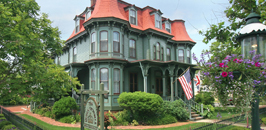 In Cape May, there are many beautifully restored and preserved Victorian houses. A fair amount of these houses have been converted into bed and breakfasts where a couple can relax in tranquility while enjoying the ambiance of the past and the pleasures of the present. The Queen Victoria bed and breakfast will not disappoint. It has all the charm of the typical Victorian bead and breakfast, mixed with the convenience and luxury of the modern day. Rent a room with a whirlpool tub and let the romance begin.
The Top 5 Cape May Restaurants
1. Peter Shields Inn
2. The Blue Rose Inn
3. Washington Inn
4. Union Park
5. That's Amore
Cape May seashore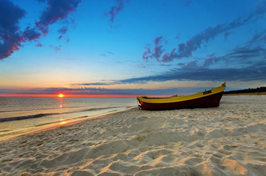 There are many beaches to visit in the Cape May area for the couple that loves sun and sand and the restfulness of lazing on a beach and listening to the waves, however a beach that should not be missed when visiting is Sunset Beach. The name says it all. This beach is perfect for taking in the nightly ceremony and watching a fantastic sunset. The beach also has another unique quirk that is perfect for a day shared with your sweetheart, it has wave-worn deposits of quartz to be found. Take an afternoon and look for the shiny crystals while strolling the beach hand in hand.
Beyond the beach, there are many things to see along the Cape May seashore. There is a sinking boat made of concrete from the WWI war era, a beautiful lighthouse, a state park that offers hiking opportunities and picnic area and of course the boardwalk with its amusement parks.
Cape May Tours
Cape May has many historic sights to see and many ways to see them. If you want to see them in a leisurely romantic manner, you could take a horse and carriage tour of the area, or for those that would like the pace to move a little faster and want to see it all, take your sweetheart for a trolley ride. "A Midnight Trolley Ride might make a nice compliment to the Historical Tour. These take place in the evenings and cruise through Cape May's gas lit streets. Old-time courtyard and romance stories are included!"
If a midnight trolley tour isn't something you would be interested in, but you and your sweetheart still want to get a thrill and see the city at night, there are ghost tours of the area that are offered as well. If you need further reason to snuggle closer to your loved one, try one of Cape May's haunted bed and breakfasts to stay in as well.
One of the haunted ghost tours features The Cape May lighthouse, which is a sight that should be seen in its own right, not just for the thrill of a possible supernatural experience. The lighthouse has a museum and you can climb the stairs for a spectacular view.
More tours that have a spectacular view in Cape May include the Birding By Boat on the Osprey tour and a tour of theGarrett Family Preserve. Both of these tours offer great views of the natural wildlife in the area.
The Arts in Cape May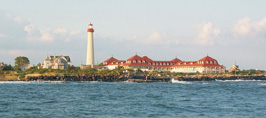 While being a treasure trove of historical elegance with its many Victorian houses, Cape May only has one Victorian house museum, the Emlen Physick Estate. Visit the museum to be swept away into the Victorian era.
Cape May is also home to two professional theater companies, a Naval Air Station Aviation Museum, Mid-Atlantic Center for the Arts & Humanities, a free zoo, The Cape May Lighthouse and museum and many wineries.
Cape May Whale Watching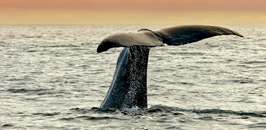 An experience to beat all others…a pleasant day on a ship with the sea air in your hair, whales in sight and your sweetheart to share it with. Nothing says romance like the beauty and the mystery of the sea and its wondrous creatures. For a special treat, take a sunset cruise to watch the dolphins play in the sea as well.
Unique Dates
Cape May and its beaches are a unique place to begin with and as such it is pretty easy to find unique ways to spend time with your love, like birdwatching or whale watching. For something indoors we recommend a treasure hunt through time time together by visiting some of the local antique stores including shops like Out of the Past Antiques, Antiques Emporia, and Ancient of Days Antiques.