Let Boston charm you with its rich history and romance. From visits to the USS Constitution museum, strolls through the Boston Commons, to taking in a sports game, there is a lot to do in Boston that is sure to kindle romance.
Points Of Interest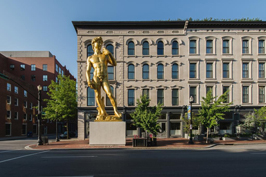 Take a peek at the city from a bird's eye view. The Skywalk Observatory is definitely a place to have a unique experience with your special someone. You can see the city from all angles and afterwards take in some history in the Dreams of Freedom museum below. "You can see Fenway, The John Hancock Building, the Charles River… absolutely stunning views atop the 50th floor of the Prudential Center." The Observatory also has a three-story-high theater for the couple that is also looking to take in an educational film. This is a unique place, that isn't to be missed when experiencing the city with your sweetheart.
The Top 5 Boston Restaurants
1. L'Espalier
2. No. 9 Park
3. Bistro du Midi
4. Harvest
5. Neptune Oyster
Boston Common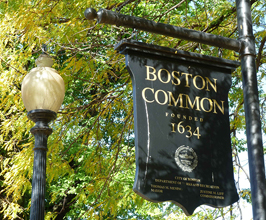 Take a leisurely walk through the park and discover the charm of Boston. From visiting the bronze ducks to taking a tour in one of the swan boats, the park has a lot to offer a couple on a romantic date and is the oldest city park in the United States. In the winter they even have ice skating, however for those that like to stay a bit warmer a fall foliage tour of the park can also be recommended.
Boston Tours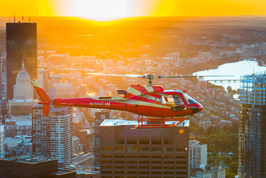 There are many tours to consider when visiting Boston. Some of the fun ones include whale watching and duck tours. You can visit the city and learn about its history in a trolley car or take to the skies in a helicopter for a truly once in a lifetime couple's experience. Enjoy Boston's many sights to see on a walking tour and take in many of the historic sites with your sweetheart. Speaking of historic sites, be sure to take a tour of the Boston Harbor while you and your love are in the city.
The Arts in Boston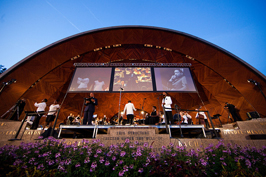 Boston is full of architectural history, but also boasts many museums, such as the Museum of Fine Arts or the New England Aquarium to name a few. There are also a few house museums of note like the Paul Revere House. Another historical museum that is sure to be a unique experience for your love is the Boston Tea Party Ships & Museum.
Beyond the museum scene there are many cultural sights to take in. There is the Scullers Jazz Club where a couple can hear some live jazz music, the Paint Bar where a couple can paint a picture together while enjoying libations, a great improv place, and some unique Escape experiences. There is always something new and interesting to bring a couple closer together in Boston.
Boston Sports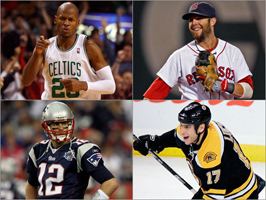 If you are a couple looking to go on a game date, Boston is the city for you. Five professional sports teams call the Boston area home. They have football with the New England Patriots, Basketball with the Celtics, Hockey with the Bruins, baseball with the Red Sox and soccer with the New England Revolution. There is certainly something for any fan to watch. They also have many college teams in the area as well.
Unique Dates
While there is always something to do in a city as big and with as much history as Boston has, there are a few great unique date experiences to be had while visiting. We recommend visiting some of the antique shops like, Cambridge Antique Market, Boston Antique Co-op, Bartevian, or Upstairs Downstairs Antiques, and searching for hidden treasures. We also recommend going on a foodie tour or visiting the Boston Public Garden.