Take your love to Albuquerque and enjoy the romance of beautiful sunsets, open air, and the feel of the old West. There is always something to do, from trips to the museums, concerts, hot air balloon rides and more. Let yourself get swept away.
Points Of Interest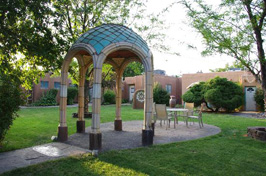 "Don't just visit Albuquerque, Experience Albuquerque! Walk through the gates of this secluded, adobe style compound, and discover the magic of Casas de Suenos. Built in 1938, The Casas de Suenos Old Town Historic Inn features 21 spacious casitas, hot tub suites, glowing fireplaces, soft adobe walls, hidden courtyards, inviting patios and beautiful gardens that accentuate our Albuquerque Bed and Breakfast." The Inn is a great place to soak in history and have a relaxing romantic evening with your love.
The Top 5 Albuquerque Restaurants
1. Budai Gourmet Chinese
2. Antiquity Restruant
3. Artichoke Cafe
4. La Crepe Michel
5. Zinc Wine Bar & Bistro
Old Town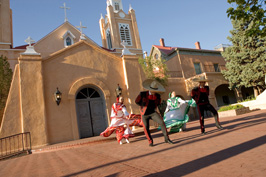 Take a walk down narrow streets among century-old adobe houses that are home to New Mexican eateries and tiny artisan shops that sell jewelry, rugs and pottery. Let yourself and your love be transported to an earlier era in Old Town Plaza. While there, visit an 18th century San Felipe de Neri Church. Also nearby is the natural history museum. "Romantic hidden patios, winding brick paths, vibrant flower gardens and dramatic balconies await your discovery." Also nearby Old Town is the Civic Plaza with an open-air stage and a splash pad and for those inclined for a night out on the town, check out the Hip East Downtown district where dance clubs and live bands await you.
Albuquerque Tours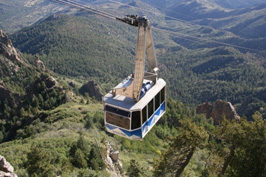 There are many ways to get around Albuquerque and see the sights. Bike tours, walking tours, segway tours, trolley tours, jeep tours and more… A few of my favorites and probably the most romantic of the bunch are the tramway tours, the hot air balloon tours and the Duke City Peddler. If you opt for the tramway, get ready to go up into the mountains and get a beautiful aerial view of the city. While you are up there, if you visit in the winter, you can get some skiing in with your loved one. For a tour that is a little more offbeat and less romantic, but sure to give you a reason to snuggle closely to your sweetheart, try a ghost tour about the city.
The Arts in Albuquerque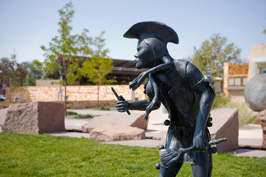 "Consistently ranked as a top arts destination, Albuquerque offers an abundance of artistry of all forms, from visual arts to theatrical performances and from traditional to contemporary." There really is something for everyone in this city. If you want to go to museums, there are many to choose from. I suggest a trip to the Hot Air Balloon Museum and the Fine Arts museum as well as the Indian Pueblo Cultural Center.
If getting out into the open air and communing with nature is your thing as a couple, visit the Bio Park and the Elena Gallegos Open Space. The Bio Park offers an aquarium, zoo, Botanic Garden and beach experience.
If going to the theater is your idea of enchanting, then visit the historic Kimo Theater or the Albuquerque Little Theatre. If none of that sounds like a romantic evening for two to you, then you can always try the New Mexico Philharmonicand listen to some great music.
Albuquerque Sports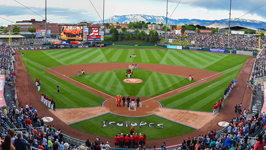 Albuquerque, NM is home to a minor league baseball team called the Isotopes. They play in Isotopes stadium. Beyond a minor league baseball team, Albuquerque is also home to a professional indoor football team called the Duke City Gladiators. Be sure to take your love out to the ballpark and share some popcorn while you are at it.
Unique Dates
A few unique date spots in Albuquerque are the Tingle Beach, where you and your love can go fishing and enjoy the outdoors, and FlixBrewhouse, where you can enjoy a movie with your sweetheart and a meal all at the same time.