Tess MgGill is an aspiring New York corporate slave who desires to be on top of the world, though currently her station is reserved to the title "secretary." Still, when her boss breaks her leg on holiday, MgGill jumps at the opportunity to elevate her career. Teaming up with broker Jack Trainer, McGill hopes to nail a big deal to give her resume the boost it desperately needs. But when her boss returns after recovery, things get sticky.
Directed by Mike Nichols, who received a nomination for best directing.
Written by Kevin Wade. Music by Carly Simon. Produced by Douglas Wick.
The cast includes: Harrison Ford, Sigourney Weaver, Melanie Griffith, Joan Cusak, Alec Baldwin, and Phillip Bosco.
Tagline: "For anyone who's ever won. For anyone who's ever lost. And for everyone who's still in there trying."
---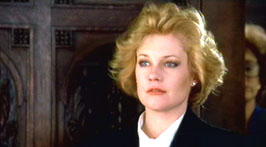 A female, business secretary risks her livelihood to put a deal together based on her unique idea, bending a few rules of the business world along the way.
After 5 years of night school, which resulted in getting her business degree, Tess McGill (Melanie Griffith), still finds herself stuck in a low-level job, at a Wall Street brokerage firm. When she is once again denied entry into a higher level job program at the brokerage firm, her boss sends her on a bogus job interview with a guy who claimed to be looking for a new assistant, but really wanted someone to party with. After getting back at her boss in a hilariously unique way, Tess finds herself out of work, taking yet another job from the employment agency, that says that this new job is her last chance with them.
At first, Tess's chance of getting into a higher level job seems to have promise, when she finds herself working for her new superior, Katherine Parker, (Sigourney Weaver), who affirms strongly that she considers Tess part of her team, if Tess contributes ideas that lead to the success of their division. By bringing her ideas to Katharine, Katharine can help Tess accomplish her dream of getting into a higher level job program come true. Katharine asks Tess at one point, "Who makes it happen?" Katharine coaches Tess, saying "You make it happen!"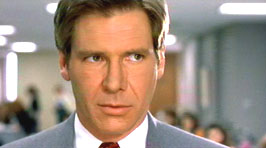 However, all in one week, Tess not only discovered that her fiancee (Alec Baldwin), is cheating on her, but that Katharine Parker, her supposedly supportive boss, planned to steal one of Tess's ideas and take the credit as well, squelching Tess's big chance to advance.
Since Katharine broke her leg on her skiing holiday in Switzerland, Tess has some time to think out a plan on how to make her idea become a reality; to bring the deal off herself, even if she risks losing her job. She transforms herself into a deal maker, pretending to be someone she isn't yet; a team leader, making her own rules. Tess thinks," You can bend the rules plenty once you get upstairs, but not while you're trying to get there. And if you're someone like me, you can't get there without bending the rules." With a little help from her close friend, Cyn (Joan Cusack), Tess courageously goes forth in a "gutsy collaboration" with Jack Trainer (Harrison Ford), the man that Katharine Parker had chosen to help carry out Tess's merger idea. Katherine has personal plans for Jack as well, a fact Tess doesn't know until it's too late.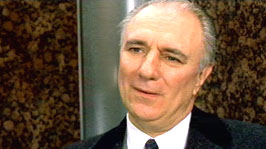 The script, casting and direction of this film are really top-notch, and very well done indeed. This fabulous screenplay was written by Kevin Wade,("Meet Joe Black") and brought to life by the talented director, Mike Nichols who earned a nomination for Best Director. He is best known for his direction of "The Graduate," for which he won a Best Director Oscar.
Working Girl was nominated for the following academy awards: Best Picture, Best Director, Best Supporting Actress, (Joan Cusack) and both Sigourney Weaver and Melanie Griffith were both nominated for Best Actress. The film won the academy award for Best Original Song, "Let The River Run", by Carly Simon.
Melanie Griffith excels in her part, really enhancing the script, and works well with the rest of the cast as well. Her performance here got her career as an actress really rolling.
Harrison Ford plays a merger planner for a large New York Company, who has integrity, and courage to do what is right, as well as being very skilled in the work he does. Harrison does a great job, bringing a lot to the film, as the helpful partner in more than one way of Melanie Griffith, as well as her romantic love interest.
Sigourney Weaver plays a character, Katharine Parker, who was recently hired by the Trask Company to turn the merger and acquisitions department around. She is confident about her ability, in both her business and personal life, and believes she can get anything she wants to in life, taking advantage of opportunities that come her way. It's not below her standards to steal ideas.Weaver plays her part extremely well, with a humorous insight that comes with being a talented actress. She shines in a comedy, as well as a drama.
The script skillfully blends a very entertaining story, clever plot twists, humor, squirmy moments, character development & romance into a free-flowing tale that is ultimately touching and uplifting to the audience. The very powerful cast brings life to this excellent script, and the comic timing is right on mark. They work well together, and had fun with their parts.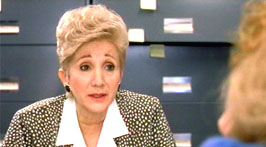 My favorite sequence of scenes is when Tess and Jack crash the wedding reception of company president Trask's daughter, Suzie, in order to try to get a meeting with Trask to propose their deal. Tess figured that it couldn't be too hard to crash a wedding reception, because none would know everyone there anyway. As things hilariously don't go exactly as planned, Jack figures out what Tess is up to, but gets behind her effort, and through some rather humorous scenes, Tess and Jack get the meeting they want with Trask and associates, just before they were about to be busted by the wedding coordinator!
This film is rated R. While there are very few four letter words, there is some sexual content.
1) Tess, who is living with her boyfriend, walks in point blank on her naked boyfriend (Alec Baldwin), having sex with another girl.
2) Tess and Jack wind up in bed, but sex is just implied. However, they didn't show much self-control not to do so. Their feelings overwhelmed them, which isn't a good example for teens, who may have a tendency to live only by their feelings, not principles.
3) Sigourney Weaver, when she finally comes home to New York, has Jack visit her apartment, suggestively talks in euphemistic terms to try to get him into bed with her.
Working Girl is a most enjoyable comedy for those 17 and up.
If you liked WORKING GIRL, you may enjoy FLASHDANCE, BILLY ELLIOTT, THE COMMITMENTS, EVER AFTER, THE BLACK STALLION, SHREK, TOOTSIE, ROCKY, VICTOR/ VICTORIA, HOW TO SUCCEED IN THE BUSINESS WITHOUT REALLY TRYING, and/or THE PRODUCERS.