Lucy is a lonely Chicagoan, and a ticket seller who has coincidentally fallen in love with a commuter who daily passes by. When that commuter, Peter, tragically falls onto the rails on Christmas day, Lucy intervenes and saves his life. At the hospital however, Peter's family mistakes her for Peter's actual fiancee and everyone falls in love with Lucy and her heroic tale. Still, Peter's brother Jack is skeptical and as he begins his inquiry he and Lucy discover they have a rather good rapport. As their friendship evolves into perhaps something more serious everyone awaits the obvious: what about Peter? With attraction, curiosity, and a very confused Lucy, romantic mayhem lay in the waiting.
Directed by: Jon Turteltaub.
Written by: Daniel G. Sullivan, Fredric LeBow.
The cast includes: Sandra Bullock, Bill Pullman, Peter Gallagher, Peter Boyle, Jack Warden, and Glynis Johns.
Tagline: A story about love at second sight.
---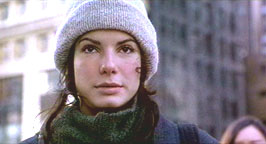 This ultimate, feel good movie, begins with the audience meeting a pretty, yet lonely Chicago girl, Lucy (Sandra Bullock), who sell tokens for the commuter trains. She has fallen in love with a handsome man, Peter Callaghan (Peter Gallagher), who passes her station every day, though she never has talked to him. One day, when this handsome stranger is mugged and falls unconscious onto the rails, she saves his life. When Lucy goes to visit the comatose Peter in the hospital, the nurse introduces her to Peter's family as his fiancee. When Lucy couldn't find the strength within herself to tell them the truth, the family lovingly embraces her and adopts her as a member of their family. Peter's brother, Jack (Bill Pullman), is the only skeptical party, but finds himself more and more attracted to Lucy, wanting her for himself in the end. Lucy finds herself to be head over heels in love with Jack, a sweet, soft-spoken man. But, what is she going to do when Peter wakes up?
My favorite scene takes place between Peter (Gallagher) and Lucy (Bullock); he, who has been in a coma for most of the film, doesn't know that love- smitten Bullock claimed they are engaged. What transpires between Bullock and Gallagher, with the family looking on, is a lot of fun.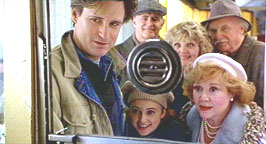 The screenplay, by Daniel Sullivan & Fredric LeBow, is described as a charming 1940's style romantic comedy, that is an excellent example of how to perfectly blend comedy with romance, and add a touch of drama.
Director Jon Turteltaub does a great job keeping the pacing and comic / romantic timing of the movie on course, and works well with the talented cast to create this gem of an uplifting film.
With her large eyes, pretty face, and great smile, Bullock is hard to NOT like, Bill Pullman is likable as Gallagher's less handsome, but infinitely nicer brother. It's nice to see Pullman, who lost Meg Ryan to Tom Hanks, get the girl here. Peter Gallagher is convincing as the self-absorbed, handsome jerk, who is motivated by less than admirable character qualities.