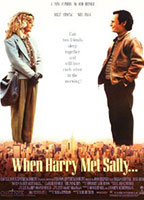 Upon graduating from the University of Chicago, Harry and Sally take a ride to New York together. Having never met before then, their trip is anything but boring. Still, once in New York, the two go their separate ways, searching for love in the "Big Apple," all the while not realizing that they may have already found true love those many years ago, in a strange car ride, from Chicago to New York.
Director Rob Reiner's "When Harry Met Sally" while similar to "Annie Hall," is a delightful, romantic comedy in its own right.
Written by: Nora Ephron.
The cast includes: Billy Crystal, Meg Ryan, Carrie Fisher, Bruno Kirby, Steven Ford, Lisa Jane Persky, and Michelle Nicastro.
Tagline: Can men and women be friends or does sex always get in the way?
---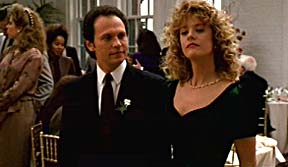 The basic story involves the long friendship of Harry Burns (Billy Crystal) and Sally Albright (Meg Ryan), who eventually, and humorously, try a shot at love. The insightful and funny screenplay, by Nora Ephron, has a lot to say about men and women and the way they look at friendship, love, and sex.
"When Harry Met Sally" makes a great date movie because it humorously chronicles a developing relationship. In addition, its message that men and women CAN be friends, is one both of you can agree on.
My favorite scene, and almost everyone's, takes place in a deli. When Crystal questions Ryan's ability to convincingly fake orgasm, she puts on a demonstration for him, to Crystal's mortification and the amusement of the other deli patrons.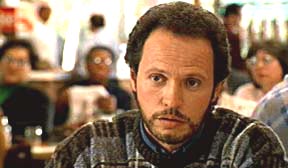 Ryan and Crystal make a cute couple, they were perfectly cast, and have great chemistry. Meg Ryan is simply adorable in this film.
Of the supporting players, Bruno Kirby and Carrie Fisher excel. They play friends, Jess and Marie, who can't help sticking their noses into Crystal and Ryan's business.
The film is well directed and paced. Director Rob Reiner was in particularly good form with this film. This is a perfect movie for Woody Allen fans who think the Woodman hasn't been funny enough in recent years.