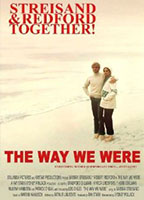 Katie and Hubbell are former college mates who, coming from two different worlds, manage to form a friendship. Twenty years later, circumstances reunite the two, leading to a serious relationship. With the support of Katie, Hubbell strives for fame. Soon, however, Hubbell is discontent with his situation, and his new friend JJ threatens to undo all that Katie and Hubbell have become.
With "The Way We Were" director Sydney Pollack delivered a classic, bittersweet romantic drama.
Written by: Arthur Laurents.
The cast includes: Robert Redford, Barbra Streisand, Bradford Dillman, Lois Chiles, Murray Hamilton, James Woods, Sally Kirkland, and Herb Edelman.
Tagline: Everything seemed so important then .. even love!
---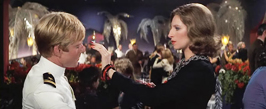 The basic story involves the rocky romance, over a period of years, between a WASPY writer, Hubbell Gardner (Robert Redford) and a Jewish, left wing, communist social activist, Katie Morosky (Barbara Streisand). She is a serious, intense political activist, while he is bored by politics and is easy going, taking life by the moment. They first meet in college, and find themselves attracted to each other, despite the protests of their friends. When they meet a few years later, their relationship deepens. As the years roll by, they meet intermittently until a full romance blooms between these two very different thinking people. After an affair, they get married and have a baby. In the end, they find that love is not enough to sustain a marriage relationship. While they love each other, their long-standing relationship is finally torn apart by their their "diverse political views" and "very different convictions."
The top notch script, which was a moving character study, was by Arthur Laurents, adapting his novel, and is a real romantic tear-jerker, considered by many to be a classic romantic film. This talented writer has had much commercial success in such writing endeavors, such as "West Side Story," "The Turning Point," "Bonjour Tristesse," and "Anastasia." He is quite a master of intertwining romance, drama, poignant movements, into a great story dealing with various human relationships.
The screenplay takes place during various times in our history, having the historical backdrop of The Spanish Civil War, The New Deal, World War 2 and the dreaded McCarthy Era when a witch hunt for communists took place. Many occurrences in this script were taken from Arthur Laurents' troubles with McCarthy and his committee.
The wonderful direction was by provided by the great Sydney Pollack, a prolific director of many classic films. He brings out the best in the cast and the crew, and is a master in directing this genre of film.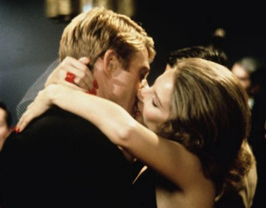 Streisand and Redford, despite being oil and water types, have great screen chemistry. You really feel for these characters. Streisand tried for years to convince Redford to appear in a sequel, with no success.
"The Way We Were" is a great date movie because it's funny, moving, and VERY romantic. Some say that it is a screaming chick flick, but anyone who likes romantic movies will love it. Sure, it has a sad ending, but the two of you can cheer yourselves up after the flick, so what the hey.
My favorite scene takes place in bed between Redford and Streisand. Redford falls asleep before the main event. Streisand gets a great expression on her face: she's obviously thrilled to be in bed with this beautiful man, yet frustrated that he's drifted off to sleep.
The film unfolds between the late 1930s, and early 1950s. Much effort was taken with the period settings, convincingly recreating the by-gone period.
The acting by all involved is first rate, not only by Streisand and Redford, but also a strong supporting cast.
The film won two Oscars, for Marvin Hamlisch's musical score and title song, (lyrics by Alan and Marilyn Bergman), sung emotionally by La Streisand. The music pulls at your heart strings, and is shamelessly, but entertainingly, sentimental.