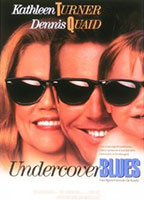 When an ex-cracking husband and wife duo, conveniently ex-spies on maternity leave with their new baby girl, arrive in New Orleans, they are surprised to find that even vacation doesn't elude necessary work. Together the two take on yet another case when their FBI boss refuses to leave them alone with the latest Intel on a top-secret assignment just too hard to resist.
Director Herbert Ross' "Undercover Blues" is a surprisingly entertaining action/comedy vehicle.
Written by: Ian Abrams.
The cast includes: Kathleen Turner, Dennis Quaid, Fiona Shaw, Stanley Tucci, Larry Miller, Tom Arnold, Saul Rubinek, and Michelle Schuelke.
Tagline: "Intelligence runs in the family."
---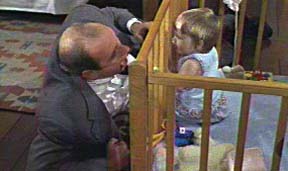 The story involves a married couple, espionage agents by trade, Jeff (Dennis Quaid) and Jane Blue (Kathleen Turner), who've taken time off to be with their new baby, now a year old. While on holiday in New Orleans, they are persuaded by Frank (Richard Jenkins) to return to work, with baby in tow, to battle an old enemy, a corrupt Czech arms dealer, Paulina Novacek (Fiona Shaw), who has gotten her hands on some discontinued plastic explosives, which she plans to sell to the highest bidder.
To complicate their mission, they find themselves not only having to deal with Novacek and her thugs, but also keeping a step ahead of the New Orleans Police officers, and a inept thug, Muerte, as well as protect their daughter. Jeff Blue, while walking their baby to the store for some formula, Jeff runs into two local thugs, Muerte and an accomplice who attempt to hold him up and cut him with a knife. Because of his expert training, Blue, holding his sleeping toddler, easily fought off and knocked out the would-be robbers.
While the thugs are no match for the highly trained Jeff Blue, he is seen by a homeless woman who told the police sent to investigate yet another attempted knifing in the French Quarter. Lt. 'Ted' Sawyer (Obba Babatund) and Det. Sgt. Halsey (Larry Miller) are soon knocking at the Blues' hotel room. When Jeff claims to be an Electrolux salesman, who was not involved in an attempted mugging, Sawyer suspects Jeff Blue of being an F.B.I. or C.I.A. Agent, and is assigned with Halsey to find out the truth.
Meanwhile, Muerte (Stanley Tucci) is the laughing stock of the criminal world for getting beaten up by a man with a baby in tow. He vows to revenge his humiliation, popping out at the Blues family at surprising moments, much to the amusement of the audience, only to be humiliated in different , creative ways. Jeff Blue finds a way to use Muerte's determination, unknown to Muerte, in several instances along the way, to help the spy couple complete their mission.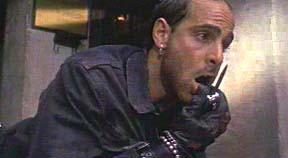 It's fun to see how the main characters blend parenthood into their field investigation, and handle difficult situations with "quick-witted" inventiveness, using a combination of clever planning and They definitely had to plan ahead, as do most parents when children are around. But, not to do so in their case, could prove to be deadly.
With "Undercover Blues,"director Ross has delivered a nearly perfect blend of comedy and action/drama. It should appeal to fans of spy films AND comedies. The film is aided by great pacing. Priscilla Nedd-Friendly was the editor.
The Cast members had a lot of fun with their roles, and worked very well together, which points to their talent, their professionalism, the witty script, (by Ian Abrams), and the great direction they received from Herbert Ross
The chemistry sizzles, between Dennis Quaid and Kathleen Turner, who were well cast, and were very believable as a husband and wife espionage team, as well as loving parents. They did the action sequences with much aplomb also.
The hilarious supporting cast of characters is uniformly good all around.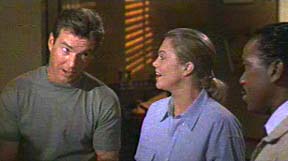 Stanley Tucci ("Murder One"), had a lot of fun with his "comically clueless" thug character, Muerte, who finds time and time again humiliation at the hands of not only Mr. & Mrs. Blues, but at the hands of Novacek as well.
Fiona Shaw (My Left Foot), does a great job playing the notorious Novacek, in a very humorous style, with a touch of wickedness and villainy appropriate for her character.
Favorite Scenes:
1) The trip to the Zoo, where the Blues are being followed by the police detectives, and of course, Muerte, a parade of followers! Mrs. Blue fakes a seizure which ties up the police detectives, so Jeff could deal with Muerte in a hysterical way.
2) The bank scam; Jane's Probe.
3) Jane castes the bait; Muerte meets Novacek.
4) "Jane, you know what to do."
5) Jane vs. Novacek – Have a big fight in the mud.
"Undercover Blues" has great cinematography. It makes you want to hop a flight and visit the colorful New Orleans locations in person
Rated PG-13 – "It is light, funny and meant to entertain. "
If you enjoyed UNDERCOVER BLUES, you may like ANOTHER STAKEOUT, ROMANCING THE STONES, RUSH HOUR, and any of the classic THIN MAN movies.