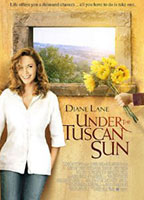 One year after her painful divorce, novelist and book reviewer, Frances Mayes decides to take a 'Gay and Away' tour of Tuscany, Italy, at the urging of her gay friends, Patti and her partner, in hopes of breaking through terrible depression and writer's block. The warmth and beauty of the town of Cortena offers a comfort to Frances, inspiring new ideas. One thing leads to another and Frances winds up buying a fixer upper, a charming villa, this then becomes the vehicle through which she begins to rebuild her life.
Directed by: Audrey Wells.
Screenplay by Audrey Wells, based on the novel by Frances Mayes, "Under The Tuscan Sun: At Home In Italy."
The cast includes: Diane Lane, Sandra Oh, Lindsay Duncan, Raoul Bova, Vincent Riotta, and Mario Monicelli.
Tagline: "Life offers you a thousand chances … all you have to do is take one."
---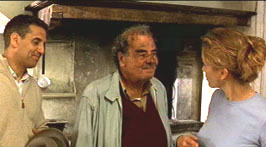 The story begins at a celebration for a new author's book, a former student (Elden Henson) of a novelist, teacher, book reviewer by the name of Francis Mayes (Diane Lane). At this moment in time, Francis is happily married to a novelist named Tom and lives in a Victorian house, which they restored with the money Francis received from her mother's estate. The guests are enjoying refreshments at the reception, including Francis' killer brownies, when turmoil raises its ugly head. A revengeful novelist (Don McManus) bitterly resents a negative review that Francis wrote on his book, he then finds a nasty way to tell her about her beloved Tom's infidelity.
As Francis sits in a fog in her lawyer's office, she finds out that her husband, Tom, was having a love affair with a young college student and had the gall to ask for alimony, as Francis had been supporting him while he was supposed to be writing his novel.
After a year of living in a depressing apartment building with other depressed divorced people, Francis is still in pain and has been suffering from writer's block. Then her friends, Patti (Sandra Oh) and Patti's gay partner, invite Francis out to dinner to mark the one year anniversary of her divorce and then announce that Patti is expecting a baby (via artificial insemination) in May, and that they exchanged their coach tickets to get Francis a first class ticket to Italy and she can also take their place a 'Gay and Away' bus tour of Tuscany.
Francis doesn't say yes right away, but after thinking about Patti's "You are at a crossroads" speech, and being fed up with banging on the wall to her crying and depressed neighbor (one too many times), she finds herself agreeing to come over to Patti's later. Francis decides to do it, this changes her life as she finds herself going down a path she never imagined before living her drab life in San Francisco.
After the bus deposits her tour group in the town square of Cortena, a small town in the middle of Tuscany, Francis finds the 'market day' taking place, a place full of life. She meets interesting people like Katherine (Lindsay Duncan), and finds the place comforting and hopeful. She finds herself looking at the real estate ads posted on the window of a brokerage office, and sees a villa for sale, in need of some TLC. Something she loves to do is fix up old houses.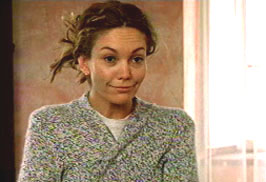 With the help of her mentors, Martini, Katherine and her friend Patti, Francis finds that her personal life, her dreams and her needs are rebuilt in different ways than imagined and she finds fulfillment as she renovates her villa, and expands her life experiences with everyone around her.
Audrey Wells wrote the screenplay, directed and produced this beautifully filmed, romantic and humorous feel-good film. All is brought to life by a dynamite cast led by Diane Lane, a very convincing Francis, who carries the story and easily brings a tremendous amount of talent to the silver screen.
Award winning stage actress, Lindsay Duncan does a fabulous job portraying the eccentric actress, Katherine, who got her start as a youth in Fellini's films.
Vincent Riotta was very convincing as the kindhearted real estate agent, Martini. He turns out to be a great friend to Francis, while guiding her with tidbits of wisdom.
Sandra Oh is delightful as Patti, Francis' gay friend, who gave her the ticket in the first place. She later goes to stay with Francis when life sends her a rather painful curve.
Finally, the handsome Raoul Bova did a nice job playing Francis' weekend Italian boyfriend.