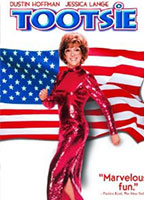 Down and out Michael Dorsey is hedging his bets, that is, on becoming an imposter female soap star. While the world falls in love with "Tootsie," completely unsuspecting that "she" is really a he, Dorsey's emotional attachment to his fellow leading actress begins to complicate things. The question remains, how exactly does one confess their love to a woman when she thinks you're just another one of the "girls"?
Director Sydney Pollack's "Tootsie" is a funny, insightful look at men, women, careers, sex, and friendship. Pollack received a nomination for best directing.
Written by: Larry Gelbart and Murray Schisgal (screenplay), Don McGuire (story) and Larry Gelbart (story).
The cast includes: Dustin Hoffman, Jessica Lange, Teri Garr, Dabney Coleman, Bill Murray, Geena Davis, and Charles Durning. The exceptional cast is perfect from top to bottom.
Tagline: "What do you get when you cross a hopelessly straight starving actor with a dynamite red sequined dress? You get America's hottest new actress."
TOOTSIE was nominated for the Best Picture award. Ten Oscar Nominations; one win (Best Supporting Actress).
---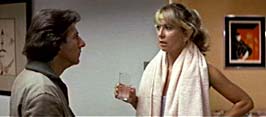 The basic story involves an actor, Michael Dorsey (Dustin Hoffman) who can't find work, because of his tendency to be a perfectionist, which gives him a reputation of being hard to work with. His agent, George Fields (Sydney Pollack), suggests that he get some therapy, because "no one will work with you on the East coast or the West coast." Being determined to raise some money to produce his roommate's play, "Return to Love Canal," he disguises himself as a woman to get an acting job on a soap opera, as Dorothy Michaels, hospital administrator and it works!
More good fortune comes Michael's way; Dorothy becomes a super star!! However, as simple plans often do, things begin to get more complicated, to the point of being intolerable. Michael falls in love with an actress, Julie Nichols (Jessica Lange), plus other hilarious problems and predicaments pop up unexpectedly, as other characters fall in love with Dorthy, one of them being Julie's father, Les Nichols (Charles Durning).
Pollack, with "Tootsie", offers an exceptionally well directed movie. Pollack, who can be great ("The Firm") and lousy ("Havana") really seemed to understand and get inside the material here.
The screenplay is top notch. It was written by Larry Gelbart and Murray Schisgal, from a story by Gelbart and Don McGuire. The movie, while being funny, has some great truths to say about the roles of men and women in society, without being preachy.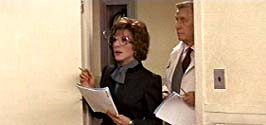 Hoffman, as Michael Dorsey, is a revelation as the man masquerading as a woman. After awhile, the viewer begins to accept Tootsie as a real woman. This is due more to Hoffman's amazing talent than makeup magic.
Jessica Lange, Teri Garr, Dabney Coleman, Bill Murray, and Charles Durning all did a wonderful job portraying the characters as envisioned by Larry Gelbart and Murray Schisgal.
Teri Garr is convincing as Michael's excitable actress friend, Sandy Lester.
Dabney Coleman gives a fine performance as the chauvinistic director, Ron, who uses Julie, and cheats on her as well.
Pollack has some fun scenes as Hoffman's agent. Interestingly, Pollack began his Hollywood career as an actor, and he's quite good.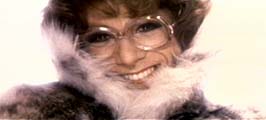 There are many really funny moments in the film, including Michael's audition, different filming of the show scenes, Dorthy's babysitting for Julie's daughter scenes, and the trip up to see Julie's father, Les.
However, our favorite scene sequence is when Michael finally, on a live show, has the opportunity to improvise the storyline of the episode, revealing to one and all that Dorthy is really not a woman, in order to get his character written out of the story, thus getting out of his contract. The reactions of his fellow actors, as well as the producing staff, are priceless.
If you liked TOOTSIE, you may enjoy SOME LIKE IT HOT, VICTOR/VICTORIA, SOAPDISH, and MRS. DOUBTFIRE.