Abandoned as a baby, Tom Jones is raised by the benevolent Squire Allworthy. Allworthy's heir, Blifil, resents the amiable Jones; however, Jones is too busy wooing the women to notice. When caught with a local girl, Allworthy banished Tom, and he goes in search of a new life, and a new mistress, in London. Meanwhile, Squire Western's daughter, Tom's original love, is to be wedded to Blifil. Not amused, Sophie runs away to London in search of Jones, hooking up with one Mrs. Fitzpatrick in the process, a woman also on the run. The plot thickens as Mr. Fitzpatrick suspects Jones of seducing his wife. Once a playboy, always a playboy!
The Director, Tony Richardson, provided a great film adaptation of Henry Fieldings' comic, historical novel, that became the Best Picture Oscar winner for 1963. Richardson also received a nomination for best directing.
Written by: John Osborne (screenplay), Henry Fielding (novel).
The cast includes: Albert Finney, Susannah York, Edith Evans, Hugh Griffith, Joan Greenwood, and David Warner.
Tagline: The whole world loves Tom Jones!
---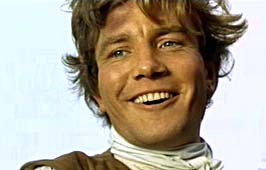 "Tom Jones" tells of the adventures and woes of an 18th century English playboy, who's experiences and various romances entertainingly are told to us by a narrator, who has a truthful outlook about not only his weaknesses and strengths, but also about the behaviors of the people in the story, who have their faults and strengths as well.
Tom Jones (Albert Finney), was thought to be born out of wedlock, and was taken in by an English Gentleman, Squire Allworthy (George Devine). One evening, Squire Allworthy, who had just come back from a business trip, finds a baby boy lying on his bed. He is told that the baby is the child of Jenny Jones, and after sending the mother away, raises the baby as his own son.
Tom Jones proves to be quite a handful; an incorrigible young man, according to the story's narrator, Michel Mac Liamm – ir. It is evident that Tom has developed a taste for the wild life, despite the efforts of his tutors and the pompous Rev. Thwackum (Peter Bull ). It seems that Tom has a great weakness for women, while being very fond of dear Sophie Western (Susannah York), at the same time. Tempted by the morally loose Molly (Diane Cilento), the daughter of Black George (Wilfrid Lawson), the game keeper for Squire Allworthy, Tom beds the girl more than once, and when Molly shows up at church in the family way, all eyes look at Tom, further tarnishing his reputation. The guilt-stricken Tom finds out by accident that she was bedding at least one other man, but his reputation is already hurt. His affair with doesn't sit well with Squire Allworthy, and that causes trouble for him a little later on.
Another problem faces our fallible hero, Tom Jones. Squire Allworthy's sister, Bridget (Rachel Kempson), had married a gentleman soon after Tom was born, and had a son, Blifil (David Warner), making him Squire Allworthy's heir. Of course, a rivalry between Tom Jones and Blifil over dear Sophie's affections escalates, as Tom is more and more drawn to Sophie, as they both gradually fall in love.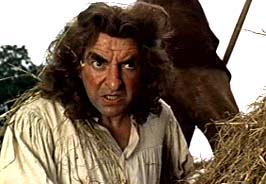 As a result of Tom's known affair with Molly, and his newest assumed transgressions and this escalating rivalry, his rival Blifil and other enemies plot to get rid of him when events turn to their favor. One day Squire Allworthy and his sister Bridget have a terrible carriage accident. Poor Bridget is killed and Squire Allworthy is gravely ill, much to the joy of Blifil, Rev. Thwackum and Blifil's father, as they would get their inheritance.
Tom is very upset, for he truly loves this man. When Squire Allworthy recovers, Tom is so happy that he gets drunk, and is found in the woods not far from Molly. Tom's enemies spin false stories about Tom based on his past track record and these newest faux pas. Tom is banished from Squire Allworthy's household, which opens him up for some life-changing experiences.
On the road to London, he looses his 500 pound note in an inn as a result of a brawl. As he continues his journey, he gallantly fights off bad soldiers planning to rape a woman of dubious character, Mrs. Waters (Joyce Redman). Tom Jones travels ahead of Mrs. Waters in order to resist her sexual advances as she tempts him.
This seduction continues through dinner at the next inn where they stop at for the night. A favorite sequence is an eating scene between Finney and Mrs. Waters, who lustily eye each other, as they take part in a spicy, messy, banquet scene. This is a fun, erotic sequence. It is predictable that Tom is eventually worn down, but his proposed rendezvous is hilariously interrupted by surprise visit of a menagerie of unexpected people.
And his adventures continue once he arrives at London. Troubles galore await Tom Jones, but how he wiggles out of each situation, nearly getting hanged in the process, makes a very entertaining story, that is very humorous, and pokes fun at the hypocracy of the upper class or establishment at the same time. Many who prided themselves as being superior, blue blood members of the upper-class, all have character flaws worse than Tom's weaknesses. Trials and tribulations can mold and change a man's way of thinking. Will Tom be able to change his ways because of the trouble it causes him? Will he ever be given the opportunity to win his true love and will his fortune change so he will be saved from an untimely death and retain his rightful place?
The film is a classic because of the lively performances, due to the wonderful cast of actors and actresses, brilliant screenplay, gifted direction, and the wonderful narration and production values. The film has great period sets, locations, and costumes. The marvelous musical score, by John Addison won an Oscar.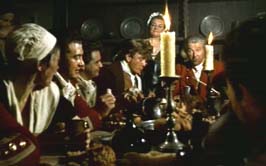 The fine, inspired and gifted direction was by the talented Tony Richardson, who won the Oscar for his efforts on "Tom Jones." Richardson had directed many stage plays, and found directing films another way to express his talents and gifts as a fine director.
Albert Finney really shines in the title role as Tom Jones, the lovable, good-hearted rascal who through all his misadventures, learns the hard way what is important, and finds that his randy behavior has consequences that are not always easy to wiggle out of.
Susannah York is delightful as the sweet, gentle Sophie Western, who is attracted to Tom Jones, but is offended by his ungentlemanly behavior with women who tempt him, which doesn't make him good marriage material, unless he can commit himself to just one woman. Despite herself, she finds herself becoming more and more attracted to Tom Jones. When her father tries to force her to marry Blifil, she runs away to London.
Well loved character actor, Hugh Griffith, is perfect as the boisterous, overbearing Squire Western, Sophie's father who is determined that his daughter will marry well.
This film also provided Lynn Redgrave's film debut, as the memorable character, Susan at the Upton Inn.