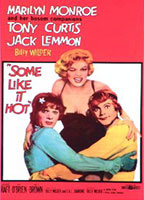 1920's era jazz musicians disguise themselves as women to escape the Mob.
Director Billy Wilder's "Some Like It Hot" is a picture perfect period comedy. Wilder received a nomination for best directing.
Written by: Billy Wilder and I.A.L. Diamond (screenplay).
The cast includes: Jack Lemmon, Tony Curtis, Marilyn Monroe, and George Raft.
Tagline: "Sometimes it's just a matter of fate, other times it's a matter of sliding doors…"
Six Oscar nominations; one win (Black & White Costume Design).
---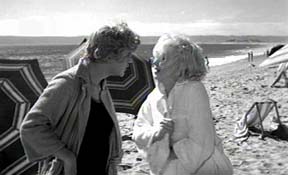 Writer/Director Billy Wilder's "Some Like It Hot," takes place during the roaring 1920's in winter-time Chicago, during a time of prohibition, and mob-run gin joints, that were hidden hidden from the law. Two musicians, Joe (Tony Curtis) who plays a sax, and Jerry (Jack Lemon) who plays a base fiddle find themselves playing in a band in an illegal gin joint, run by mobster Spats Columbo (George Raft). They find themselves out of work suddenly when Toothpick Charlie (George E. Stone) tells the detective, Mulligan (Pat O'Brian) where this illicit night club is located; in a secret room at a mortuary.
Penniless, because Joe likes to gamble, they manage to get a gig, and manage to borrow a car of the secretary of their agent. While picking up her car in the garage, they witness Spatz Columbo and his Scuzzy henchmen (Mike Mazurki, Harry Wilson, Pat Comisky) blow away Toothpick Charlie and his associates right there in the garage. This mass killing was called the St. Valentine's Day Massacre. They themselves escape certain death by the skin of their teeth, and find themselves on the run from both the mob and the police.
Lucky for them, Joe gets wind of a gig in an all girls band, that will take them out of state to a resort hotel in Florida, and out of harms way. So in fear for their lives, Joe becomes Josephine, and Jerry becomes Daphne, and they join an all- girl band, that is heading for Florida, run by Sweet Sue (Joan Shawlee). Things go well for Joe and Jerry, until some unexpected circumstances produce some squirmy moments and hilarious consequences, that delight the audience. Joe falls in love with Sugar, and tries to pretend to be a millionaire to impress her. Jerry is pursued by Osgood Fielding III (Joe E. Brown). And to really heat things up, guess where the mobster convention is being held?
While the entire cast did a terrific job bringing the comedy and excitement of the screenplay alive, sparkling performances by Lemmon, Curtis, and Monroe really carry the movie.
Curtis and Lemmon are a blast, particularly in their men disguised as women sequences.
Marilyn was perfectly cast as the free-spirited, bubbly Sugar, who is the band's lead singer / ukelele player, who treats her friends well. She has the goal of marrying someone with money, but has a weakness for sax players and booze, which nearly gets her kicked out of the band, when Sweet Sue catches her with it on the train. Daphne (Lemon) quickly says it is his flask of booze, earning the gratitude of Sugar.
A favorite scene sequence is when Sugar Kane has a spontaneous party with Daphne and the girls in the band on Daphne's train bunk. (Jerry has to remind Daphne that he is a girl, to not blow their cover.)
Monroe gives a great comic / dramatic performance as Sugar Kane, as well as treating the audience to three songs; "Running Wild," "I'm Through With Love," and her signature "boop-boop-a-doop song, "I Wanna Be Loved by You."
Another favorite scene is when Daphne and Osgood (Lemmon and Joe E. Brown) go calypso dancing until dawn at a local dance club, so his buddy, Jerry and Sugar Kane can spend some time on Osgood's yacht. How they kept a straight face through it all is amazing to this reviewer. Afterwards Joe (Curtis) has to remind Jerry (Lemmon) that he isn't a girl, and can't marry this guy, when Jerry (Daphne) comes home on cloud nine, because Osgood had proposed and given him a diamond.
To interrupt these budding romances, reality checks into the hotel, when Spatz and his gang, along with other mobsters arrive for their mob banquet and meeting. Spatz and his thugs of course run into Joe and Jerry when they panic after seeing these gangsters in the lobby. A great cat and mouse game ensues, as mobsters discover them and chase them about, with Jerry and Joe just barely escaping. Then, Jerry and Joe find themselves getting a little too close for comfort to Spatz, and then have another unperceived problem, after the bullets fly. Decisions must be made as Jerry and Joe find themselves once more real close to "sleeping with the fishes." The action is suspenseful and hilarious at the same time.
George Raft is convincing as mobster Spatz Columbo. Raft made a successful career playing hard-boiled gangsters /detectives in many films, such as "Scarface," "Johnny Allgero," "Johnny Angel," and "A Dangerous Profession."
Pat O'Brian gives a fine performance as Detective Mulligan, who comes along as well, hoping to get the goods on these mobsters, and of course would love to get a hold of these two witnesses, Jerry and Joe. O'Brian, known as Hollywood's "Irishman in Residence," often played priests and cops in various dramatic productions, such as "Angels With Dirty Faces." He enjoys himself in this role of detective Mulligan, which pokes fun at the serious cop roles he had through the years.
The producers couldn't have picked a better place that the Hotel Del Coronado to provide such a terrific scenic back drop and location site for this fine, hilarious screenplay, by Robert Thoeren, I.A.L. Diamond & Billy Wilder, who got the idea from a German farce, called "Fanfares of Love." "Some Like It Hot" makes great use of its Hotel Del Coronado location. The Hotel Del, near San Diego, has provided lush lodging for politicians, movie stars, and others for many decades, and has an impressive lobby, a grand exterior, a lovely interior, and a glorious beach.
Oscar winning costumes, that really gave the film the flapper- mobster feel of the era, were by Orgy-Kelly
"Some Like It Hot" later served as the basis for the Broadway musical, "Sugar," which had a long run on Broadway.