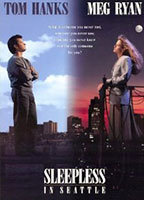 Finally ready to move beyond the pain of his wife's death, Sam resolves to start dating again. His eager son, Jonah, decides to help out his dad by putting him on a national radio show. This leads to an overwhelming influx of mail from interested women. One of whom is Annie, who is engaged but is still determined to confirm whether or not Sam is the man for her instead. As she forges her way to Seattle, the brief interlude seems in vain, and Annie heads home to New York. However, when her un-posted letter makes its way to Jonah's footsteps, the boy, his father, and Annie are brought face to face. Is it love after all, or a final farewell?
Directed by Nora Ephron.
Written by: Jeff Arch (story), Nora Ephron, David S. Ward, and Jeff Arch (screenplay).
The cast includes: Tom Hanks, Meg Ryan, Bill Pullman, Rosie O'Donnell, Rob Reiner, Rita Wilson, and David Hyde Pierce.
Tagline: "What if someone you never met, someone you never saw, someone you never knew was the only someone for you?"
---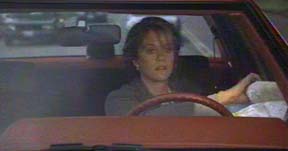 After hearing an unwilling guest, Sam Baldwin (Hanks) tell his story on Doctor Marcia Fieldstone's call-in psych radio show, Annie Reed (Meg Ryan), falls in love with this lonely, grieving widower she's never met, and who lives in another state. Sam's worried little boy, Jonah (Ross Malinger), was the culprit that called the radio station. Jonah was worried about his grieving Dad who was having a tough time getting over the death his mom. Jonah thinks his dad should start dating again and thought a talk with Dr. Marcia might help him find another woman to marry. Annie Reed is an already engaged woman, about to be married to Walter (Bill Pullman), a man that adores her but she's not sure if she adores him. After Sam's talk with Dr. Marcia, Sam receives stacks of mail from many women who want to date him. However, Sam and Annie are drawn together by destiny, and the determined efforts of Jonah who refuses to give up his quest for this particular one. Jonah personally picked her after reading her letter, despite his father's doubts that such a match could be made via mail.
Sam Baldwin reluctantly starts dating other women, and his dates don't always please Jonah. Plus, Jonah isn't pleased with his father because he won't go to New York and meet Annie. Jonah had written a letter back to Annie, pretending to be his father, and had scheduled this date for his Dad, and she to meet at the top of the Empire State Building.
Under the talented direction of Nora Ephron, who also helped write the screenplay (along with Jeff Arch and David Ward), this warm and romantic film shows how these two people, after near misses and plot twists, finally do meet.
This screenplay had actors coming out of the woodwork, wanting to be a part of this film, as it has a positive outlook, that offers hope and encouragement to many looking for true love and happiness in relationships. This premise that everyone has a perfect partner waiting to be discovered, works, thanks in large part to the great charm of Hanks and the screen chemistry Hanks and Ryan create magically on the screen. These two have starred together in other romantic movies, such as "You've Got Mail," and "Joe Verses the Volcano."
Young Ross Malinger, only 9 at the time, gives a heart-felt, convincing portrayal of young Jonah, showcasing his talent as an actor at an early age. Ross had no trouble finding work throughout his childhood and teen years as well. After "Sleepless in Seattle," he landed a role in the TV series, "Party of Five."
Rosie O'Donnell does a great job as Becky, Annie's understanding boss, who encourages her to follow up on her feelings, that this guy, Sam Baldwin is her perfect match.
Bill Pullman gives a convincing performance as Walter, Annie's devoted fiance, who she leaves to meet with Sam Baldwin for the first time. Annie realized that she didn't love Walter enough to marry him, while Walter loved her dearly. Her character shows her sweet and sensitive nature as she finds a way to break up with him, that considers his feelings.
The film's soundtrack is filled with great golden oldies. To add to the film's "ambience" Ephron wanted songs that were both romantic and nostalgic. Particularly entertaining is the late great Jimmy Durante singing, "As Time Goes By," the song made famous in "Casablanca."
Warm, literate romantic comedies never go out of style. "Sleepless in Seattle" is a great dating film because it's about destiny, and longing, and finding that one right person for you. If your date doesn't enjoy "Sleepless in Seattle", you may be dating a rock.