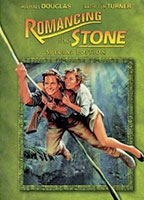 When romance novelist, Joan Wilder, travels to South America in search of her recently kidnapped sister, she finds herself in need of help. Taking to the wild forests with the help of the precarious mercenary, Jack Colton, Joan goes in search of her sister while dodging bullets, near-death situations, and interesting plot twists along the way.
Directed by: Robert Zemeckis.
Screenplay by Philip MacDonald, based on novel by Daphine Du Maunier.
The cast includes: Kathleen Turner, Michael Douglas, Danny DeVito, Zack Norman, Alfonso Arau, and Manuel Ojeda.
Tagline: "She's a girl from the big city. He's a reckless soldier of fortune. For a fabulous treasure, they share an adventure no one could imagine… or survive."
---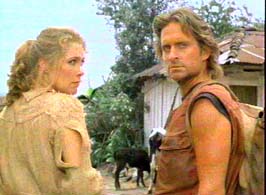 A drab, but very successful romantic novelist, Joan Wilder (Kathleen Turner), begins to experience the adventures she writes about when she travels to Colombia in search of her kidnapped sister, Elaine (Mary Ellen Trainer). The dashing mercenary, Jack Colton (Michael Douglas), reluctantly comes to her aid when she encounters danger in the jungle, first it is the murderous Zolo (Manuel Ojeda I) and then there are the rebels. There's also a valuable map that leads to a coveted gem that all involved are pursuing, this is the "stone" in which the movie's title refers.
Robert Zemeckis does his usual fine job in directing this exciting film, which shows in the pacing, and the performances of this terrific cast.
Kathleen Turner really shines as the shy, unworldly romance novelist. She has great chemistry with Douglas, and really helps carry the storyline.
In the supporting cast, Ralph, one of the kidnappers, is played by, Danny DeVito, who is a hoot as a greedy, whiny treasure hunter.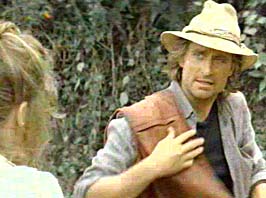 Ralph's cousin, Ira (Zack Norman), is great as the slimy, head kidnapper. He is a real sweetheart of a guy, who has pet alligators, and is willing to use kidnapping and coercion as a way to make a living.
Manuel Ojeda plays the great, yet evil black hearted villian, Zolo, who is a merciless, corrupt bad guy who will kill anyone who gets in his way, in his efforts to get what he wants. His black soul is shown to the audience, earlier in the story, back in New York.
This is a great date movie because it's all about romance, adventure, and about finding love in the most unlikely places.
The last scene in the film is a real crowd pleaser. Without giving away the ending, if you like romantic novels, or romantic movies, the end will please you, as well as your date.
Interesting fact: this extremely entertaining screenplay was written by Dianne Thomas, who had been a waitress in Malibu. Unfortunately, this was her only produced screenplay prior to her untimely death in a car accident.
This screenplay is riveting, exciting, as well as fun and witty. It is a good old fashioned adventure, but has all the visual beauty of today's lush, visual photography and on screen magic. You can see the romance grow throughout the storyline.