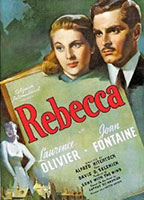 After a young woman falls in love and marries a rich widower in Monte Carlo, they go home to Manderley in Cornwall, where the 2nd Mrs. de Winter discovers that the late first wife still has influence over the household, especially the housekeeper who is bent on driving this Second Mrs. de Winter crazy.
Directed by: Alfred Hitchcock.
Screenplay by Philip MacDonald, based on novel by Daphine Du Maunier.
The cast includes: Laurence Olivier, Joan Fontaine, George Sanders, Judith Anderson, Gladys Cooper, Nigel Bruce, Florence Bates, Leo G. Carroll, C. Aubrey Smith, and Reginald Denny.
Tagline: "The shadow of this woman darkened their love."
"A lonely man, a lovely girl… struggling against the secret of Manderley."
Rebecca earned 8 Oscar nominations and won two Oscars – for Cinematography and for BEST PICTURE.
---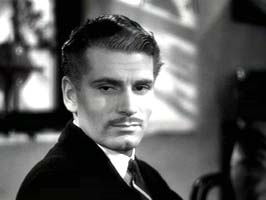 This story begins at a fancy hotel in Monte Carlo. One meets the well -to-do Mrs. Edythe Van Hopper (Florence Bates) and her young female companion (Joan Fontaine) who has come along to wait on Mrs. Van Hopper, and keep her company. This shy young woman, was from common society, the daughter of a painter, was insecure and innocent, a girl who liked to draw.
On her time off, she was sitting down by the sea wall, drawing the scenery. There she meets widower Maximillian 'Maxim' de Winter (Lawrence Olivier) who looks distraught as he stares at the ocean, whom she thinks might jump into the sea. She calls out to him, and he looks annoyed with her, and walks away. Maxim de Winter's first wife, Rebecca, had died a year ago in a sailing accident and it was said that he never got over it. However, before she knows it, she finds that he is interested in her, and she is suddenly in a whirlwind romance. When Mrs. Van Hopper suddenly wants to go home to New York, and wants to leave at noon one day, her young companion desperately tries to get a hold of Maxim to say good-bye. When she does at the last possible second, Maxim asks her to marry him, which she does, jumping unknowingly from the frying pan into the fire!
While they have a wonderful honeymoon, when they come home to gloomy Mandelay, that still reeks of Rebecca's presence. Maxim is haunted by memories, unknown to the new Mrs. de Winter, who not only must get used to being the lady of the huge manor, but also must compete with the memories of the late beautiful, well-loved perfect Rebecca, who Maxim can't seem to forget and whom the sinister, slightly crazy housekeeper, Mrs. Danvers (Judith Anderson) had been devoted to, and still was.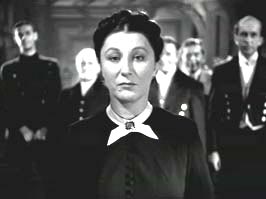 The audience begins to realize that not only does Mrs. Danvers not have both oars in the water, but is not to be trusted, as Mrs. de Winters overhears her talking with Rebecca's supposed male cousin, Jack Favell (George Sanders) in way that is suspicious. One gets the feeling by observing how this Jack behaves after being caught that he isn't a very nice character, and one wonders what he and Mrs. Danvers are up to, giving the audience a clue that there is a secret or two that hasn't been shared yet.
One cringes when the innocent Mrs. de Winters, who after enduring Mrs. Danvers tour of Rebecca's favorite West wing where Mrs. Danvers tries to scare Mrs. de Winters, actually takes Mrs. Danvers' advice on a matter concerning the upcoming Halloween party, with near disastrous results during the evening of the party.
Disaster is narrowly averted that night when suddenly a boat sinks in the harbor down from the mansion. While looking for the sunken boat, guess what is found? Rebecca's sunken sailboat, and the remains of Rebecca. From this point, the story takes an interesting turn or two, and Mrs. de Winters, no longer innocent, is sucked further into the mystery of Mandelay, finding out more about Rebecca, the secrets behind her husband's feelings, and the plan of Mrs. Danvers and the "cousin," Jack Favell which soon comes to light, which really livens up the newly reopened inquiry into Rebecca's death. The ending is quite surprising.
This classic romantic thriller, based on a novel by Daphne Du Maurier, was written by Philip MacDonald and Michael Hogan, who did a superb job capturing the spirit of the novel, giving the cast and director plenty to work with. The dialogue is especially good, giving the likes of the creepy Mrs. Danvers, good verbal ammunition, as she coldly tries to beguile the new Mrs. de Winters.
Directed by Alfred Hitchcock and produced by David O. Selznick, everything was done right to produce the spooky atmosphere, great set design, the pacing, the Oscar-winning cinematography, by George Barnes, and the twists and turns of the storyline brought to life by a talented cast, that didn't always like each other or the director, but pulled together like the professionals they were.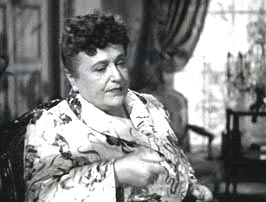 Production values were top notch, as David O Selznick, a known perfectionist, had high standards for his films. The art direction was wonderfully detailed, as everything was well thought out.
Alfred Hitchcock made good use of light and shadows to add to the feelings of the audience that all was not right in this house, giving a sense of foreboding. He builds the suspense in the story as is his trademark in his films, and draws great performances from the cast. While he and Selznick didn't always agree concerning some areas, Hitchcock still was able to bring to this film his creativity and genius to help make this film truly special.
The talented cast got into the spirit of the story, and gave their best individually and in ensemble groups.
Lawrence Olivier is very convincing as the tortured Maximillian 'Maxim' de Winter who loves his new wife, but has quite a lot of emotional baggage that seems to be getting in the way. He gives the impression of a man struggling with more than grief for a dead wife.
Joanne Fontaine gave a wonderful performance as the new Mrs. de Winter, a young girl who finds that she must grow up fast to survive in the difficult situation she married into, not knowing the full extent of the problems that would be facing her. She knows that her love for Maxim is strong and enduring, which is what she holds onto during the difficult times ahead. Many feel that she deserved to win the Oscar for Best Actress.
Olivier and Fontaine are wonderfully convincing together as a couple deeply in love, struggling to overcome the pain of the past and the intrigue of the present, all which was under the shadow of Rebecca. In real life, they couldn't stand each other, but both were professionals on screen.
The actress that stole every scene that she was in was Judith Anderson, who was magnificent as the sinister, mentally off Mrs. Danvers, who was overly devoted to her mistress, Rebecca when she was alive, and even more so after her death. Judith Anderson more than earned her Best Supporting Actress nomination.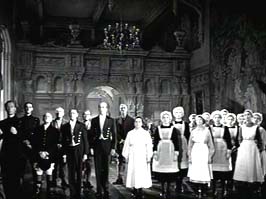 The wonderfully obnoxious bad guy, Jack Favell, was played by the talented George Sanders, who was gifted at playing villains and charming heels.
There are several favorite scenes. When Mrs. de Winter happens to see someone in the West wing, when no one was supposed to be in there anymore because it was like a shrine to Rebecca, she goes into the West wing to investigate. Mrs. Danvers comes in, startling her, and proceeds to show her everything in great detail, down to Rebecca's underwear! Mrs. Danvers then does her best to scare her.
Also, the events leading up and during the inquiry are quite suspenseful, as the audience silently roots for Maxim and Mrs. de Winter. Then the twists and turns that come during this time and the surprise ending make a most satisfying ending to a romantic thriller.
If you enjoyed REBECCA you may like SUSPICION, SABOTEUR, SHATTERED, and/or DRAGONWYCK.