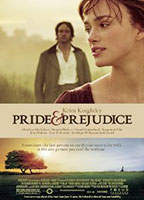 "Pride and Prejudice" is a historic adaptation of Jane Austen's novel, the classic sweeping romance of the same name. The film follows the adventurous musings of the five Bennett sisters, specifically Elizabeth, in their wild romps towards marriage. With balls, country travels and much drama to ensue, the film promises to be a comic, romantic, light-hearted, satisfying retreat into one of historic England's classic love-stories.
Directed by: Joe Wright.
Written by: Jane Austen (novel) and Deborah Moggach (screenplay).
The cast includes: Keira Knightley, Matthew Macfayden, Donald Sutherland, Brenda Blethyn, and Judi Dench.
Tagline: A classic romance to withstand time!
---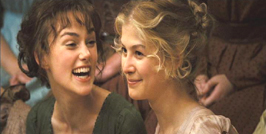 The film commences with a sweeping panoramic of the English countryside as "Pride and Prejudice's" protagonist, Elizabeth Bennett (Keira Knightley) frolics about hill and dale reading one of her favorite books. Meanwhile the rest of the Bennett daughters, all four additional girls to be exact, are eagerly eavesdropping on their mother and father, Mrs. Bennett (Brenda Blethyn) and Mr. (Donald Sutherland) Bennett respectively, eagerly discuss the proposition of a covetous new arrangement with the rich, and more importantly, available Mr. Bingley (Simon Woods). With the Bennett estate trusted to a male heir, and no sons having been born, it becomes imperative for Mrs. Bennett to see her daughters married off to well-to-do men so that they do not lose all to Mr. Collins (Tom Hollander) upon Mr. Bennett's death.
As her match-making brouhaha continues the scene pans to a riotous Derbyshire ball where all five Bennett sisters are gaily engaging in social dancing and mingling. Then, silence. A grand entrance is made by none other than the iconic Mr. Bingley, his equally well-to-do, albeit slightly portentous, friend Mr. Darcy (Matthew Macfayden), and his sister, Miss Caroline Bingley (Kelly Reilly).
With all standing in reverent awe, Mrs. Bennett quickly grabs her two eldest daughters' hands in hopes of first introducing them to the agreeable men before the rest of the ball stains Mrs. Bennett's hopes. Meanwhile Elizabeth's friend Charlotte Lucas (Claudie Blakley) is also standing alongside Mrs. Bennett's daughters, eagerly ready for recognition and fortuitous prospects. As such, it seems Jane Bennett (Rosamund Pike) and Mr. Bingley have quite hit it off, despite whatever awkwardness formality may present to the situation.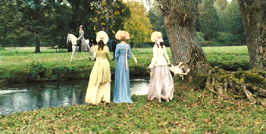 Meanwhile the young, indeed arguably immature, Lydia Bennett (Jena Malone), along with her sister Kitty Bennett (Carey Mulligan) squeal in delight at the prospect of the arrival of 'Red Coats' (or militia men) to the ball. Still, Elizabeth attempts to join in the fun by asking for Mr. Darcy's hand in a dance. But when coolly rejected, she and Charlotte take cover for some privacy, only to hear Mr. Bingley mutter delightful commentary about Jane, while Mr. Darcy speaks tacitly of Elizabeth's plainness, which is sadly, immediately confirmed by her mother, much to Elizabeth's humiliation. Still, there is a particular wit and keen sparkle to her eye that, no matter how 'plain' in the looks department, has Mr. Darcy at least a little curious in Miss Elizabeth, regardless of whether he'll admit it to himself or not.
A quick letter from Caroline Bingley requesting an invite to lunch seems hopeful for Jane, that is, until Mrs. Bennett's quirky matrimony scams winds Jane sick in bed at the Bingley's vacation estate, leaving Bingley and his sister's the task of pining over the fragile Jane Bennett. Still, concerned for her sister's health, Elizabeth violates all codes of propriety and runs the multi-mile distance to the Bingley estate to check on her sister, which of course earns condescending remarks from the hawkeyed Caroline Bingley.
Still, while Lydia and Kitty giggle girlishly admire the march of the Red Coats, Miss Caroline does her best to condescend Elizabeth in all aspects of her life so that she may gain the advantage of Mr. Darcy's opinion. Still, her stuffy propriety, obviously clashing with Elizabeth's 'free spirit', Mr. Darcy can't help but seem attracted to the latter, in spite of all her 'cultured deficiencies'. While he quizzically ponders the whims of women, particularly the motivated fancies of Miss Bingley in comparison the unmotivated ones of Elizabeth, the rest of the Bennett women arrive, to the disgust of Caroline Bingley, to fetch their missing daughters. While there, a brief look at the overtly scholarly and hermetic Mary Bennett (Talulah Riley) will give example to the other extreme of women- the anti-social.
With expediency the women rush home to prepare to host the heir-to-be of their estate, Mr. Collins. The pompous, squeamish Mr. Collin's eyes Jane, but quickly finds that he must defer to the next in line due to Mr. Bingley's recent acquaintance. Indifferently Mr. Collins moves on, and irrationally decides to propose to Elizabeth just as soon as he's finished reading his lengthy sermons on morals and manners.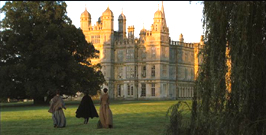 Still, before a proposal, there must be a ball. But when the 'Red Coat', Mr. Wickham (Rupert Friend), and Mr. Darcy's two men cross paths prior to the event, an uncomfortable air is produced and Mr. Bingley's self-hosted Netherfield ball results in Mr. Wickham's absence, leaving Elizabeth sans a dancing partner since Mr. Darcy of course is too proper to engage in such frivolousness. Still, Elizabeth quickly learns of Mr. Wickham's and Mr. Darcy's rocky past via the mouth of Mr. Wickham. Quickly allowing her 'prejudices' to get the best of her, Elizabeth's heart is only too disappointed when Mr. Wickham fails to show to the ball and is instead, left running from the coattails of an odious Mr. Collins. Soon thereafter his proposal comes. But true to her heart and not her coin purse, Elizabeth Bennett quickly rejects his proposal in light of her new acquaintance with the charming Mr. Wickham and the puzzling Mr. Darcy.
Still, Mrs. Bennett is enraged in Elizabeth's hard-headedness and, just as soon as she rejects Mr. Collins, so too is Jane sent news that Mr. Bingley is to leave his vacation estate. No wedding is to occur. More than likely it is on behalf of his repellent sister's opinions. Under the pretense of seeing Georgiana Darcy (Tamzin Merchant), Mr. Darcy' sister, the gentlemen and Caroline hastily leave to visit Miss Darcy at the Pemberley estate. What Elizabeth has yet to discover is the prospect for Miss Bingley to marry Mr. Darcy herself, and, Miss Darcy to marry Mr. Bingley. It seems perhaps Mrs. Bennett is not the only woman with marital scams up her sleeves. Adding to the blows is news that her best friend, Charlotte Lucas, is recently engaged to none other than Mr. Collins. Choosing to marry under the rite and prospect of safe haven and a comfortable life, Charlotte spreads the news to a rather disarmed Elizabeth.
Still, in hasty communication with Charlotte, Elizabeth promises to pay her respects to Charlotte and her new home with Mr. Collins at Rosings estate. There Elizabeth will finally be granted the opportunity to meet none other than the 'iconic' Lady Catherine de Burgh (Judi Dench). Likewise she will also be afforded the company of a rather poor excuse for refinement, Miss de Burgh's daughter. Mr. Darcy himself will also show his face in the good company of Mr. Colonel Fitzwilliam (Cornelius Booth). To her surprise, Mr. Darcy is none other than Lady de Burgh's nephew. Under the equally precarious eye of Miss de Burgh, rivaling Caroline Bingley's, Elizabeth is once again subjected to condescending remarks from those 'high-stationed' people in life. It seems deficiently mannered people may run in both of their families.
But just as a potential rapport emerges between Mr. Darcy and Elizabeth, bad news of his potential involvement in Jane's recent heartaches may cause an emendable chasm. His proposal could come at no worse a time. Once again, Elizabeth Bennett will reject a male suitor. This time, however, violently personal remarks on behalf of both character's and their families will ensue.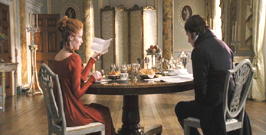 Detracted, Elizabeth decides to travel the countryside with her good aunt and uncle Mr. (Peter Wright) and Mrs. (Penelope Wilton) Gardner. Once again it's England at its best with beautiful and lush landscapes of country green and other natural colorings. Here, more surprises await Elizabeth, such as discovering that Mr. Darcy is once again to pop up his head at the Grande estate, his own estate, Pemberley. It's good taste, decorum, and ambience at its apex; and Mr. Darcy is owner of it all.
Wounded, both will be forced to face their hearts and their true feelings before their pride gets the best of them. But will the sudden interference of a potential family tragedy, the surprising marriage of Lydia to the even more surprising character of Mr. Wickham-apparently a money beggar and disloyal dependent of Mr. Darcy, spoil all potential for yet another Bennett daughter love-match? What's more, a sudden visitation from an enraged Miss de Burgh proves that she is most disapproving of Elizabeth's interference with her attempted scheming of uniting him with her own daughter. My, my, to be a woman in those days! What ever will Elizabeth and Mr. Darcy do?
"Pride and Prejudice" is rapturous. It's romantic, it's comic, it's whimsical, it's historic, it's lovely, and it's refreshing amidst today's high-tech, FX loaded films. Rather than resorting to the mechanical, but rather in likeness to its Romantic authoress, Jane Austen, Wright reverts to the screenplay's roots and sets the stage with overwhelming beauty au' natural. The film relies on the grandeur of the artists' performances and their complimenting presence amidst a background of amazing British landscaping and housing. This film shines in comfortable elegance, and eloquence. It is a timepiece to be honored and treasured throughout the years. Director Joe Wright should be so ecstatic that such a successful visionary adaptation was manifested in his 'rookie' film. Indeed "Pride and Prejudice" has the confidence, the magic, and the composure of being the product of a veteran director.
The music in "Pride and Prejudice" is as grand and whimsical as its sets and costumes, both of which were coincidentally nominated for Oscars. The score is sweeping, epic, and filled with the brilliant vibrancy of harmonic major chords playing in classical melody. Elegance is lynchpin of this film, and it abounds everywhere from performance, to set, to costume, to the score itself.
Likewise the cast was deft. Keira Knightley is all grown up as the vibrant and headstrong Elizabeth Bennett, one of British Literature's (specifically the Romantic era), most beloved heroines of all time. Keira Knightley shines as an example of a pioneer striving to marry for love rather than comfort. Matthew Macfayden as Mr. Darcy is also quite appropriately cast and sound in his portrayal of the epitomized gentlemen. Rosamund Pike endears with her cherubim looks and genteel manner. Simon Woods as Mr. Bingley is simply a perfect match. Donald Sutherland and Judi Dench, the powerhouses in the film, bring a great strength and air to the master piece. Each sinks into their role and in deed, it's nearly impossible to imagine casting someone else as either Mr. Bennett or Lady de Burgh, as they simply own the screen in their portrayals of each. Their iconoclastic presence solidifies and elevates the rest of the cast.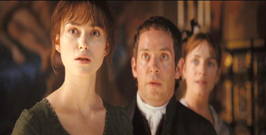 The result is a sound production of a light-hearted romance invested in great stakes such as the fate of 19th century women. The real everyday concerns of 18th/19th century family life give this film a tangible historic effect and a palatable plot for the film. Here, the cult of domesticity abounds and "Pride and Prejudice" is an attempt to expose the potential foibles and comforts of such arrangements. Elizabeth is paramount in her diffidence to such norms, and likewise, remains acquiescent to such prospects. She is both a product of the times, and yet a pioneer of the horizon. Wright's vision appropriately captures the necessary tension of such times, and Donald Sutherland brings a sound paternal perspective through which to attempt to objectively view the estrogen-filled narrative. In the end, one simply sits back and enjoys this novelty, this rare gem of contemporary film that, for a moment, lets audiences escape into the magical land of history via Austen's romantic vision that is "Pride and Prejudice."
"Pride and Prejudice" was nominated for 4 Oscars: Best Art Direction (Sarah Greenwood and Katie Spencer); Best Costume Design (Jacqueline Durran); Best Music, Original Score (Dario Marianelli); and Best Actress (Keira Knightley). Additionally the film garnered another 7 wins including the BAFTA's Carl Foreman Award for Most Promising Newcomer (Joe Wright, director) and the Empire Award for Best British Film, and 14 nominations including one Golden Globe each for Best Motion Picture and Best Actress.
Main Characters:
Keira Knightley plays Elizabeth Bennett, the heroine.
Matthew Macfayden plays Mr. Darcy, the hero.
Rosamund Pike plays Jane Bennett, the eldest of the Bennett daughters.
Jena Malone plays Lydia Bennett, the second-youngest of the Bennett daughters.
Donald Sutherland plays Mr. Bennett, the aged husband to Mrs. Bennett.
Brenda Blethyn plays Mrs. Bennett, the 'marriage' doctor.
Kelly Reilly plays Miss Caroline Bingley, Mr. Bingley's uppity sister.
Judi Dench plays Lady Catherine de Burgh, Mr. Collins patron and Mr. Darcy's aunt.
Claudie Blakley plays Charlotte Lucas, Elizabeth's best friend.
Tom Hollander plays Mr. Collins, the Bennett's heir.
Simon Woods plays Mr. Bingley, Jane's love prospect.
Memorable Quotes:
Darcy: I don't have the talent of easily conversing with people with whom I'm unacquainted.
Elizabeth: Perhaps you should take your aunt's advice and practice.
Darcy: Do you expect me to rejoice in the inferiority of your circumstance?
Elizabeth: And those are the words of a gentlemen? From the first moment I met you your arrogance and conceit, your selfish disdain for the feelings of others made me realize that you were the last man in the world I could ever be prevailed upon to marry.
Darcy: Forgive me, madam, for taking up so much of your time.
Mr. Bennett: Lydia will never be easy until she's exposed herself in some public place or other and we could never expect her to do it with so little inconvenience as under the present circumstances.
Elizabeth: If your dear father, do not take the trouble to check her she will be fixed forever as the silliest and most determined flirt who ever made her family ridiculous….
Mr. Bennett: Lizzie we will have no peace until she goes.
Elizabeth: Is that really all you care about…
Mr. Bennett: …Let us hope that her stay in Brighton will teach her of her own insignificance…
Mr. Gardner: Oh, what are men compared to rocks and mountains?
Mrs. Gardner: Or carriages that work?
Elizabeth: He's so rich.
Mr. Gardner: Good heavens Lizzie, are you such a snob?
Mrs. Gardner: …he won't be there anyway. These great men are never at home.
Jane: It's alright Lizzie… I';m just glad he comes alone. That way we should see less of him. Not that I'm afraid of him. I just dread people's remarks…
Darcy: …You have bewitched me body and soul. And I love, I love, I love you. I never wish to be parted from you from this day on.
Mr. Bennett: Lizzie, are you out of your mind? I thought you hated the man?