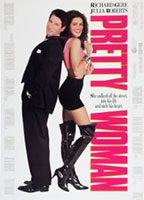 "Pretty Woman" is your not-so-traditional "fairy tale" romance that features megastars Richard Gere and Julia Roberts in their first of what would become several appearances together. Gere plays your typical cut-throat business mogul whose specialty is to "de-center" companies (e.g. buying them out and selling them off, in pieces, for profit, large profit). While in L.A. on a routine business trip he decides to pick up a prostitute, Roberts, after some witty street-side banter. Unexpectedly, the two take a liking to one another and Gere sets about turning this street girl into quite a 'pretty woman' in deed. But with her reckless past now connected to Gere's reputation, there's trouble in the forecast for these two unlikely love birds. Still, romantic comedies never like to end sour, and as such, this film pulls out all the classic clichés in a fresh, witty, romantic way that leaves our prince and damsel in distress better people for their acquaintanceship.
The director, Gary Marshall, serves up a "Cinderella" story for the 1990s, wowing viewers, particularly women.
Written by: J.F. Lawton.
The cast includes: Richard Gere, Julia Roberts, Ralph Bellamy, Laura San Giacamo, Jason Alexander, and Hector Elizondo.
Tagline: She walked off the street, into his life and stole his heart.
---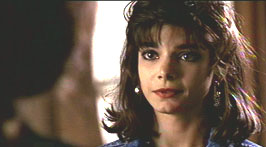 "Pretty Woman" is a contemporary Hollywood fairy tale, a classic tale of love and redemption, that is a sweet romantic comedy; an innocent 'love story'. Edward Lewis (Gere) evolves into a better person, and Vivian Ward (Roberts) each have the chance to start over again, as a result of their love relationship.
The basic story involves a handsome, rich, out-of-town guy, Edward Lewis, who hires a pretty young hooker, Vivian Ward for an extended, sexless "date," after she helps him to become unlost, and find his posh hotel. He winds up hiring her for the week; both as his night time "date," and as his assistant during the day, as he needs a female companion for business/ social reasons. When they fall in love with each other, complications ensue.
Richard Gere delivers his standard cool, hunky performance, in stylish threads. What is perceived as his charm or charisma works in this film, similar to his performances in "An Officer and a Gentleman" and "Runaway Bride."
Roberts, as Vivian 'Viv' Ward, is radiant in the title role. With her youthful good looks and energy and that wide-screen smile, she lights up every scene she's in. "Pretty Woman" did great things for her career, becoming her signature film. She earned an oscar nomination for her performance, and won The People's Choice Award for Best Actress.
Jason Alexander, as Philip 'Phil' Stuckey, excels as a slimy business associate of Gere's. As Alexander is a prolific actor of stage, screen, radio, and TV, it's amazing to me that Alexander's hot career is based on playing characters we'd rather punch in the face than talk with.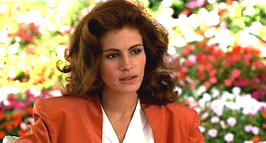 Laura San Giacamo, as Kit De Luca, makes a strong impression as Roberts' friend and roommate. She is also a well-trained stage actress, and has done Off-Broadway productions as well as Regional Theater. After the birth of her son, who has cerebral palsy, she decided to put her efforts into television, because of the regular schedules, and no traveling. She has scored big on TV, in "Just Shoot Me."
My favorite scene is the film's storybook ending. Considering that this is a modern "Cinderella" story, the ending is seamless. Julia gets the perfect, romantic rescue scene, which includes a limousine, a fire escape, balcony, birds, music, a romantic kiss and red flowers.
"Pretty Woman" is a great date movie because it is a great chic flick! Female viewers will be carried off into a warm, wonderful, romantic, fantasy world, of rags to riches. You just can't go wrong with a film that women love, despite some humorous situations, that can cause the sensitive to squirm a little.
Quotes:
Lewis: "So what happens after he climbs up and rescues her?"
Vivian: "She rescues him right back."