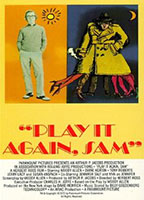 When passive film critic Allan Felix's fed up wife suddenly leaves him, he begins to see his idol, tough-as-steel Humphrey Bogart, appearing as an apparition with advice. Together the advice of Bogart and Felix's married friends gets Allan back on his feet and in the dating world where he is forced to learn how to relax and either be himself, or be single.
Directed by Herbert Ross.
Writer Woody Allen's adaptation of his hit comedic play offers timeless movie entertainment, and many laughs.
The cast includes: Woody Allen, Diane Keaton, Tony Roberts, Jerry Lacy, Susan Anspach, Jennifer Salt, Joy Bang, and Viva.
Tagline: "If you're going to take advice – take it from the best."
---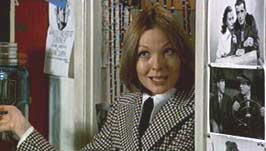 The basic story involves a recently divorced writer/ film critic for a San Francisco film magazine, who tries to get back into the swing of the dating scene, with the help of friends and the ghost of Humphrey Bogart, played by Jerry Lacy.
Woody is very likable as the desperately nerdy, single guy, crushed by his recent divorce. Diane Keaton is huggable as a married friend, Linda Christie, Tony Roberts offers good support as Keaton's husband, Dick Chrisite who's always calling into work to leave his number, no matter where he is.
My favorite scene takes place before one of Woody's dates. He has the girl at his place, and he's incredibly nervous. Picking up an album, the record flies out, smashing against the wall. Then, he tries to lean casually on the back of a chair, which quickly pitches forward, taking Woody down to the floor. Until he learns to relax, and starts taking advice from the ghost of Humphrey Bogart, his dates are hilariously disasterous, examples of what not to do or how not to act if you are trying to impress a woman.
"Play It Again, Sam" is a great date movie because you get to see Woody go on numerous bad dates. This gives something for you and your date to laugh at, because YOUR date couldn't possibly be as bad as Woody's.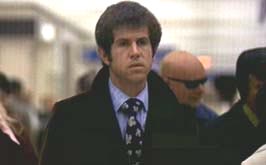 The film benefits from great art direction. Whether it's Woody's cluttered apartment, filled with movie memorabilia, or a "Casablanca" like airport, complete with fog and old fashioned propeller plane, the film's sets look great.
Jerry Lacy is wonderful as the ghost of Humphrey Bogart, complete with hat and trench coat. This is the same role that Lacy played to perfection on stage. The scenes where Allen consults with Bogie, while in the presence of women unaware of the ghost's presence, are clever and well played.
If you liked PLAY IT AGAIN SAM, you may enjoy CASABLANCA, ANNIE HALL, DECINSTRUCTING HARRY, and/or TO HAVE AND HAVE NOT.