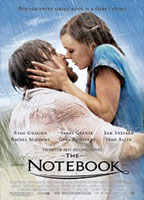 Directed by: Nick Cassavetes.
Written by: Nicholas Sparks.
The cast includes: Gena Rowlands, Rachel McAdams, Ryan Gosling, and James Garner.
Tagline: "True love knows no boundaries"
---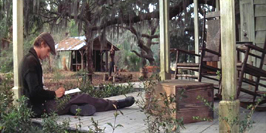 Centering on an old man and his arbitrary relation to an elderly, albeit regal, woman in a nursing home, "The Notebook," takes us back in time to trace the beginning steps of their affiliation in a classic love story that is sure to please. As the "unnamed" man (James Garner) begins to read to Allie (Gena Rowlands), an odd nostalgia strikes the woman and she finds herself irresistibly pulled into the romantic tale of Noah Calhoun (Ryan Gosling) and his first love, a woman coincidentally with the same name as herself, Allie Carver (Rachel McAdams).
The film pans back and forth from the present to fifty years earlier. Stepping back in time, we learn that Allie and Noah met by coincidence. Not exactly "love at first sight," the rich girl from the city begins to slowly fall for the undeniable charm of the down home country boy, Noah, and his romantic ways. Eventually, the two form an unforgettable summer romance much to the dismay of Allie's "sophisticated" parents. At the heat of their disapproval, Noah and Allie are forced to separate as she heads back to the city with her parents and eventually goes to college. Of course, Noah writes and Allie never receives a letter, her mother being the obvious culprit for such a feat. Then, by and by, while serving a stint as a nurse in the war, Allie meets the charming Lon (James Marsden). Tending his bed, Allie heals more than just his wounds, and eventually Lon makes his way back to her hometown where he sweeps her off her feet with his debonair personality, and all that money! Of course her parents think it's a wonderful match and wedding bells ring in the near future without a single thought of Noah to be found.
Meanwhile, Noah returns home from the war (yet another ironic parallel in their life choices), where he does his best to get over his best friends death and the absence of Allie by restoring his dream home. With the help of his father, Noah slowly restores the historic home, just as Allie wished it those few years ago. Eventually, Noah's father dies and Allie has yet to return to the picturesque home with blue shutters and a painting room. Of course Noah slips back into his wily nature, drinking himself nearly to death and obsessing over the details of his home, hoping the hobbies will keep him distracted long enough to forget Allie. But when Allie catches wind of Noah's "grand achievement," fate takes a tricky turn, landing her back in that sleepy town where she's forced to make the biggest decision of her life, with the fate of two men and her parents resting on her shoulders.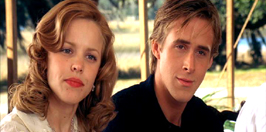 This tearjerker has you grabbing Kleenex during both the saddest and happiest of moments of the tale. "The Notebook" is an endearing, heartwarming romance about true love and the concept of "soul mate." It has everything a good romance should, fictional and otherwise. "The Notebook" is what every young girl dreams of – true love.
Rachel McAdams captures our affection as Allie with her unassuming beauty and innocent sex appeal, a combination that downplays the potential severity of her character; instead, she's an interestingly complex amalgamation of opposites infused with a naiveté that leaves her rapturous and captivating to both the audience and male lead (Noah) alike. Of course, the glamor get-ups and couture coifs don't hurt; nevertheless, the ability of McAdams to exude a magnetism founded on strength, innocence, and sex appeal make her evocatively charming. She is the modern Daisy Miller, or any other stubborn, well-to-do, educated heroine of the early 20th century.
Ryan Gosling is simply adept at playing the tortured soul, Noah Calhoun. His charming boy-next-door affability makes him irresistibly charming. He pulls off down-to-earth and sexy with simultaneous ease, making him the common "everyman" and small-town Southern to the bone. Admittedly he is better at the "rough around the edges" stuff then he is at the "real drama" portions of the flick; from his improvisational tone to his comedy: the tangibility, realism, and bittersweet trace of spoof, make him perfect for the pre-heartbroken part of Noah. His portrayal of the detracted, heartbroken Noah, however, was less engaging or rhetorically persuasive than his performance as the more smitten, former self. Still, perhaps this is a sign of his novice status and if there's any chance at making a fair judgment, one would have to witness him in other, later works done post "The Notebook" to see if his promising performance has evolved into a real talent. If his Oscar nomination for his performance in "Half Nelson" (as Dan Dunne) is any sign, it looks like his role as Noah Calhoun was one of the first of many memorable roles for this talented actor.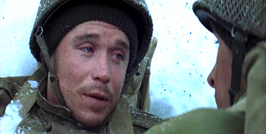 Likewise, James Garner is electrically magnificent as the unassumingly dedicated husband. His touching performance delivers the coup de gras much needed to send this movie home with an honorable and realistic, albeit bittersweet, ending. He is simply captivating with a perfect combination of genteelness and gentleness. What is there not to like? And, of course, Gena Rowlands is solid in her performance as the endearing, yet saucy and temperamental, senior Allie Carver. She's magnetic in her ability to show tenderness and fragility, aloof though alert simultaneously. Her stature, Southern tinge, and performance seal the chemistry with Garner that helps make the ending so impacting. It was a pleasure to watch these two veteran actors at work in the beautiful setting that "The Notebook" allows.
Indeed the cinematography is spectacular, capturing endless sunsets and seaside panoramas of the Southern coastline, which make your heart bleed with the nostalgia of romance and the history infused in the very air and earth on which the film was shot. Above all, "The Notebook" is a beautiful film.