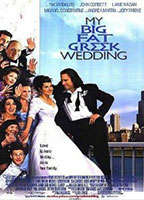 Toula Portokalos is a 30 year old Greek woman who feels trapped working in her family's Greek restaurant. After an embarrassing, yet romantic, experience she develops a strong desire to remake her appearance and update her job skills, which all leads to a romance with a non-Greek, causing a stretch of attitudes among all concerned.
Directed by: Joel Zwick.
Screenplay by Nia Vardalos.
The cast includes: Michael Constantine, Nia Vardalos, John Corbett, Christina Eleusiniotis, Lainie Kazan, Andrea Martin, Louis Mandylor, Gerry Mendicino, Stavroula Logothettis, and Maria Vacratsis.
Tagline: "Love is here to stay… so is her family."
---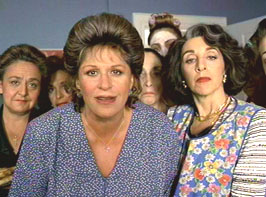 This marvelous romantic comedy begins by showing a thumb-nail sketch humorous flashback of Toula Portokalos' early life as she narrates how she felt about growing up as a child and a teenager in a household steeped in Greek thought and culture. Toula wanted to blend in more with American culture by participating in Brownies instead of going to Greek school. The flashback shows Toula being laughed at by the popular girls at school because of her Greek food lunch, and being embarrassed by her father's habit of finding the supposedly Greek root of every word, even in front of her friends in the carpool. Being different isn't easy. It is safe to say Toula has some mixed feelings about her strongly Greek culture practicing family. One of the main story lines of the film is how she wrestles with her heritage and cultural identity to come to a new understanding of her Greek culture.
Both of her parents, like her aunts and uncles (who are all from the 'old country'), have an established restaurant business in Chicago, Dancing Zorba's, where her immediate family works. After high school, as expected, Toula went to work in the family restaurant. The standard expectation is that Greek girls marry Greek boys, work in the family business, have many kids and of course feed everyone. Time passes and, at age 30, a grown Toula (now played by Nia Vardalos) still unmarried, feeling frumpy, has no life and isn't happy about working in the family restaurant. Not only are her parents worried, but her aunts and uncles are as well. They curse themselves at the thought that Toula might not marry.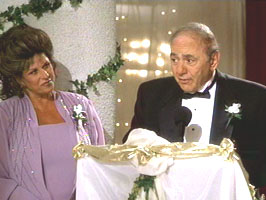 One evening while Toula waits on tables, a handsome non-Greek man, Ian Miller (John Corbett), comes in to eat with his friend Mike (Ian Gomez). The sight of Ian causes Toula to have a strange reaction. All she can do is stare at Ian, who is in turn puzzled by her behavior. After this embarrassing incident with Ian, Toula decides that she is loosing it and needs to try to change her life. She begins by asking her parents if she can take some computer classes. Her father, Gus Portokalos, (Michael Constantine) says no at first. However, Maria Portokalos (Lainie Kazan), uses her powers of persuasion and convinces Gus to relent. They then allow Toula to take computer classes downtown at the junior college. Toula gives herself a make over, gets contact lenses and becomes much happier with herself. She asks her Aunt Voula to let her work in Voula's travel agency, using her new computer skills. Aunt Voula and Maria Portokalos work together in cahoots to make Toula's father think it was his idea. They then get Gus to come up with the idea of solving Voula's 'family problem' by letting Toula work in the travel agency, in exchange for Voula's son working for Gus.
Then things get turned up a notch when Ian Miller happens to walk by the travel agency window, sees the new and improved Toula, and she captures his heart then and there. Before long Toula and Ian are in love, but find themselves in a secret relationship. They are busted when spotted by a cousin while kissing each other in a nearby parking lot – then the family fireworks begin. Toula is in love with a non-Greek – YIKES! Toula's father isn't happy at all. Toula's whole family stretches to accept Ian. And Ian, who deeply loves Toula, learns to deal with her very different parents. The way these two dynamics bend is hilarious, and they also intertwine nicely with Toula's struggle to find peace within both her Greek family and her outside personal life.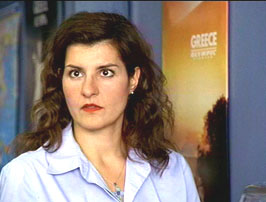 The director, Joel Zwick, mostly known for his TV accomplishments, kept the story moving at the right clip and got some great performances out of the cast. He has a talent for comedy! His directing success with this film boosted his work as a film director. He got a plumb gig as director of the film, "ELVIS HAS LEFT THE BUILDING" and is directing Bill Cosby's film, "FAT ALBERT."
Nia Vardalos (who also plays the main character, Toula), also did a wonderful job writing this humorous, poignant screenplay. The various behaviors of this loud, boisterous, loving extended Greek family, full of vivacious characters who are not afraid to be themselves are really entertaining as they rally around the engaged couple in the kind of loving support that comes from sincere hearts. It is no wonder that this film was adored by the public viewing audience. In 2002, it was the highest-grossing independent film of all time, until it was surpassed by "THE PASSION OF CHRIST."
Nia Vardalos shines in her portrayal of the main character, Toula, a Greek American woman in search of self, who is working through her mixed feelings she has about her big fat Greek family, and the cultural expectations.
John Corbett gives a convincing portrayal of the kind and caring, calm school teacher, Ian Miller, who truly loves Toula and has the courage and patience to experience Toula's family and rises to the occasion magnificently, helping Toula along the way with insights that help her find peace with it all.
Michael Constantine is wonderful as the colorful Gus Portokalos, Toula's over the top Greek father who struggles with his feelings about Ian, much like any parent would when their daughter or son falls in love with someone not on the approved potential spouse list.
Lainie Kazan – a character actress who gives a strong performance as Maria Portokalos, the clever, strong, loving mother of Toula, who looks after Toula's well-being and wants her to be happy, hopefully within the guidelines of the family, but will roll with the punches, make the best of any situation graciously, choosing to look at situations in a positive light.
Andrea Martin – This Tony and Emmy winning actress/ writer gives a marvelous supporting actress performance as Toula's Aunt Voula.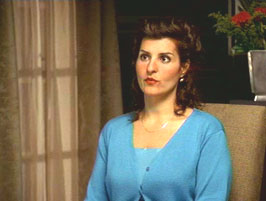 This film is rated PG. A great film for the whole family with some reservations. There is kissing and 2 implied premarital sex scenes; but no nudity or actual showing of the romantic encounters. Very tame stuff. When Ian invites Toula up to his apartment for the first time, she jumps on him, fade to black. The other scene has them lying in bed with clothes / covers on, but the look on their faces implies that they just made love. He asks her to marry him.
Quotes:
Maria Portokalos: "The men may be the head of the house but the women are the neck and they can turn the head anyway they want."
Gus Portokalos: "There are two kinds of people – Greeks, and everyone else who wish they was Greek. Say any word, and I'll tell you how the root of that word is Greek".
Toula Portokalos: "When I was growing up, I knew I was different. The other girls were blonde and delicate, and I was a swarthy six-year-old with sideburns."