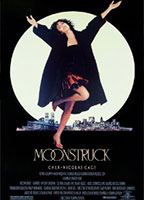 Directed by Norman Jewison.
Written by John Patrick Shanley.
The cast includes: Cher, Vincent Gardenia, Nicolas Cage, Olympia Dukakis, Danny Aiello, Julie Bovasso, John Mahoney, and Louis Guss.
Tagline: Life. Family. Love.
MOONSTRUCK was nominated for the Best Picture award.
---
Loretta Castorini's a lonely widowed bookkeeper in her late thirties who's caught the eye of middle aged Johnny Cammareri. After accepting his proposal Loretta begins to think their first marriage was cursed due to the improper City Hall ceremony. Determined to do things right this time around with Johnny even though she knows she's not fully in love with him. But when Loretta meets Johnny's brother Ronny, a complete opposite to Johnny's mild-mannered personality, Loretta finds herself in a complicated way with the affection of both the brothers in her hand.