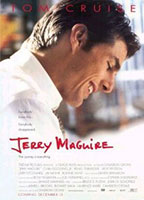 When sports agent, Jerry Maguire, has an epiphany about his unethically bureaucratic ways he publishes a manuscript that ultimately costs him his job. As Jerry goes independent he is left without help as well as clients, save for an egomaniacal football player, Rod Tidwell, and a mousy single-mother secretary, Dorothy Boyd. With Rod and Dorothy by his side, Jerry works through the ups and downs of the sports world, and learns a little about love and compassion along the way.
Written and directed by Cameron Crowe.
The cast includes: Tom Cruise, Renee Zellweger, Cuba Gooding Jr., Bonnie Hunt, Kelly Preston, Jerry O'Connell, Regina King, Jay Mohr, and Jared Jussim.
Tagline: Breakdown and breakthrough.
---
"I was 35. I had started my life"… so says Jerry Maguire after his sudden development of a conscience prompts him to mass submit a manuscript throughout the confines of SMI sports marketing agency. With a new and radically controversial philosophy grounding his mission statement, his primary objective becomes "personal relationships with clients" via streamlining: fewer clients and less money. But Maguire's "get real, get humane" scheme doesn't wear well with the big CEO's and Maguire finds himself quickly ousted from a company he was a founder of via his own mentored protégé, Bob Sugar.
With all of his clients stolen, and his recent fiancé, Avery, desperate for Maguire's avenged success. His only support is a goldfish and the loyal Dorothy Boyd from SMI, who then helps him rebuild his new company. Jerry Maguire then heads to Texas, desperate to save his contract with football super-star, Bobby Kushman. Expected to go '#1' in the draft, Maguire needs Kushman's contract, and loyalty, in order to keep his new business and life afloat.
But Kushman isn't Maguire's only client, and an equally desperate yet defensive Rod Tidwell clings to Maguire in hopes he can up his "crappy contract" and bring in more of the "kwaa." But of course, Tidwell doesn't remain on Jerry's side without some heavy groveling, some major pride swallowing, and a few radical life perspectives along the way for the new and improved maverick sports agent.
As NFL season ensues, the combination of Kushman's betrayal and the officials' uncooperative stance on Tidwell's contract bring Jerry to his knees. Desperate, Jerry solidifies relations with Dorothy via a quick breakup with Avery and a quicker proposal to Dorothy, whereby their professional benefits can be trimmed into one, and, Jerry can enjoy the sympathetic company of Dorothy's adorable son, Ray.
As comedic one-liners and tangible characters bring to life the depth and importance of some heavy moral accusations, Jerry Maguire becomes the epicenter for all that revolutionary vision stands for in avid protest of corporate America's self-centered, robotic egocentricity, and empty lifestyle. When all is said and done and the dirty football jersey is stripped, is it really the paycheck or the family you spend the paycheck on that matters most?
A few poignant principles well document the film (compliments of Dicky Fox), making their radical impact in parallel to Jerry's equally revolutionary philosophies. At the end of the day, "you can't sell anybody, unless you love everybody," "you have to want to look at each new day as a great challenge," and "you have to love your wife, love your life," so that you can "show them the money" and keep on rolling with your happy life. "I wish you success as great as mine" -Dicky Fox.
"Jerry Maguire" is an amazing film that will revolutionize the way sports lovers and common men look at the world and their personal priorities. With much political and cultural satire ensuing via the medium of comic relief, and all things related to, by, from, and for money, "Jerry Maguire" takes the typical man and makes him rethink why he is living the way he is, and moreover, if he doesn't like what he sees, what is he willing to do about it. The film is about more than social, and particularly, sports and political critiques, but rather, about the human heart and our ability to block love as easily as we can embrace it. Using the protagonist of Jerry Maguire, a man great at loving everybody but his partner and himself, the film will unveil a 360 revolutionary turnabout in his character's thinking, and hopefully, in yours.
The film will make you laugh, cry, yell, kick and scream, and mostly, think. "Jerry Maguire" incorporates humanity and forces audiences to taste its emotional extremes; to see the trials and tribulations of professional and personal life, and moreover, how, in the end, love conquers all.
Main Characters:
Jerry Maguire, played by Tom Cruise, the big-time corporate sports agent whose sudden strike of conscience manifests a controversial memo and philosophy on agent-client relations that will force him to go the good guy route alone.
Dorothy Boyd, Renne Zelleweger, the high-strung 24 year old mother whose desperate for a man, a life, and a new father for her son.
Ray Boyd, played by Jonathan Lipnicki, is the adorable eight-year old whose eccentric factoids and loveable personality play as much a part in making Jerry fall for Dorothy as her own beauty.
Rod Tidwell, played by Cuba Gooding Jr., is the middle-of-the-road athlete with a head as big as his potential, but who loyally stands by Maguire pending he can "show [him] the money."
Marcy Tidwell, played by Regina King, is the straight-forward, give-me-no-lines, deal me no crap, loyal wife.
Bob Sugar, as the back-stabbing, egocentric, selfish sports agent mentored by, none other than the man he backstabs and swindles into a clientless business, Jerry Maguire.