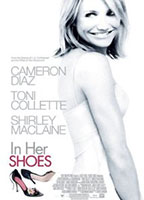 Directed by: Curtis Hanson.
The cast includes: Toni Collette, Cameron Diaz, Mark Feuerstein, and Shirley MacLaine.
Tagline: "When I feel bad I treat myself: clothes never look any good; food just makes me fatter; shoes always fit."

---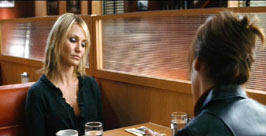 Maggy Mae (Cameron Diaz) is a delightfully sexy thirty something woman with no resume or cash to her name. Illicit affairs by night, fabulous shoes by day: that's Maggy's life. Her sister, on the other hand, is her polar opposite. Rose is the uptight, a-positive personality, and a lawyer to boot. While Rose works relentlessly setting up her life, Maggy works tirelessly at destroying hers and her sister's, pilfering Rose's fabulous shoe collection in the process of doing her dirty work. Things, of course, take a nasty turn when Maggy gets caught, by Rose, sleeping with Rose's recent fling-needless to say flings don't come often for Rose, and she takes them a little more seriously than does Maggy. After crashing on Rose's couch for the past few weeks, stealing her shoes, thrashing her D.C. apartment, and sleeping with her boyfriends, Rose demands that Maggy leave. So she does. The next day, Maggy just up and leaves, changing her cell phone and going completely M.I.A. in the process.
With no money in her pockets, and no place to call home, Maggy heads to Florida to meet their long lost grandmother-her mother's mother. Mysteriously, the mother is an absent figure in this flick. Who is present, however, is the evil stepmother, and she does a very good job at making everyone hate her, audiences included. But Shirley MacClaine steps in as the dashing grandmother, Ella Hirsch. With relationships to mend and granddaughters to raise, Ella goes about conniving an impromptu reunion between the two rivaling sisters. While Maggy takes to working at the senior center hospital in Florida, grandma by her side, Rose takes to moving on with her life.
After quitting her job at the law firm, Rose stumbles upon former partner Simon (Mark Feuerstein). After an insistent dinner date, and a few more good meals later, Simon and Rose are smitten enough to get engaged. But, as Rose tries her best to plan her nuptials, her absent sister is paralyzing her from saying "I do," ruining her relationship with Simon in the process. As the date closes in on the big day, Rose and Maggy are forced to reunite and confront their differences. After all, they are family, and future husbands aside, they're all they've got. But just what exactly will Maggy do come the big day? Is it more rainy skies, or happily ever after for these two antithetically funny and quirky sisters?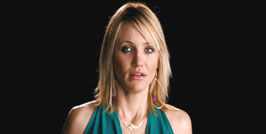 "In Her Shoes" is a modern comedy concerning love and family, with a fabulous collection of shoes to back the predictable plot. Collette and Diaz play modern blondes and brunettes well enough to render their characters slightly above the level of caricature. Like many of the predictable cookie-cutter flicks of this genre, the plot and performances are predictable and safe; and the movie, funny but forgettable. This is definitely a "chick flick" and won't bring in the awards anytime soon; nevertheless, "In Her Shoes" does a decent enough job of entertaining. It's good for a stalemate day when nothing but a movie sounds good. Don't go in with high expectations, and you won't come out disappointed.
Toni Collette packs on the pounds to play the pudgy but amiable sister half to Cameron's predictably beautiful but annoyingly irresponsible Maggy. Never wholly impressed by Diaz (personally, she's funny, but overrated), its rather surprising to see Collette back films like "Little Miss Sunshine" only to come into a project so predictably Hollywood blockbuster and mainstream. Even with nothing original to add to the plot or her character, Collette has no problem doing a good job of playing dowdy Rose, though one easily prefers her indie performances hands down. Shirley MacLaine, of course, plays her cards like a veteran, adding an air of expected credibility to the overall flick.
In the end, "In Her Shoes" is cute and quaint, perfect for girl nights at home. Just don't forget the cocktails; they'll help with overall impressions.