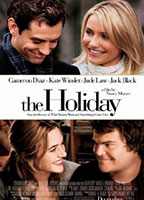 Directed by: Nancy Meyers.
The cast includes: Cameron Diaz, Kate Winslet, Jack Black, and Jude Law.
Tagline: It's cheeky, cheery, comical fun.

---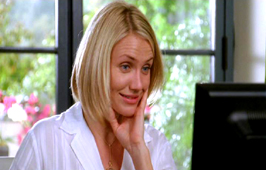 Amanda (Cameron Diaz) is your typical California girl: tall, blonde, and beautiful. Commitment and drive taint this bubbly blonde in her successful, megabucks career of entrepreneurial movie advertiser. With a history of dating Mr. Wrong, Amanda isn't too terribly surprised to find her recent long-term beau, Ethan (Ed Burns), has been cheating on her with his secretary. Upon kicking him out of her multi-million dollar mansion, Amanda begins to contemplate taking off for the holiday, abandoning Tinsel Town and all things men, if possible. Decidedly, she finishes up her current work project and begins to search international vacation options whereupon she learns of the wonderful thing known as "house swapping." Finding a quaint, cozy cottage in England (just the place for a quiet evening or two of solitude); Amanda contacts the owner, inquiring as to rental details.
The owner, of course, is yet another troubled girl; the less glamorous but equally charismatic and beautiful Iris (Kate Winslet), a British news journalist who is coping with the heartbreaking news of the recent engagement being called off with her longtime love, Jasper (Rufus Sewell). Iris has spent the last two days manically pouring her eyes out, over cups of hot tea and thoughts of suicide. Taken aback by Amanda's message, Iris responds to her inquiry by suggesting the cottage be rentable only if they do a "house swap," and asks to exchange residences for a period of two weeks. As both are giddy with existential visions of freedom and a male-free world, Amanda and Iris agree to start the "Holiday" ASAP, as in the next day! Within 24 hours, each is on her respective plane to their own blissful paradise half way around the world.
Each girl relishes the respectively quaint (or grande) novelties of the other girl's life. While Iris lavishes over her luxurious accommodations in Los Angeles, Amanda settles into the solace of the cozy British cottage and its permanent house fixture: a dog. Meanwhile, however, Iris' dashing, albeit intoxicated brother, Graham (Jude Law) stumbles upon Amanda's path, wooing his way into a romantic night of adventure. Such a night is followed by an awkward affair that keeps the two in close ties, though all cards are off the table since they both know the tryst to be temporary. Still, could something stronger than lust be keeping these two in close proximity?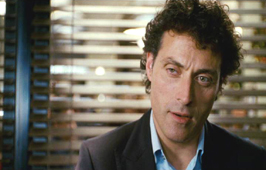 Iris, all the while, is striking up conversations amongst the local attractions. She meets a charming old man by the name of Arthur (Eli Wallach), who is a renowned Hollywood screenwriter who takes her under his parental wing. The two form a close bond, and Iris spends her nights dining over 5-star meals, listening to the tales of a Hollywood legend. Meanwhile, the charismatic Miles (Jack Black) stops by Amanda's lair to pick up work; he's Amanda's ex's work partner. Struck by Iris' candid honesty, Miles and she begin spending quite some time together, sparking an interest that is more than friendly, yet never actually reaches a level of intimacy because of both Miles' current involvement with a beautiful young actress, Maggie (Shannyn Sossamon), and Iris' emotional baggage.
Of course, Maggie cheats on Miles, breaking the kind man's heart and leaving him only too happy to hang with his new friend, Iris, over the holidays. Meanwhile, Iris learns of Amanda's involvement with her brother, Graham. Not initially happy, Iris tries her best to be happy for her brother, who is after all, a widower with two daughters, though Amanda doesn't know that yet. So, while Amanda tries to sift through the mystery of random phone calls by "Sophie" and "Ophelia," Graham does his best to continue the relationship without dropping the big bomb. One surprise visit to Graham's house, however, and the cat is out of the bag. And, surprisingly, Amanda isn't afraid; rather, for the first time in Amanda's life since her parent's divorce, she's letting herself actually "feel" something, which just may be love.
Back to Miles and Iris. The unwarranted arrival of her ex, Jasper, proves nearly fatal for the Brit beauty, but the leading lady is given the final opportunity to sever ties. And, because it is she, not he, who decides to pull the plug on the unrequited union, Iris is suddenly free from the burden of her former heartbreak. So, too, is Miles given the opportunity to cut ties with the flighty Maggie, who still attempts to charm her way back into his heart. Together, the two, now stronger inside, begin a relationship that is better with the knowledge that they're leaving their baggage at the door. This allows them to start a new life together sans regrets. But now that Iris is heading home to England, and Amanda back to California, how will the women and their respective new "others" decide to resolve the dilemma?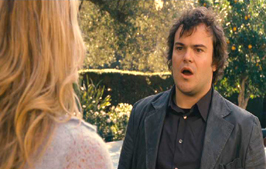 "The Holiday" is a cheeky, charming romantic comedy that will make you laugh and cry all at the same time. Though occasionally parts run stale, for the most part "The Holiday" remains a heartwarming gift for romantics. Jack Black is completely endearing; it's nice to see him in a role that goes beyond archetypal comic caricature, and yet, traces of the trademark Black are still there, and in good form. Winslet delivers her role with ease; compared to Titanic, Iris is a walk in the park, though Winslet walks gracefully enough to make you love her as much as her former, more publicized heroine. Jude Law is as handsome as ever, and it's nice to see him in a more vulnerable role that departs from his traditionally creepy or flashy former roles; in "The Holiday," Law is simply a very good-looking "everyman." Admittedly, Diaz is a bit hard to relate to. Although the thought of the kooky blonde, who enrapt audiences with her role in "There's Something About Mary," actually crying and feeling heartbroken is a far stretch. Consequently, you can't really feel sorry for her, or connect to her in ways you can with the other characters. At times, one wonders what a man like Graham sees in a girl like Amanda (as portrayed by Diaz). And yet, there are moments when Diaz justifies being cast as Amanda, bedazzling audiences with her charming eccentric humor and unassuming good looks. If nothing else, Law and Diaz are compatible on the attractive scale.
As a romantic comedy, no jaw-dropping results, nevertheless, this romantic comedy doesn't scrimp on the budget. Overall, "The Holiday" is aesthetically pleasing, even when the plot isn't, which is only on occasion. In short, this is a great young to-middle-aged couple's romantic comedy that suits the romantic palette and the anal retentive alike, particularly on those nostalgic nights. So cuddle up to some Winslet, Diaz, Law, and Black courtesy of Tinsel Town's magic and enjoy.