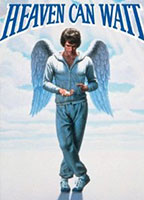 When star quarterback, Joe Pendleton, is nearly killed in a car accident, a zealous angel rushes him to heaven's gate, only to discover that it wasn't his "time." But with his body cremated, the only option is to find a new body. Enter a newly murdered millionaire corpse. Taking on his corporeal guise, Joe confuses the alleged perpetrators: his wife and accountant, as he purchases the Rams in hopes of once more quarterbacking them to the Superbowl.
Directors: Warren Beatty and Buck Henry (both nominated for Best Direction with this film)
HEAVEN CAN WAIT was nominated for the Best Picture award
The cast includes: Warren Beatty, Julie Christie, Jack Warden, Dyan Cannon, Charles Grodin, James Mason, Buck Henry, and Vincent Gardenia.
Tagline: "A wonderfully heartfelt film, that stands the test of time."

---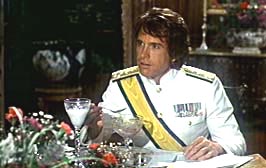 Professional football player, Joe Pendleton, is seriously injured in an accident while bicycling through a tunnel trying to reach his goal to be in perfect shape. Buck Henry plays an over eager and novice angel who takes Joe's soul from his body before this quarterback is supposed to die to spare him the pain. Because his body is cremated, his soul is sent back down to reside temporarily into a wealthy, yet out of shape, businessman named Leo Farnsworth, who's body has just become available as he was just murdered. He then buys The Rams sports team, with plans be their quarterback again, and lead them to the Super Bowl. Will he be able to before Leo's wife and her lover try to end his life again?
Beatty tried VERY hard to lure Cary Grant out of retirement to play the role of heavenly Mr. Jordan. When that failed, he got James Mason, who is superb.
Dyan Cannon plays Julia Farnsworth, Leo's wife. Charles Grodin plays Tony Abbott, Leo's personal secretary as well as his wife's lover. These two make a dynamic villainous duo indeed. Their reaction of seeing Leo alive, (with Beatty in his body), was hysterical because they had just tried to poison him the night before. He technically had been dead, which was why his body was available for Beatty's soul to inhabit.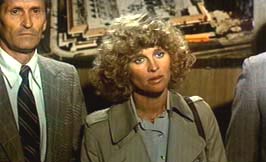 The prior Leo Farnsworth was a "Scrooge-like mega-rich villain." Imagine the surprise when Joe, a good-natured, kind soul takes over, who has cocoa with the servants, and listens patiently to the complaints of Betty Logan (Julie Christie), whilst trying to undo the harm caused by the real Leo Farnsworth.
Jack Warden is delightful as Beatty's football coach, Max Corkle. A favorite scene is where Beatty (in Leo's body) tries to convince Warden that he's really the dead Rams' quarterback. Warden's range of responses from total denial, to anger, to gradually dawning belief, is a delight to behold. Max then starts to work with Beatty to get his new body in shape.
Don't miss the ending. It is a real tear-jerker, so don't be without your Kleenex!