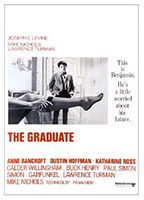 Dustin Hoffman burst onto the cinematic scene with his memorable performance as a naive college graduate seduced by a middle-aged neighbor (Anne Bancroft), though he ends up falling for her beautiful, young daughter (Katharine Ross) – with consequences both traumatic and comedic. Mike Nichols captured a Best Director Oscar for this quintessential 60s tale, graced with a hugely appealing Simon and Garfunkel soundtrack featuring their iconic pop classic "Mrs. Robinson."
THE GRADUATE, from director Mike Nichols, is one of the best made, most influential of the youth movies of the late 1960's and early 1970's.
The cast includes: Dustin Hoffman, Anne Bancroft, Katharine Ross, Murray Hamilton, William Daniels, Elizabeth Wilson, Norman Fell, Marion Lorne, and Alice Ghostly.
Tagline: "This is Benjamin. He's a little worried about his future."
#7 on the AFI Top 100.
THE GRADUATE was nominated for the Best Picture award. Seven Oscar nominations; one win (Best Director).
---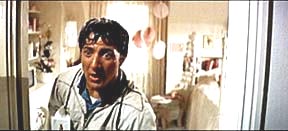 The basic story tells the tale of what happens when a young man (Dustin Hoffman), who is in love with a young woman (Katharine Ross), finds himself in the awkward position of having to fight off unwanted advances by the young woman's mother (Ann Bancroft). How does one handle seduction attempts from a possible future mother-in-law?
Hoffman, in his first starring role, dazzled critics. Audiences found the average looking Hoffman an enormously sympathetic screen figure, and still do, some 30+ years later.
Of the other actors, Anne Bancroft, as the seductive Mrs. Robinson, Murray Hamilton, as her husband, and William Daniels as Hoffman's dad, are each indelible, highly accurate, satiric portraits of establishment adults. Katharine Ross is fresh and desirable as Mrs. Robinson's daughter. She followed up this film with "Butch Cassidy and the Sundance Kid," making her one of the most popular love interests of the late 60's, particularly among high school and college age males, (trust me on this).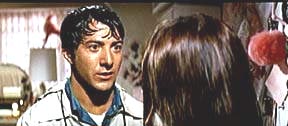 My favorite scene takes place at Hoffman's family home. Tired of being pestered by his parents concerning his plans for the future, he dons a wet suit and scuba gear, proceeds to hang out on the bottom of the family pool. Very cool!
Simon & Garfunkle composed and sang the wildly popular soundtrack score. Although none of the songs, with the exception of "Mrs. Robinson," were actually written for the movie, Simon & Garfunkle's songs perfectly fit the mood of the movie, as well as of the times.
The film's insightful script was written by Buck Henry and Calder Willingham, adapted from Charles Webb's popular novel. The film's two most quoted lines are, "Are you trying to seduce me Mrs. Robinson?" and "Plastics!" the field that the young college grad is advised to enter.
If you enjoyed THE GRADUATE, you may like THE BIRDCAGE, OUTBREAK, THE PAPER CHASE, BUTCH CASSIDY AND THE SUNDANCE KID, and TOOTSIE.