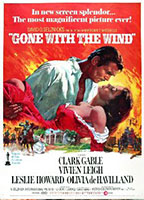 The American Civil War Classic with Scarleet O'Hara at its Center!
Director Victor Fleming's 1939 epic telling of Margaret Mitchell's classic Civil War novel features Vivien Leigh as self-centered, willful Scarlett O'Hara – the indomitable Southern Belle who meets her match in the person of dashing rogue Rhett Butler (Clark Gable), even as she pines for unattainable Ashley Wilkes (Leslie Howard). Mistress of the legendary Georgia cotton plantation Tara in 1861, Scarlett watches helplessly as her beloved home and life come to ruin along with the rest of the Confederacy at the hands of Sherman and the Union. She vows to build it back, bigger and better than before, even if it costs her the love of her life and all personal happiness.
With this film, Director Victor Fleming created the ultimate big screen, soap opera/tear jerker.
Written by: Margaret Mitchell (novel) and Sidney Howard (screenplay).
The cast includes: Clark Gable, Vivien Leigh, Leslie Howard, Olivia de Havilland, Thomas Mitchell, Victor Jory, Hattie McDaniel, Ann Rutherford, Ward Bond, Butterfly McQueen, Evelyn Keyes, and George Reeves.
Tagline: "The most magnificent picture ever!"
---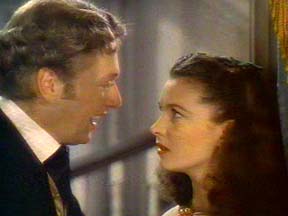 The basic story involves a spoiled southern belle, Scarlett O'Hara (Vivien Leigh) coping with life, love and the inconvenience of the Civil War. Her stormy relationship with the handsome Rhett Butler (Clark Cable) and her undying love for the already married Ashley Wilkes (Leslie Howard) becomes the romantic focus and driving force of the epic film.
"Gone With The Wind" has many memorable scenes. This epic story starts on the day that the Civil War starts in Georgia. A large plantation party is planned by the Wilkes family at their 12 Oaks Estates. The O'Hara family gets ready to attend. Their family estate is called Tara. The eldest head strong daughter, Scarlett, who is used to getting her way, has her heart set on the Wilkes' son Ashley, who she has fallen in love with. Upon arriving, Scarlett is deluged with many young gentleman admirers, including beaus of the other young women there. When she finds out that Ashley plans to wed his cousin, Melanie Hamilton (Olivia de Havilland), she sneaks down during the afternoon nap period for the women, and pleads with Ashley in the library, to marry her instead. When he leaves her, after turning her down, she throws a vase at the fireplace mantle, in a tantrum rage, breaking it to pieces. Unknown to her, Rhett Butler (Clark Gable) had witnessed the whole scene, and had some pithy remarks in response.
Scarlett: "You Sir, are no gentleman." An amused Rhett answers: And you, Miss, are no lady!"
All the young men vowed to join the Southern war effort, despite Rhett's warning about the likely outcome – that the North will ultimately win. When Ashley and Melanie announce their wedding plans for the next day, Scarlett also agrees to marry Charles Hamilton, when he asks her, not because she loved Charles, but because Charles was Melanie's brother, which means she could keep in contact with Ashley through the family connection. So, there was a double wedding before the men went off to war.
A short time later, Charles Hamilton died of the measles, leaving Scarlett a widow, who hates to wear the black mourning clothes. "My life is over. Nothing will ever happen to me again!"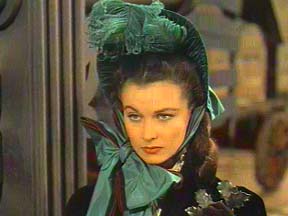 She and Melanie are sent to Atlanta to reside with Aunt Pittypat Hamilton (Laura Hope Crews ), for a change of scenery. Scarlett goes with the hope of seeing Ashley when goes to Aunt Pittypat's home on his leave to see Melanie. Mammy (Hattie McDaniel ) knows what Scarlett is up to, and says that going to Savannah would be better for her, because in Atlanta, she would just get into trouble. "You know what trouble I's talkin' 'bout. Mr. Ashley be comin' to Atlanta when he gets his leave, and you sattin' there waitin' for him, just like a spider."
When Ashley does come to Atlanta to see Melanie, he makes Scarlett promise to take care of Melanie. It seems that Melanie is pregnant.
At a fundraising dance for the war effort, it just about kills Scarlett not to be able to dance, because she was supposed to be in mourning. However, the good people at the event were shocked when she dances with Rhett Butler to help raise money, not caring about her reputation, much to the distress of Aunt Pittypat, who faints.
As the war gets closer and closer to Atlanta, more and more wounded are taken to the train station. A favorite scene takes place following a major battle around the city of Atlanta. Scarlet O'Hara (Leigh), helps tend to the wounded near a train station. At the camera cranes up and up we see hundreds of wounded soldiers, stretched out as far as the eye can see. The scene, visually, shows the huge price in human pain and suffering that war causes.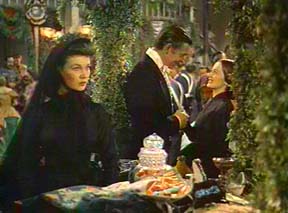 Another favorite sequence of scenes starts when Melanie goes into labor, while the Union army is advancing on Atlanta, ready to burn it to the ground. There is no doctor to help Melanie, who has a terrible time. What keeps Scarlett there is her promise to her beloved Ashley. Despite nearly dying, Scarlett and Prissy help bring a new baby into the world, just before Atlanta falls. Rhett Butler manages to run into them and drives their wagon through burning Atlanta safely to the other side. After giving her a passionate kiss, he sends her driving the wagon on their way back home to Tara, which wasn't burned. Troubles galore await her. Her father has had a mental breakdown, her mother died of disease, her sisters were sick, and there was little food. At the end of this first half, Scarlett proclaims: "As God is my witness, I'll never be angry again!"
The second half of this film has Scarlett in charge of her family, as she protects them the best she can, has to make some hard choices and finds ways to survive their hard times. How she is introduced to Rhett Butler all over again, her adventures in making money, her marriage to Rhett and their troubles, and how her love for Ashley gets her into trouble all makes for an involving, poignant story, told in only how Selznick and Victor Fleming working together could envision and put on the silver screen.
"Gone With The Wind" is a classic because of the stellar cast, great sets, beautiful photography, an emotionally wringing story and wonderful music (by Max Steiner). The film won Oscars for Leigh, Best Picture, Direction, Screenplay, (by Sydney Howard, adapting Margaret Mitchell's hugely popular novel), and others. The film benefits from perfect casting in all the roles, large and small.
Vivien Leigh did a superb job portraying the southern princess, Scarlett O'Hara, who had to grow up a lot in order to survive the post war times, and learns the hard way that unrequitted love can cause havoc in one's personal relationships.. Despite an extensive nationwide search for an unknown to play Scarlett, Hollywood actress Leigh was chosen.
Hattie McDaniel made Oscar history by winning the Best Supporting Actress Oscar for her fantastic portrayal of Mammy, the slave /servant who took care of the O'hara girls and stuck around to work for Scarlett and Rhett at Tara.
Clark Gable was perfectly convincing as Rhett Butler, the dashing rogue who fell in love with Scarlett, striving to change her mind about Ashley Wilkes. In order to get the acting services of star, Clark Gable, producer David O. Selznick was forced to release the movie through MGM. That studio has released it numerous times over the years, making a huge profit. Clark Gable also was instrumental in getting George Cukor dismissed as the director, because Gable felt Cukor was more of a woman's director.
Olivia de Havilland did an outstanding job as the loving, gentle positive Melanie, who only saw the good side of Scarlett, and always thought the best of people. Of the four principle actors, only Olivia de Havilland survives today. She's been living quietly, in retirement, for some years.
Leslie Howard was convincing as the mild-mannered Ashley, who lacked the nerve and guts to tell Scarlett from the beginning that he didn't love her, which would've saved a lot of grief and pain to others.
Rated G: This film has been a family favorite since it came out in 1939. This beloved American classic is lots of fun, as enjoyable to watch today as it was when it was first released.
Famous Rhett Butler quote:
"Frankly my dear, I don't give a dam!"
(scandalous language for the times)
Quote from Prissy:
"Lawzy, we got to have a doctor! I don't know nothin' 'bout birthin' babies!"
If you enjoyed GONE WITH THE WIND, you may like GIANT, THE PATRIOT,
ANNA AND THE KING, THE HEIRESS, and IT HAPPENED ONE NIGHT.