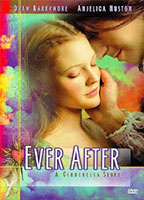 A modern day, "realistic" adaptation of "Cinderella", when Danielle's father suddenly dies, her stepmother takes her in as the new servant. Accordingly, there are the two stepsisters, though the word "evil" is only applicable to one, whereas the other sister is quite agreeable. All the same Danielle grows up a content, independent woman who is quite prepared to handle a sudden change of fate when Prince Henry decides to make his way into her life. Still, Prince Henry is not without his own troubles at home. But with the help of Leonardo da Vinci (e.g. fairy godmother), it seems love may prosper after all.
Director Andy Tennant's "Ever After: A Cinderella Story" is a lush, enchanting, delightful, realistic re-thinking of the classic Cinderella story.
The cast includes: Drew Barrymore, Anjelica Huston, Dougray Scott, Jeroen Krabbe, Patrick Godfrey, Jeanne Moreau, Megan Dodds, Melanie Lynskey, Timothy West, Judy Parfitt, and Richard O' Brien.
Tagline: "Determination, Desire. Defy. Escape"
---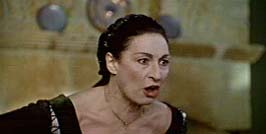 The basic story involves a bright, beautiful 16th century girl, Danielle De Barbarac (Drew Barrymore), who loves books, her family's Manor and her father, Auguste De Barbarac (Jeroen Krabbe). 10 years after the death of her beloved dad, a chance encounter with a prince (whom she meets when she pretends to be a courtesan, in order to rescue a fellow servant, that the step-mother sold to pay taxes) offers respite from the tough life of servitude, to her nasty stepmother and stepsisters, on her own father's Manor.
Anjelica Huston soars with her portrayal of Barrymore's evil, self-centered stepmother, whose main goal is to make her eldest daughter, Marguerite De Ghent, queen. In reference to the upcoming marriage of Prince Henry to the Spanish Princess, she says, "Darling, nothing is final 'til you're dead, and even then, I'm sure God negotiates." Instead of going over the top, Huston uses pursed lips, arched eyebrows, and hushed tones to create an unforgettable portrait of vain, grasping cruelness.
Drew Barrymore offers a "modern" interpretation of Cinderella. She refuses to be bound by the then conventional limitations of being a servant and a woman, determined to keep her family together, find a way to turn the manor around, reach out to Prince Henry at the costume ball, and get away from the clutches of Pierre Le Pieu, (Richard O'Brien). Possessing intelligence, self respect, and an unquenchable spirit, Barrymore's Danielle offers a surprisingly contemporary role model for today's young girls. Although she took a few years to 'arrive,' with "Ever After," Barrymore proudly displays the superb acting tradition that flows through her veins.
Dougray Scott's Prince Henry, is a handsome yet complex character. Although a romantic figure, he's three dimensional, with good and bad traits and an arrogance that goes with his royal blood line. It also helps that he has great on-screen chemistry with Drew.
Patrick Godfrey is delightful in the role of Leonardo da Vinci. Godfrey fully captures the inventiveness, wisdom, and love-of-life that must have been the real Leo.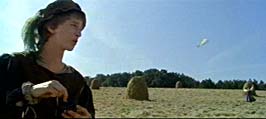 Timothy West does his kingly best as King Francis, the frustrated monarch, determined to get his son off his floundering path, by making him get married to either a maiden of his or his father's choice.
Richard O'Brien, who has made a successful career playing creepy, eccentric villains and assorted characters, does a great job as the slime ball, Pierre Le Pieu, who has a crush on the beautiful Danielle. His slithery sinister performance inspires Drew Barrymore to do her best in her scenes with him, showing her character's personal strength and courage in the face of his sliminess.
It's interesting to note that Richard O'Brien was the writer of the screenplay, "The Rocky Horror Picture Show," and even played a large role in the film.
It was a stroke of genius to cast the great French actress, Jeanne Moreau, as the Grand Dame, who has a brief but very important role in the very beginning and the very end of the film. Her character summons the Brother's Grimm to visit her at her chateau, in order to set them straight about their version of the Cinderella story.
The film was shot on location in the Dordogne region of France. Aided by production designer, Michael Howells, director of photography, Andrew Dunn, delivers the viewer to a fantastic yet believable fairy tale world.
There are many memorable moments in this beautifully made film. A favorite sequence of scenes depicts the rescue of Maurice (Walter Sparrow), the servant that the Baroness had sold to pay her taxes.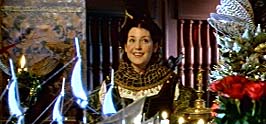 Another favorite scene involves the film's masked ball sequence. Barrymore's arrival at the ball, wearing an incredible gown with wings designed by Leonardo da Vinci, is a wonderful fairy tale moment perfectly realized for the screen.
George Fenton is the gifted composer who is responsible for the romantic, beautiful musical score, which really adds to the mood and occurrences in the movie.
"Ever After" is a great date movie because it offers a wonderful love story. Its theme of true love triumphing over huge obstacles is sure to warm the hearts of dating couples of all ages.