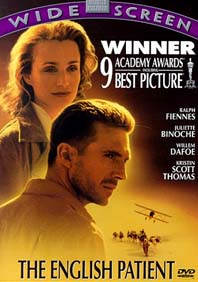 Directed and Written by Anthony Minghella (who also won for Director)
The cast includes: Ralph Fiennes, Kristin Scott Thomas, Willem Dafoe, Colin Firth and Juliette Binoche.
Tagline: In memory, love lives forever.
Colin Welland received the Screenplay Oscar.
Milena Canonero won the Oscar for Best Costumes; while Vangelis won for Original Music Score.
OTHER NOMINATIONS:
Director (*)
Actor
Actress
Supporting Actress (*)
Cinematography (*)
Editing (*)
Original Score (*)
Art Direction (*)
Costume Design (*)
Sound (*)
Set Decoration (*)
Writing (based on other materials)
Music (original dramatic score) (*)
---
Following a horrible plane crash, a British pilot (Ralph Fiennes) is nursed back to health by a sympathetic nurse (Kristin Scott Thomas).