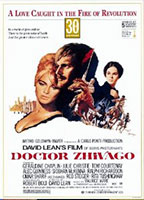 Passions run hot, but the weather is cold, in old Russia. Set during the historic Russian Bolshevik Revolution, the film follows the trials and tribulations of one Dr. Zhivago as he marries and raises a family, only to have his life tragically disrupted by the entrance of WW I and the Revolution. As Dr. Zhivago's freedom and life are taken away, he fights back against the new society that has taken away from him everything he ever cared about.
Director David Lean's "Doctor Zhivago" is an epic, that offers a sweeping, moving look at life and love in old Russia, during the communist revolution. David Lean received a nomination for best directing.
The cast includes: Omar Sharif, Julie Christie, Geraldine Chaplin, Tom Courtenay, Alec Guinness, Siobhan McKenna, Ralph Richardson, Rod Steiger, Rita Tushingham, Adrienne Corri, Geoffrey Keen, Lucy Westmore, and Klaus Kinski.
Tagline: "A Love Caught in the Fire of Revolution." "Turbulent were the times and fire was the love story of Zhivago, his wife and the passionate, tender Lara."
DOCTOR ZHIVAGO was nominated for the Best Picture award.
---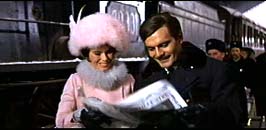 The basic story involves a married, Russian doctor/poet, Yuri Zhivago (Omar Sharif), who falls in love with a beautiful nurse, Lara (Julie Christie), who is married to a political activist, Pasha (Tom Courtenay) during the Russian Bolshevik Revolution. Lara finds that she can't compete with her husband's idealistic passion for the revolution, and finds love with Yuri instead, who also still loves his wife, and is torn between fidelity and passion. Lara becomes Yuri's muse, inspiring him to write poetry. As life becomes more difficult and hotter because of outside circumstances, they eventually throw their marriage vows out the window and have an affair, but are tragically torn apart in the wake of the revolution aftermath.
The story, narrated in a future time by the good doctor's brother, General Yevgrah Zhivago (Alec Guinness) as he searches for the daughter of Yuri and Lara, involves the years just before, during and after the revolution. It follows the life of Dr. Zhivago as he gets married to a devoted, high class lady, Tonya (Geraldine Chaplin), and they have and begin to raise a family. World War I, and the Russian Revolution cause not only strife and political troubles for Dr. Zhivago,but play havoc with his personal life. As he agonizes between fidelity and passion, he is torn from both his wife and lover, Lara as he is pushed around and pressed into service by the demands of those in power. For, when new forces come into control, life becomes more and more difficult as this new governing force makes more and more demands on him, threatening his individualism and humanistic ideals.
This epic film's screenplay was written by the Oscar winning Robert Bolt, based on Boris Pasternak's novel, (which won the Nobel Prize for literature in 1958). Bolt won the Oscar for this effort. Bolt had a wonderful gift to capture the drama and passion of the story in screenplay form. Other great screenplays he penned were "Lawrence of Arabia," "Man for All Seasons," (Bolt won another Oscar), "Ryan's Daughter," and "The Bounty" (1984).
The king of epic directing, David Lean, did a masterful job in creating this masterpiece, in the way he set up shots, chose the scenery, and directed the very fine cast of talented actors and actresses.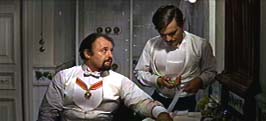 Director Lean loved to make films that have extreme weather conditions in the script. Numerous winter scenes, in "Doctor Zhivago," depict Russia's frozen, frozen winters, chilling the viewer to the bone. By contrast his desert scenes in "Lawrence of Arabia" make the viewer hot and thirsty. Apparently film stories set in mild, temperate climates didn't appeal to Mr. Lean. He liked the high dramatic and artistic possibilities that the backdrop of severe weather creates.
There are many great, memorable images throughout this sweeping epic, and the film's cinematography, pacing and editing techniques are very modern, even by today's standards. The film won several Oscars, honoring its Color Cinematography, Color Art Direction, Set Decoration, and Costume Design.
Also winning an Oscar was the film's beautiful music, by Maurice Jarre, which illustrates the soul of the film. Maurice Jarre, an internationally famous composer has done small films and large epics. Some of his well-known orchestral scores were the ones composed for "Ghost," "Dead Poet's Society," "Fatal Attraction," "Witness," "A Passage to India," and "I Dreamed of Africa."
This classic film is filled with great acting from all actors involved, whose talents shown through this marvelous screenplay and Lean's expert direction. "Doctor Zhivago" is filled with great performances, including Omar Sharif, Julie Christie, Geraldine Chaplin (daughter of Charlie), Alec Guinness, Rod Steiger and the recently knighted Tom Courtenay (Pasha), who was nominated for Best Supporting Actor for his performance.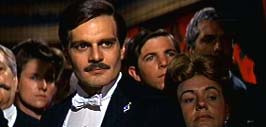 In regards to my favorite scene, it has to be the Christmas Eve party where Lara (Julie Christie), shoots the lecherous Komarovsky (Rod Steiger). He says to Lara, after she rejects his bold advances: "Who are you to refuse my sugar? Who are you to refuse me anything? There are two kinds of women and you, as we well know, are not the first kind. You, my dear, are a slut." What a charmer!
Many consider this grand effort a wonderfully romantic yet tragic film, whose characters all suffer from the effects of war and revolution and a harsh, restrictive government. Some are annoyed because this romantic tale is based on human weakness, a man succombing to adultry. It is a really well done human saga, that fully explores the good and bad truths about human nature, true to the spirit of the novel.
If you enjoyed DOCTOR ZHIVAGO you may like LAWRENCE OF ARABIA, RYAN'S DAUGHTER, FUNNY GIRL, REDS, GHANDI, BRIDGES OF MADISON COUNTY, A PASSAGE TO INDIA, and/or TITANIC"