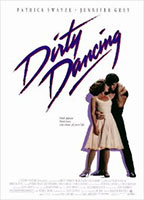 While spending her summer at a resort with her family, Baby meets Johnny Castle: dance instructor by day/dirty dancer by night. When Castle's dancing partner undergoes an abortion, Baby steps in her place, (behind her father's back), learning the routine and falling for Johnny along the way. As the end of summer nears, Baby and Castle are forced to reflect on their intentions, and the opinion of Baby's father.
Director Emile Ardolino's "Dirty Dancing" is a romantic, highly enjoyable, romantic dance fest.
The cast includes: Patrick Swayze, Jennifer Grey, Jerry Orbach, Jack Weston, and Cynthia Rhodes.
Tagline: "Have The Time Of Your Life"
---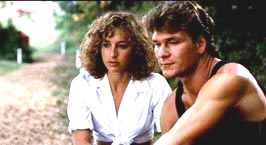 Quote from Francis Houseman:"That was the summer of 1963, when everybody called me Baby, and it didn't occur to me to mind. That was before President Kennedy was shot, before the Beatles, when I couldn't wait to join the Peace Corps, and I thought I'd never find a guy as great as my dad. That was the summer we went to Kellerman's."
The basic story involves a shy girl, Francis Houseman (Jennifer Grey), vacationing at a Catskills resort with her parents, in 1963. When she falls for a handsome dance instructor, Johnny Castle (Patrick Swayze), who teaches dancing at this summer camp, and during his time off, does Dirty Dancing with other dancers. When one of his dance partners has to have an abortion, Francis learns the moves, and falls in love with Johnny, winding up in his arms in bed. She clashes with her family and shakes-up the resort's well-defined class structure. However, each must come to grips with responsibility and love and others' expectations, when the summer season comes to a close. Will they stay together, despite family turmoil, or was this just a summer fling?
Patrick Swayze, as Johnny Castle, is terrific as the hunky dance instructor. Swayze is a great dancer, and handles the non-dance theatrics well also.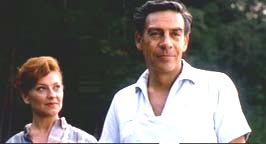 Jennifer Grey, daughter of Joel Grey, excels as a teen girl on the verge of womanhood, in 1963. Grey shows star power here, but seems to have had trouble getting good scripts since. She has done a lot of made for TV movies, and her personal life has been very successful. She married Clark Gregg in 2001, and had a baby girl in December, 2001.
The late Jerry Orbach, as Dr. Jake Houseman, offered strong support as Grey's protective father, Dr. Jake Houseman, which is understandable. Orbach, who's been on the excellent TV drama "Law and Order", has also had great success on Broadway ("Fantasticks," "Chicago," and "42nd Street"). Orbach had given memorable performances in such films as "Prince in the City," "F/X," and "Crimes and Misdemeanors."
A poignant, memorable scene is when Dr. Jake Houseman confronts Johnny Castle, man to man, concerning Castle's intentions with his daughter.
"Dirty Dancing" is a great date movie because of the dance sequences, the music, and the great romantic angle, that magically transcends socio-economic barriers. It is also concidered a chick-flick, as it looks at romance from a female point of view.
The soundtrack features a number of classic songs. "I've Had the Time of My Life," written for the movie, won the 1987 Oscar for best song.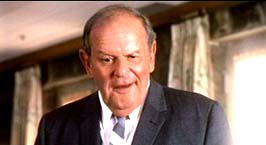 A favorite scene involves Grey's introduction to dirty dancing by Patrick Swayze. The scene is exciting, sexy, and a delight to watch.
This film is rated PG-13, (sexual situations), and is not recommended for young teens. Parents should watch this film with their teenagers, and discuss the choices that Francis makes, the risks she took with her heart, and how the romantic ending isn't realistic.
"The combination of catchy dialogue, emotional content, brilliant (and romantic) music and a lovely old-fashioned love story just gets my goose bumps up, my heart pounding and my head spinning."