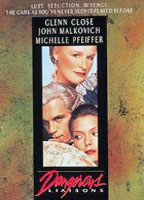 Directed by: Stephen Frears.
The cast includes: Glenn Close, Michelle Pfeiffer, John Malkovich, Keanu Reeves, Swoosie Kurtz, Uma Thurman, Laura Benson, and Mildred Natwick.
Tagline: Lust. Seduction. Revenge. The Game As You've Never Seen It Played Before.
DANGEROUS LIAISONS was nominated for the Best Picture award.
---
With more time and money than they know what to do with the aristocrats of Rococo France engage in a series of high-stake games of lust and duplicity.