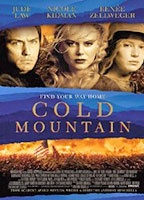 Directed by: Anthony Minghella.
The cast includes: Nicole Kidman, Eileen Atkins, Renee Zellweger, Jude Law, Brendan Gleeson, Philip Seymour Hoffman, Natalie Portman, and Donald Sutherland.
Tagline: If hate sends men to war, then it must be love that brings them home.
---
Wounded Confederate soldier Inman is enduring the perilous journey leading home to Cold Mountain, NC and his pre-Civil War sweetheart Ada. While Inman encounters a multitude of interesting people along the way, Ada is doing her best back home to run her deceased father's farm with the help of a helpful drifter named Ruby.