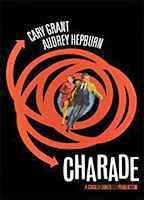 Set in 1931, when a young Spanish soldier decides to desert the army, he winds up arrested by local police officials. Soon enough he is released, and befriended by a lonely local village man, Manolo. Problems arise, however, when Manolo's four beautiful daughters come to visit their papa, provoking a complicated love tryst that has the soldier confused over which daughter he most loves, since, it seems, he can't help but love them all.
Directed by Stanley Donen.
The cast includes: Cary Grant, Audrey Hepburn, Walter Matthau, James Coburn, George Kennedy, Dominique Minot, Ned Glass, Jacques Marin, Paul Bonifas, and Thomas Chelimsky.
Tagline: "Charade has a wonderful blend of suspense, romance, adventure, and mystery."
---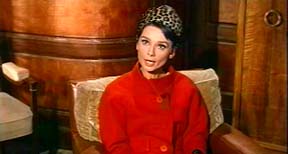 This comedy / Alfred Hitchcock type thriller opens with some hapless sap being thrown out of a train, dead as a doornail. The second scene shows Regina "Reggie" Lampert (Audrey Hepburn), vacationing in the Alps, with a good friend (Dominique Minot), and her young son (Tom Chelimsky), who's handy with a squirt gun, and has a knack for finding trouble. She briefly meets and talks with a handsome man, Peter Joshua (Cary Grant).
Little does she know what a surprise she would get upon returning home to Paris, France, finding a completely empty home, a cleaned-out bank account, and the news of a dead husband, whose body it was, seen earlier by the audience, being thrown from the train in the French countryside, on his way to Argentina. All she has left is a suitcase full of clothes, a package of her husband's belongings, a letter he was going to send her, and a huge problem.
It seems that her husband had a double life, and was involved in something that now is dragging her into a mess, involving 3 menacing characters, insisting on the money they think she now has. Coincidentally this same handsome man, calling himself Peter Joshua, appears to help her the minute she arrives home, as she stands in stunned silence in the middle of her empty home. Peter Joshua offers: "How about making me vice president in charge of cheering you up?"
Throughout the movie, what she thinks is reality, is something else entirely, fInding it hard to trust anyone. Through twists and turns, investigative work, fights with the bad guys, more murders, switching stories, Cary and Audrey work together to solve the mystery of who killed her husband, their motive, and why they are harassing her. All through the movie, Audrey herself is trying to figure out who is evil, who is a good guy, and the true identity of Peter Joshua, who tells her about four different stories about himself throughout the film.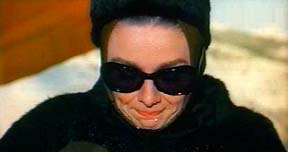 This screenplay is well-written by James and Pamela Mason, well directed by Roy Kellino and well acted by it's main stars and fine ensemble cast.
Cary Grant is his usual suave, composed handsome self, and has terrific screen chemistry with the talented, classy Audrey Hepburn, who gives us one of her finest performances in her role as a lady in a lot of unexpected trouble, with only a man who keeps changing his name to help her out of it. Who is he, and what does he want out of it? Does he love her, or is he just using her?
James Coburn (Tex Panthollow) is wonderfully creepy as one of the menacing bad guys. "She batted them pretty little eyes at you, and you fell for it like an egg from a tall chicken!"
George Kennedy (Herman Scobie) was the scariest of the bad guys, playing the kind of mean thug without any mercy, who you don't dare turn your back on.
Walter Matthau (Hamilton Bartholomew) also does a great job keeping the audience and main characters guessing who he really is, and what side he is truly on.
The last chase and fight in the old theater between the last remaining surprise bad guy and Cary & Audrey is exciting, thrilling and comes to an thrilling conclusion.
What makes this movie a classic is the exciting, suspenseful yet funny screenplay, great direction, terrific pacing, excellent cast, and great production values.
The beautiful and exotic main theme song and movie score was composed by the great Henri Manchini. As was common in the era when this movie was made, the movie theme song swells in and out in various parts of the film, which was I'm sure appreciated then, but I find it a little annoying. Oh well, this is a very minor flaw.
Screenplay by: Peter Stonen & Mark Behm Original Music by: Henri Mancini.
If you enjoyed CHARADE, you may like FAMILY PLOT, FOUL PLAY, MAX DUGAN RETURNS, CLUE, HELP!, and/or TEN LITTLE INDIANS.