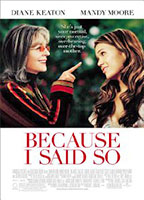 Directed by: Michael Lehmann
Written by: Karen Leigh Hopkins and Jessie Nelson
The cast includes: Diane Keaton, Mandy Moore, Gabriel Macht and Tom Everett Scott.
Tagline: "Because I Said So" follows the relationship trials and tribulations of one single, sixty year-old mother and her youngest daughter as they battle the mania of dating in modern Manhattan.
---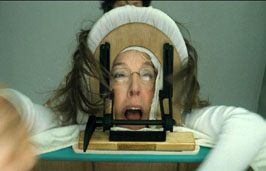 We've all seen it before: attractive but single mom, Daphne Wilder (Diane Keaton), rears three beautiful daughters alone; daughters grow up accomplished; daughters fall in love; daughters get married, save for, of course, the youngest. The youngest, Milly (Mandy Moore) is busy living the parallel life of her mother, 25 years her junior, and clueless doing it. Unaware of the life of constant misery she's about to commit to, Daphne decides to intervene, involving herself in Milly's love life at every painstaking moment. Such is the story we're about to embark on, Mandy Moore, Diane Keaton, Piper Perabo, and Lauren Graham are along for the ride-and a fun, sexy ride it is, thanks to this solid cast.
Though never a fan of Keaton-her solid but predictable performances always tend to bore and annoy me simultaneously-that her daughters, specifically the youngest, take center stage for most of the flick helps make Keaton more palatable if not bearable. Keaton appears as the sympathetic but zealously over-involved mother, Daphne Wilder: she's attractive, but living with the baggage of a failed marriage to a man who refused to grow up and take care of his responsibilities, like a wife and three daughters. Zealous, over-protective, and skittish, Daphne involves herself in the shaping of her daughters at every chance. Meanwhile, her daughters, Maggie (Lauren Graham), and Mae (Piper Perabo), are happily married and enjoying life as older, but happy newlyweds. Meanwhile Milly (Mandy Moore), the youngest of the three daughters, is struggling to find love and happiness. Her slightly quixotic affect drives men crazy, and not always in the best of ways. Sure she's adorable, but she's also insecure and unsure of herself. So she should be: she's in her early twenties, working her butt off starting a catering/baking service, and living alone in her fabulous, but overpriced loft. She's a catch in the making, if only she could temper her nervous ticks.
Enter plot: Mom sends out an ad on an internet dating service seeking potential partner for daughter; mom interviews slew of incompetent flukes, saved by one mysterious mishap midway through, only to find the real winner at the end of the game: Jason (Tom Everett Scott).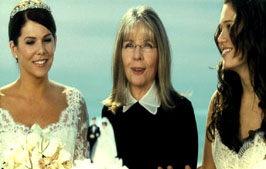 So, the modern architect Jason happens to accidentally run into Milly at one of her big catering events. After some calculated, albeit effective flirting, boy meets girl, boys asks out girl, boy and girl go on big fancy date.
Meanwhile, that mysterious mishap, Johnny (Gabriel Macht), makes his way accidentally (truly) into Milly's life; both are instantly charmed by the other. So, Milly begins a whirlwind dating game, keeping "the other guy" unaware as to her busy social calendar. She finds herself extremely smitten with the artsy nonchalance and poetic sincerity of Johnny, but Jason, the well-to-do architect, seems to promise her a life that dreams are made of. Of course, complicating matters is her mother, who shamelessly pushes for Jason and, once aware of Milly's involvement with Johnny, nearly goes out of her way to sabotage his reputation. One might think that Milly's discovery that Johnny has a child, an adorable little boy to be exact, would be the straw that broke the camel's back. But no, Milly adores him, too!
So, when all is said and done, the plot boils down to one man discovering the other man's alleged involvement with their mutual attraction. Meanwhile, Mom still has her eyes on Jason for Milly, but suddenly finds herself falling for Johnny's father! It all boils down to Milly and her crossroads: Johnny or Jason, who will it be? And what of Daphne and Johnny's father?
"Because I said so" is a funny, lighthearted romance, and, did I mention, chick flick? Guys beware: as much as you generally stomach a decent romantic comedy (and even enjoy the occasional quality one), "Because I said so" is bonafide mom and daughter time. The guys are offbeat and dreamy, the language is nothing short of mass produced Hollywood chick flick; nevertheless, moms and daughters alike will enjoy spending some quality time over ice cream and tissues with this one. Guys: plan a night out with the boys and leave the ladies to the TV for a night.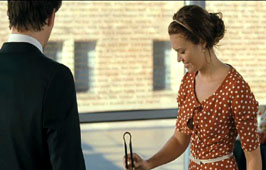 Once again, Keaton proves dependable. Mandy Moore adds to her repertoire another becoming, albeit, predictable performance. Piper Perabo is oddly absent most of the film, as is Lauren Graham, yet the latter does a much better job of making a solid, witty impression given the little camera time she has. Stephen Collins is the ever-adorable grandfather, who wouldn't be attracted to those baby blues? But the real surprise comes from Macht-after seeing his compelling performance in "A Love Song for Bobby Long," I have to admit, I was disappointed to see him stooping to cookie-cutter romantic comedy. But, when all is said and done, it's Macht who saves the day and lends the real credibility to the flick. His offbeat, artistic aesthetic, complemented by his brooding but becoming affect, lend a flair of raw talent, something lacking in most male leads of the genre, and making "Because I Said So" worth the watch.