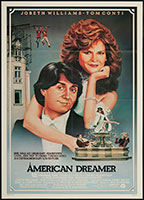 AMERICAN DREAMER is the romantic comedy that tells of a frustrated house wife whose part time writing career and obsession with the Rebecca Ryan murder mystery novels has landed her an all expense paid trip to Paris where, for the first time, Cathy Palmer learns what love is all about.
Directed by: Rick Rosenthal.
Written by: Ann Biderman (story) and David Greenwalt (screenplay).
The cast includes: JoBeth Williams, Tom Conti, Andre Valardy, and James Stanley.
Tagline: It's all about the surprise ending.
---
Cathy Palmer (JoBeth Williams) is a hard working mother of two adorably loyal little boys. Housewife by day, ambitious writer by night, Cathy latest project is an adaptation of the widely popular 'Rebecca Ryan' series. Hoping to write the best adaptation novel, Cathy submits her work to the Rebecca Ryan contest, whereby the winner will receive an all expense paid vacation to Paris for one week for two people. Sharing her latest ambition with her selfish, self-absorbed, clueless husband Kevin (James Stanley), Cathy's hopes are dejected, as it seems, is the rest of her life. Striving for a sign that any passion remains in their marriage, Cathy spends the next few weeks awaiting notice of the contest winner and, behaving like the loyal and diligent house-wife her husband has dejected her to.
On one ordinary and routine morning Cathy opens her mail to find an envelope addressed from the contest headquarters; she'd won the contest. Going all out with a grandiose dinner celebration Cathy prepares to share the news with her family. Her children needless to say are thrilled. Her husband, in short, could care less. Moreover her husband has the audacity to tell her not to go on the trip to Paris, even though he himself had been invited. Refusing to take up his ticket, Karl attempts to make Cathy stay at home and play housewife, to no avail.


Once in Paris Cathy is quickly overwhelmed by the romantic notions of the city. But quickly Cathy's trip turns dangerous. While sightseeing her purse is stolen by local hoodlums, whereby her attempts to retrieve wind her up in a street where she is hit by an unsuspecting driver, Don Carlos (Jean Rougerie). Taking her to the local hospital, Don Carlos awaits Cathy's revival. But upon awakening, Cathy has slipped into an amnesiac state that has her believing herself to be none other than the fictitious novel heroine Rebecca Ryan herself. A quick insult to the man who saved her life, followed by a lengthy and rather expensive shopping trip to all of France's top boutiques has 'Rebbecca' ready for action.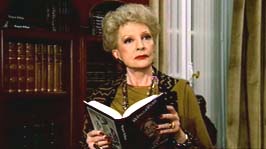 Enlisting the help of the rather confused bell boy – so she calls Dimitri, comes to understand that this woman who has enlisted his help as her sidekick believes herself to be none other than the famous French novel heroine that he is acutely aware of. Loyally staying by her side, more in an attempt to keep the woman out of trouble than help her solve her 'imaginary case', Dimitri suffers one humiliation to the next as 'Rebecca' raises eyebrows with her uncanny sleuthing everywhere she goes. A run in with a Victor Marchand (Giancarlo Giannini) has Dimitri and 'Rebecca' suddenly finding themselves wrapped up with rather suspicious people, all of whom 'Rebecca' believes to be involved somehow, with her latest case.
As Dimitri continues to endure 'Rebecca's' lunacy and her wild adventures the two stumble across a murdered priest and Dimitri begins to almost believe that the two are wrapped up in a case after all. Understanding that someone is after someone, who possibly may be 'Rebecca', Dimitri begins to help her sleuth their way through the confusing mystery surrounding 'Rebecca' and her alleged case.


Eventually the city of Paris works its romantic charms and Dimitri finds himself falling for the very woman he suspects to be crazy. As their romantic flame grows, Cathy's husband arrives in France to reclaim his wife, who must have been gone so long he needed her to come back and do the laundry and cook dinner for the kids. Snapping back into reality, Rebecca/Cathy suddenly realizes all that she has done in the last few weeks and prepares to head home with her husband. But, as with any good murder mystery case, the heroine always has a surprise ending in store for her fate.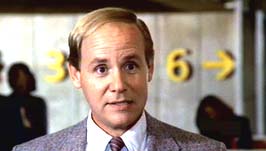 AMERICAN DREAMER is a light and comical approach to the romantic ways of Paris and the intrigue of a murder mystery plot. Many a times people lose themselves in what is considered to be a 'base' novel, a common read with no content or respectable matter whatsoever. AMERICAN DREAMER, though not by any means the greatest film of the decade, at least justifies the murder mystery novel genre that many people have fondly grown accustomed to as their nightly bedtime story. True, AMERICAN DREAMER may leave a lot to want, but the romantic notions of Paris juxtaposed with the adventure of a fictitious novel that turns into a real scenario proves to be an interesting enough plot to hold one's attention and entertain an audience that perhaps, may have initially expected to be out rightly disappointed.
Main Characters:
JoBeth Williams plays Cathy Palmer, a novelists who, upon traveling to Paris to receive a recent award, winds up in a car crash and awakens to suppose she is the heroine of her novel.
Andre Valardy plays 'Dimitri', Rebecca Ryan's loyal sidekick turned lover who is acutely aware of her every move more than she would like to think.
Giancarlo Giannini plays Victor Marchand, the prime suspect and corroborator in Rebecca Ryan's latest case.
Jean Rougerie plays Don Carlos, the man who saves Cathy Palmer's life and ironically becomes 'Rebecca Ryan's' latest adversary.
James Stanley plays Kevin Palmer, Cathy's detestably selfish husband.