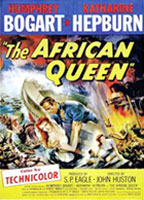 Set in Africa, during WW II, when the Rev. Samuel Sayer suddenly passes away, steam boat "captain," Charlie Allnut, finds himself transporting Sayer's sister, Rose, back to civilization. In the meantime, however, the two will tackle their antithetical personalities, and, of course, the Germans, in this classic blockbuster Romance.
Director, John Huston, delivered up a perfect piece of entertainment with this film. Huston received a nomination for best directing.
The cast includes: Humphrey Bogart, Katharine Hepburn, Robert Morley, Theodore Bikel, and Peter Bull.
Tagline: "The greatest adventure a man ever lived… with a woman!"
---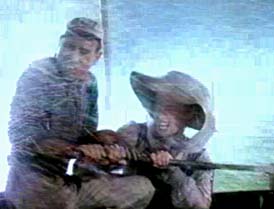 The basic story involves a perilous trip up the Congo by a boozy captain (Bogart), and a pious woman (Katharine Hepburn), during World War I, who encounter natural dangers and Germans along the way. The highly entertaining script was by James Agee and Huston, adapting C.S. Forester's novel.
At the start of World War I, Charlie Allnut (Bogart) is using his steamer to move supplies to the villages in East Africa. Also, a brother and sister missionary team, Rev. Samual (Robert Morley), and Rose Sayers, ran a mission along the river. When the Germans come and kill the good Reverend, Rose convinces Charlie to take her back to the civilization, out of her dangerous situation. Through all their adventures with natural dangers, and the nasty Germans, these two opposites form a bond, which turns into love.
Thus, while it is an adventure story, it's also a romance, involving oil and water types. The fact that this improbable romance works has something to do with the great acting abilities, and charm of Bogart and Hepburn.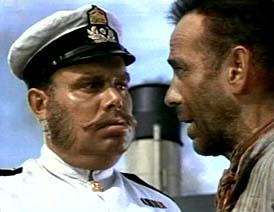 My favorite scene takes place as Bogart and Hepburn ride the African rapids in The African Queen. While it is unlikely anyone could have survived this ordeal, it's fun to watch, thrilling vicariously to their experience.
The film is a classic for the marvelous pairing of Bogart and Hepburn, the exciting river sequences, and wonderful photography by Jack Cardiff, shot on location in Africa's Belgian Congo. Bogart won the best actor Oscar for his role. The film holds up very well, particularly for a film made over forty years ago.